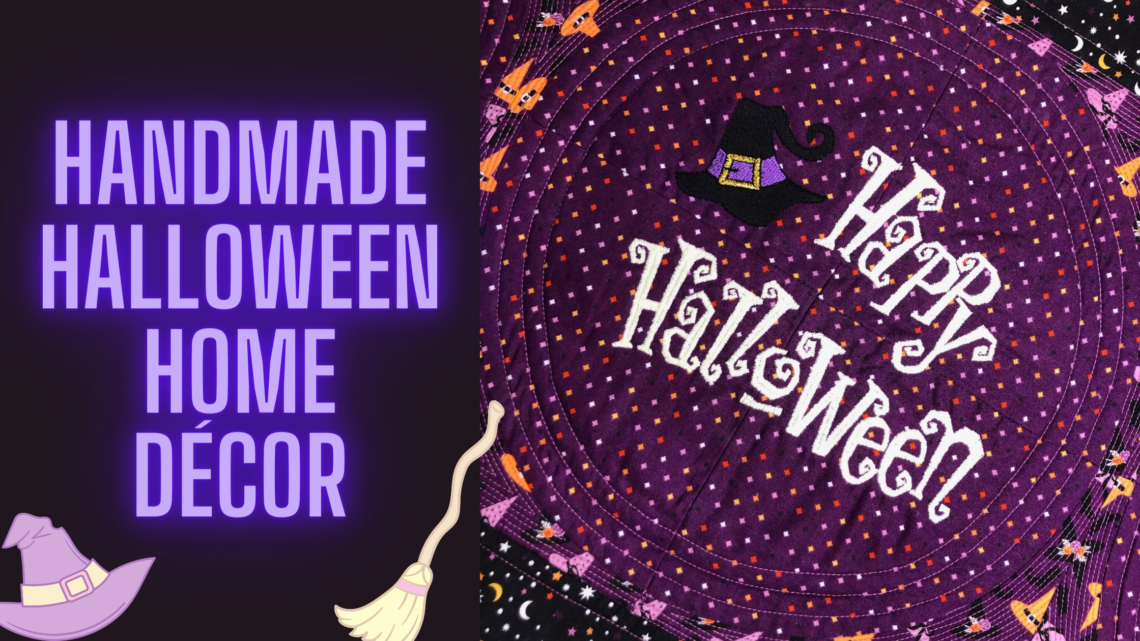 Halloween Home Décor for Fun & Festivities
Halloween Home Décor
Get started on your Halloween Home Décor with five fun projects that will bring some "spook" to your sewing room.
Frankie Cuddle Quilt
This easy-to-make quilt features plush Cuddle® fabric by Shannon Fabrics and an exclusive Halloween-themed appliqué embroidery design collection. Choose the large-scale Frankie for the center focal point of the quilt, or combine several designs to create the scene of your choice.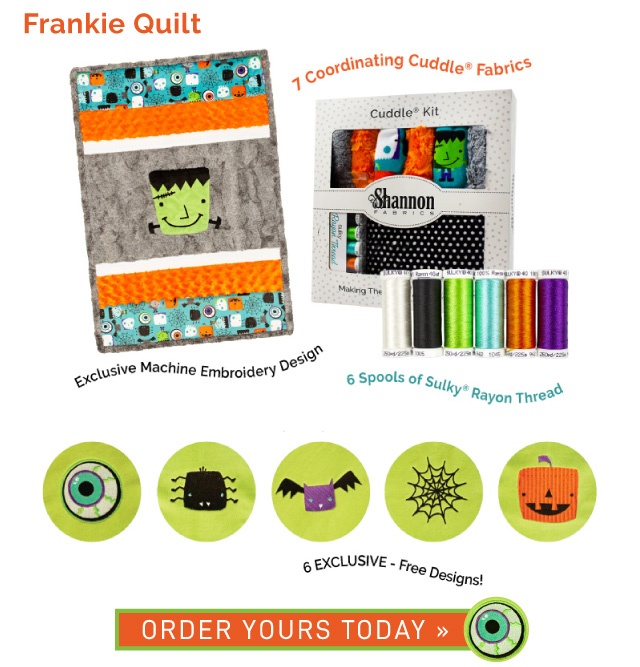 The embroidery designs match the fabric perfectly, so you can place the little motifs anywhere you like! Be sure to use a topper with your embroidery to ensure the stitches sit atop the plush fabric surface. Included in the kit are two stabilizer squares: Sulky Ultra Solvy™ (for the topper) and Sulky Tear-Easy™ for the hoop. Be sure to grab extra if you plan to do more embroideries on Cuddle® fabric!
Drape this quilt over a couch for a cute addition to your Halloween home décor, or gift it to a tot for his/her first Halloween.
Happy Halloween Table Runner
Glowy thread and glowing fabric combine for a mystical table topper. Combined with high-quality Riley Blake fabrics, our exclusive Halloween machine embroidery designs come to life in specialty threads. A combo of Glowy, metallic and Sulky 40 wt. Rayon work well together to bring the magic to your Halloween home décor.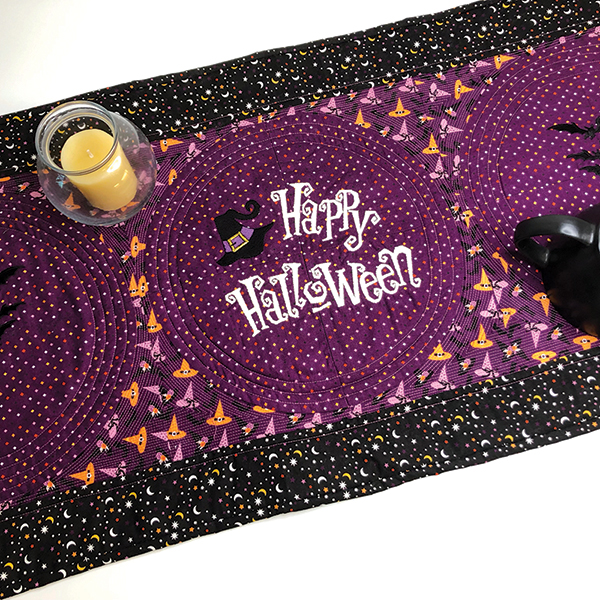 With the Happy Halloween Table Runner kit, you'll get all the fabrics you need, our Halloween Machine Embroidery Palette, 1 spool of Sulky Glowy thread, 1 spool of Sulky PolyLite™ thread for piecing, Sulky Sticky + for machine embroidery and a 6-1/2″ circle template ruler to make cutting and piecing circles easier than ever before.
Ribbon Jars
Embroider burlap ribbon with fun Halloween sayings using our Halloween machine embroidery palette. Wrap the ribbon around a mason jar and fill it with your choice of items: toothbrushes, pens and pencils, sewing notions, cookie mix, you name it!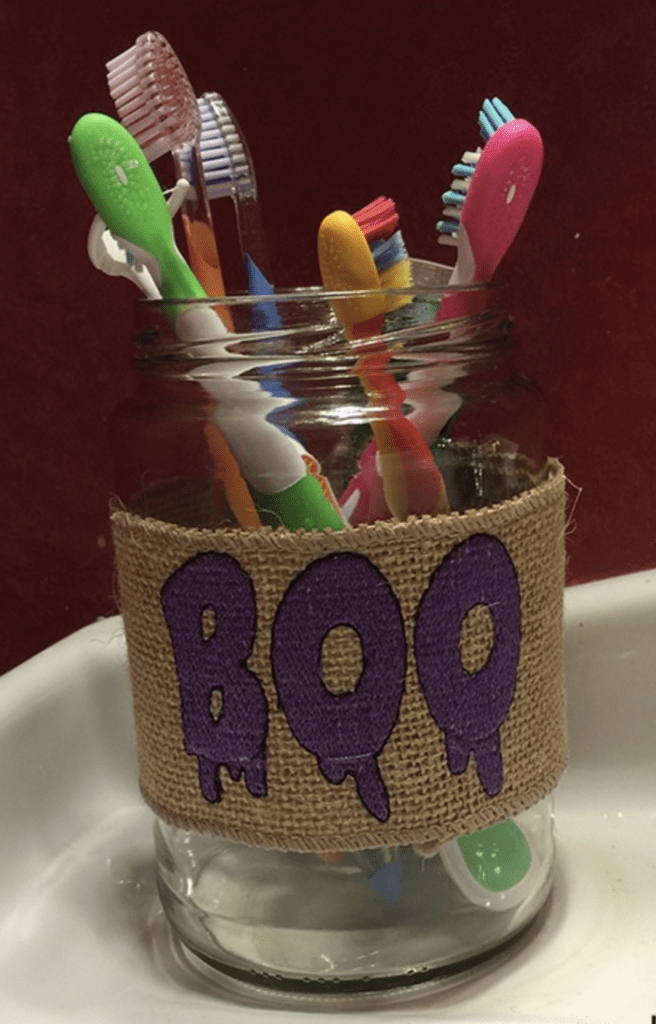 Grab the how-tos and get stitching!
Paper-Pieced Pumpkin Table Runner
This pretty paper-pieced pumpkin pattern is a fun addition to your Halloween home décor and also makes a great gift. The beautiful thing is that it lasts long after Halloween, taking you through Fall as Thanksgiving approaches. Grab the free pattern and be sure to pick up some Paper Solvy™ to make the piecing process super simple.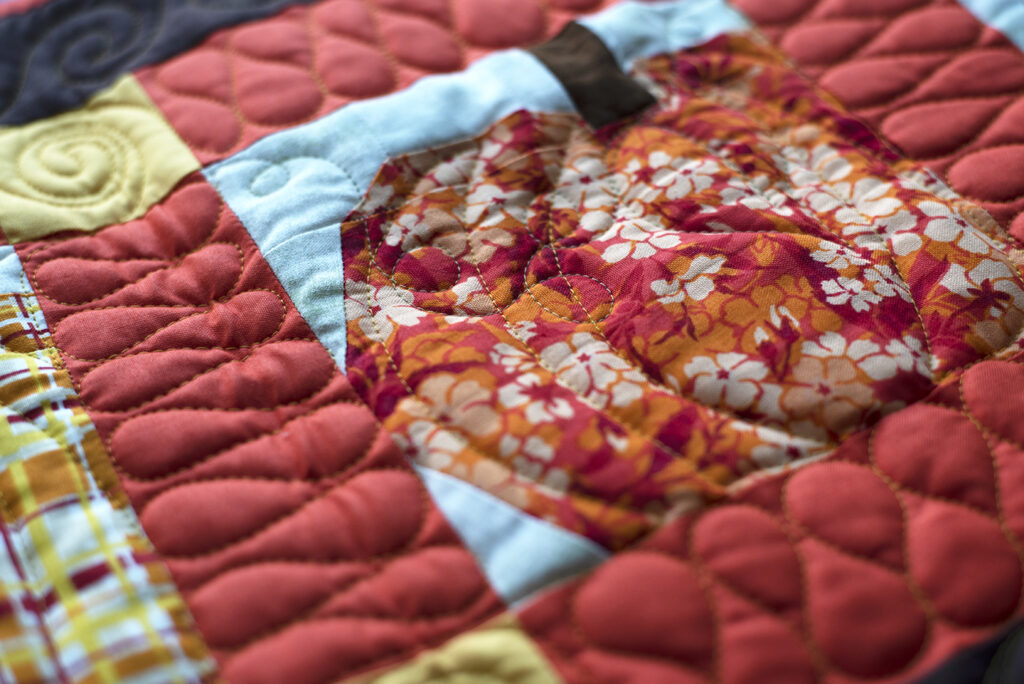 Glowing Halloween Pillow
This pillow makes a cute addition to your Halloween home décor with machine embroidery, appliqués, Glowy thread and professional looking piping. Make it out of a heavier weight cotton or duck fabric and pair it with some equally spooky black faux fur pillows for a fun look. Grab the how-tos and tips, including advice for using Metallic thread.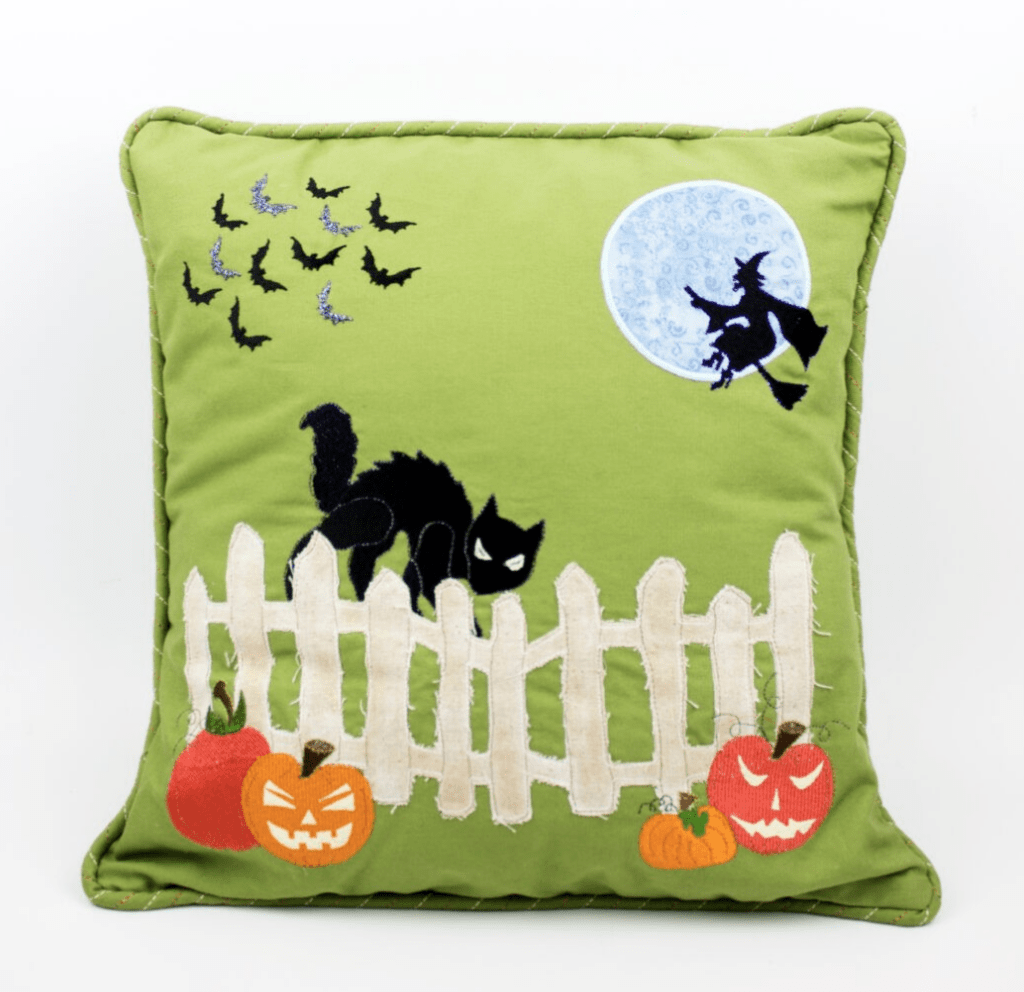 Here's to a healthy and happy Halloween! Cheers!