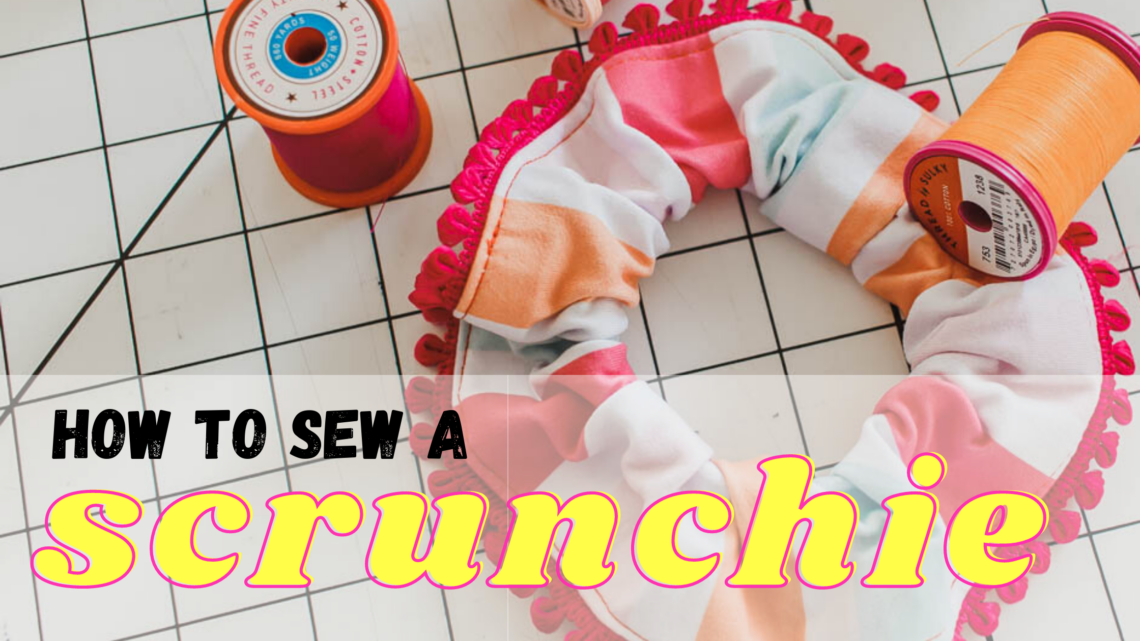 How to Sew a Scrunchie with Sulky

Learn How to Sew a Scrunchie
Want to learn how to sew a scrunchie? It's super easy, using a few supplies and a simple sewing machine. Grab some knit fabric, elastic and fun trim and create one in every color! This easy sewing project is a great beginner project or one to make with kids. Plus you get to use and wear it when you finish.

SUPPLIES
PREP SUPPLIES TO SEW A SCRUNCHIE
Cut 1/2″ strips of Sticky Fabri-Solvy and remove the paper backing. Apply the strips to the cut edges of the knit fabric rectangle along the wrong side, leaving one short end free from stabilizer. The stabilizer ensures that the knit fabric won't stretch during sewing. Once you sew a scrunchie, simply toss it in the washing machine to remove the stabilizer completely.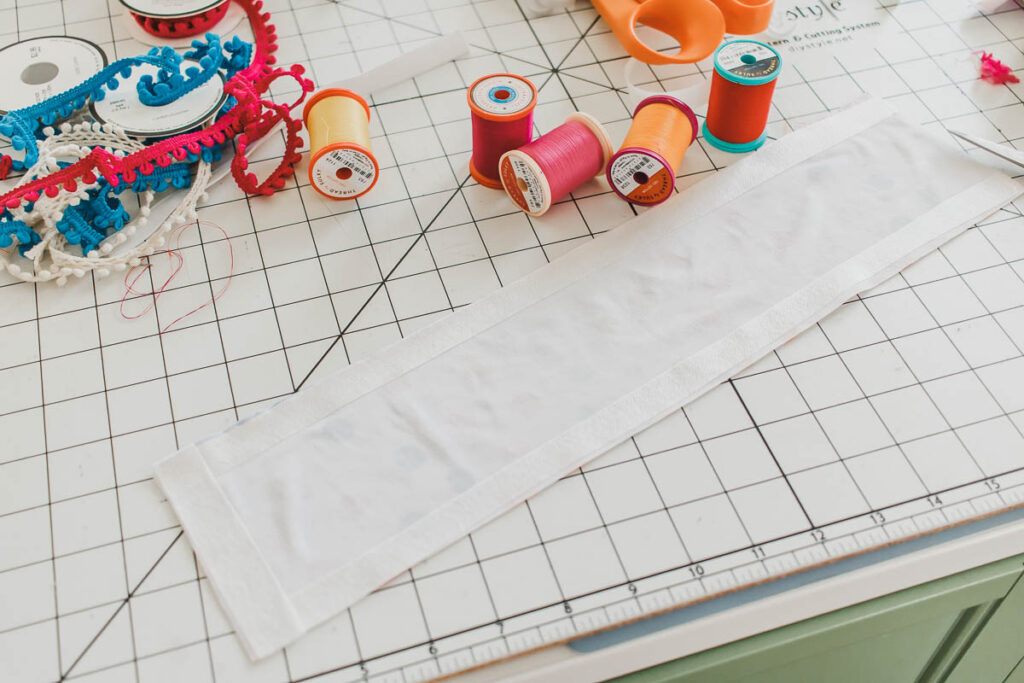 Turn the fabric over to the right side and place the trim along one long edge. Place the trim fancy edge (the poms) facing in toward the fabric.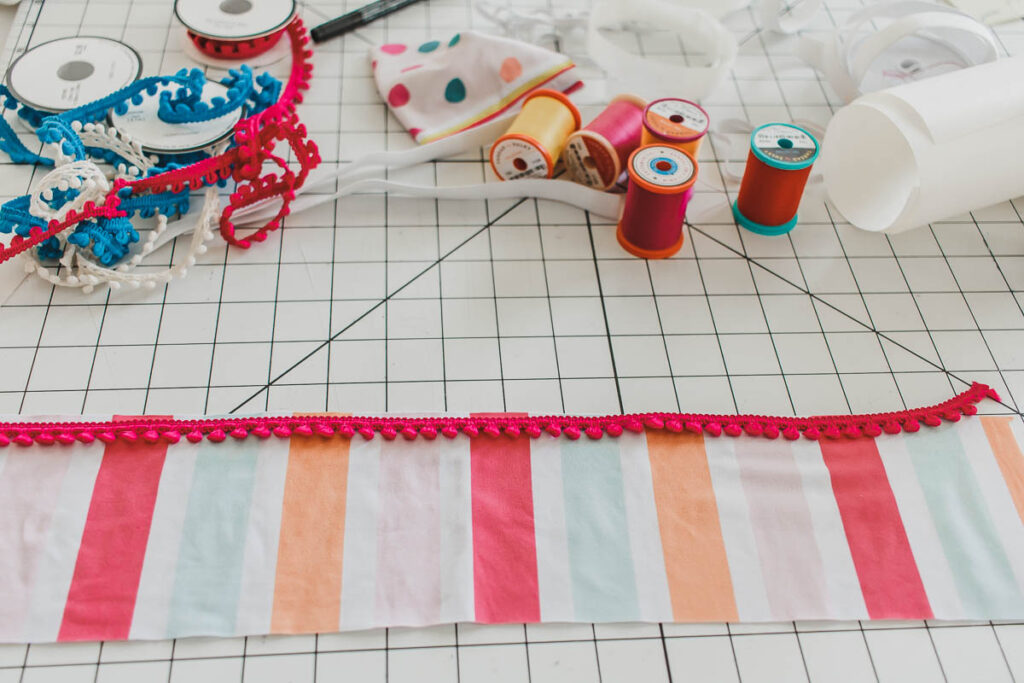 Trim one trim (the poms) end so it stops ½" from the rectangle short edge; clip or pin securely. Fold the fabric in half lengthwise with right sides together, aligning the long edges. Make sure the trim is inside the fold.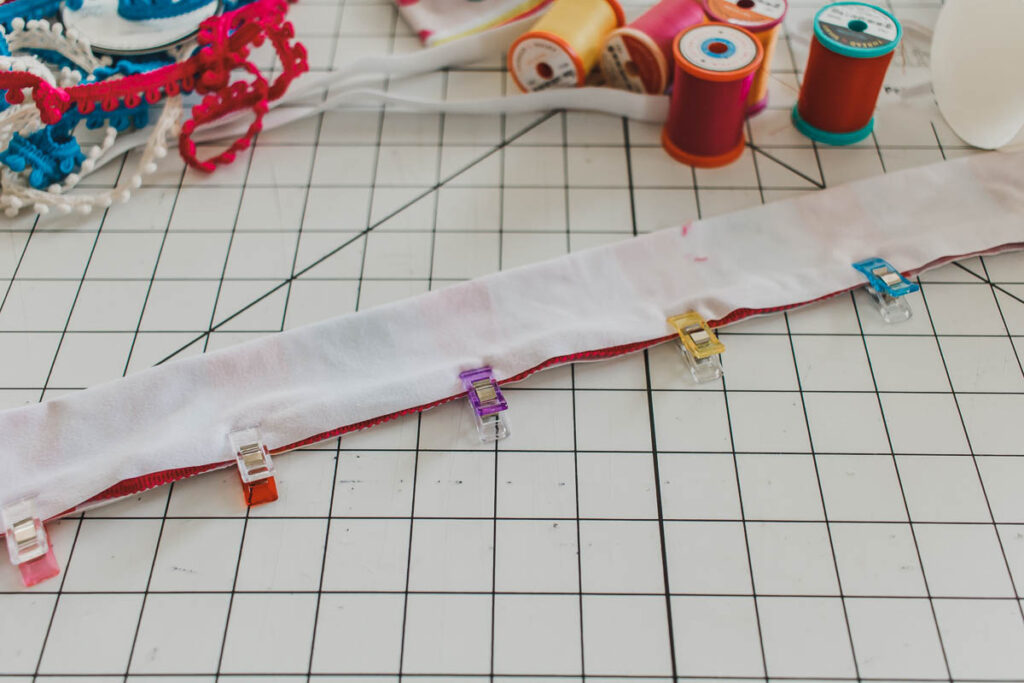 SEW THE SCRUNCHIE
Thread the machine with Cotton+Steel thread by Sulky in the needle and bobbin.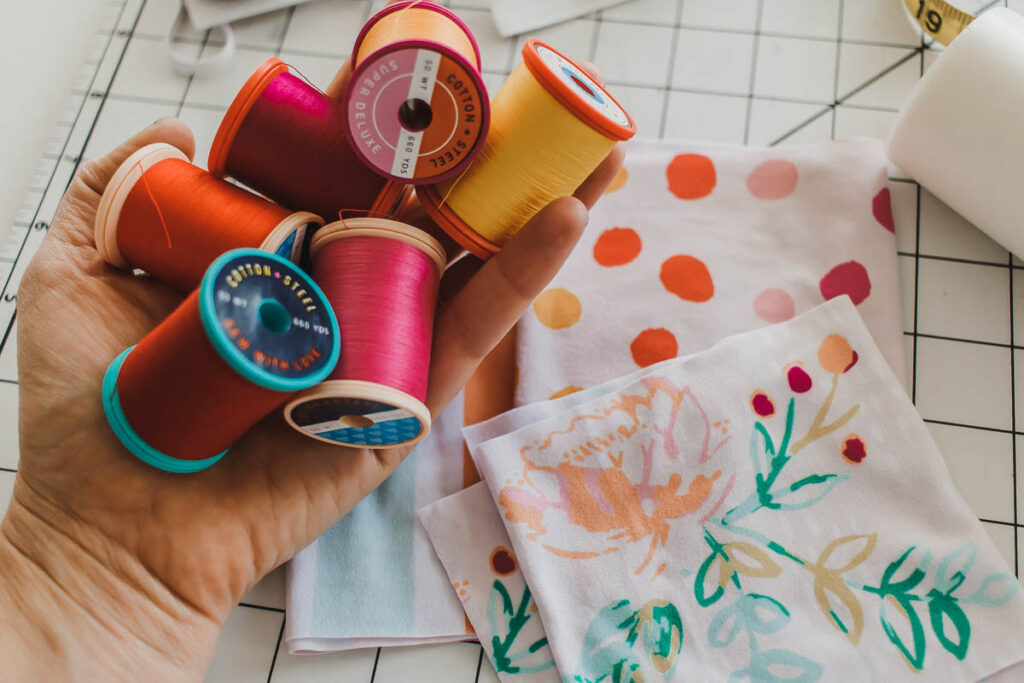 Sew the rectangle long edges using a zipper foot. Catch both layers of fabric and the trim edge in the stitches.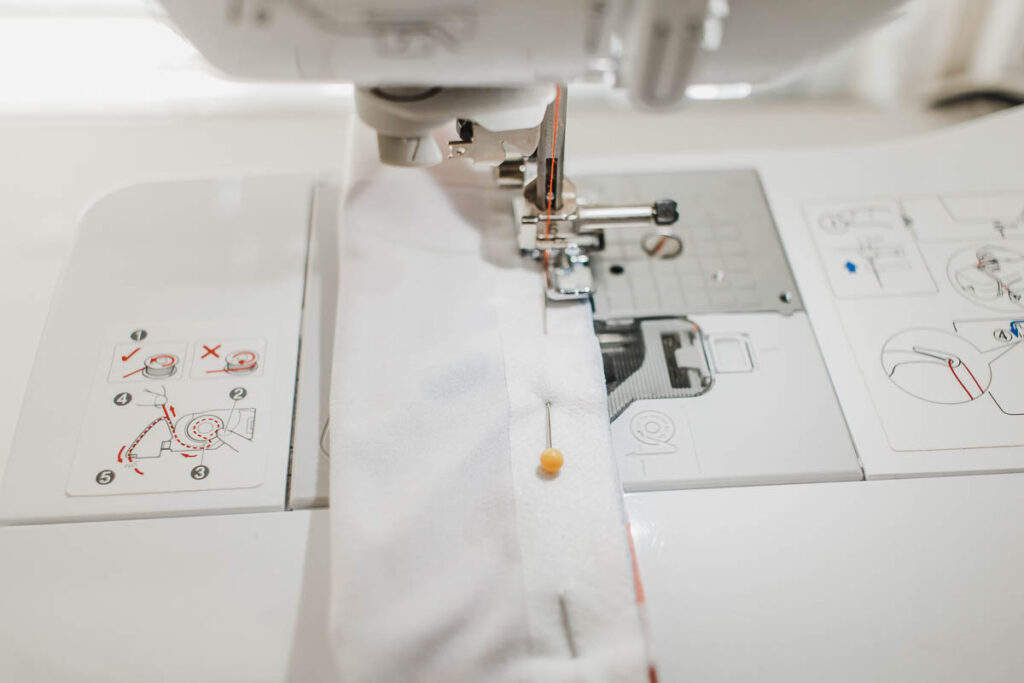 Alternatively, use a serger to stitch the long raw edge.
Use a safety pin or point turner to turn the fabric tube right side out.
Use the same safety pin to thread the elastic through the fabric tube.
Make sure to pin or hold the other end of the elastic while you thread it. The elastic should be seen out both sides of the scrunchie tube.
Sew the ends of the elastic together using a zigzag stitch.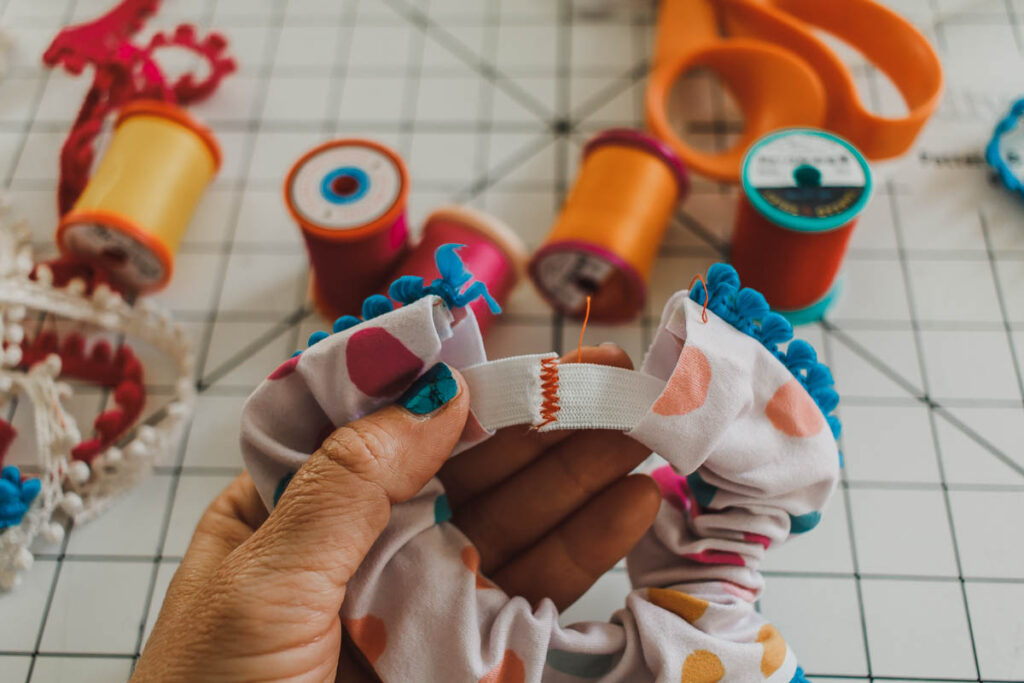 Now the elastic is in a circle and we need the fabric to be as well. Fold the short end of the fabric tube (without the stabilizer) 1/2″ toward the wrong side.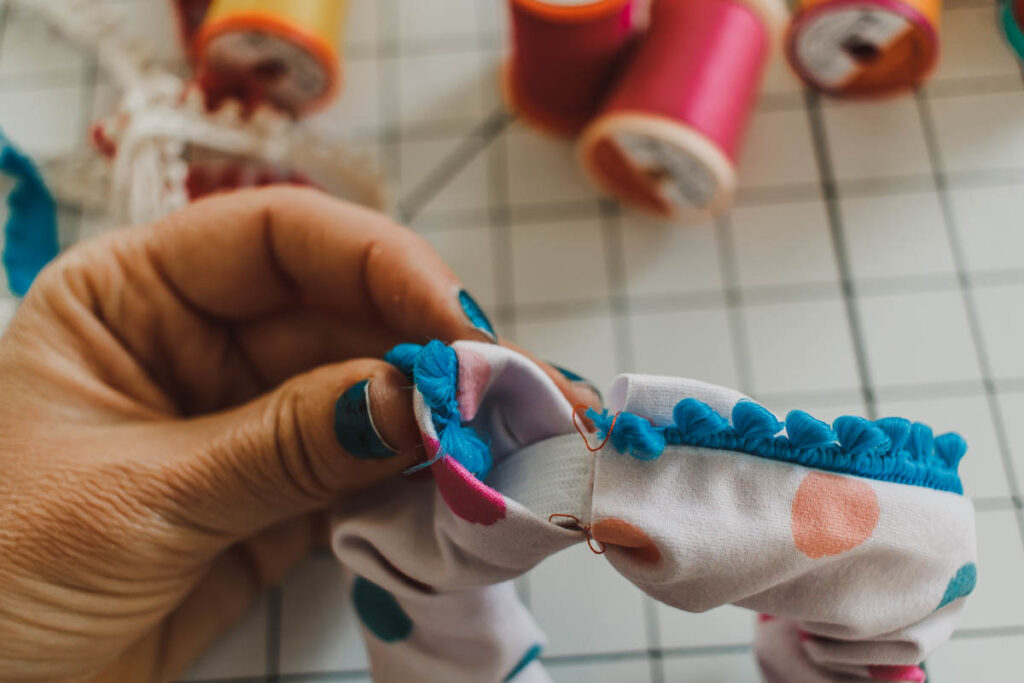 Tuck the raw end inside the folded end. Stitch along the foldline.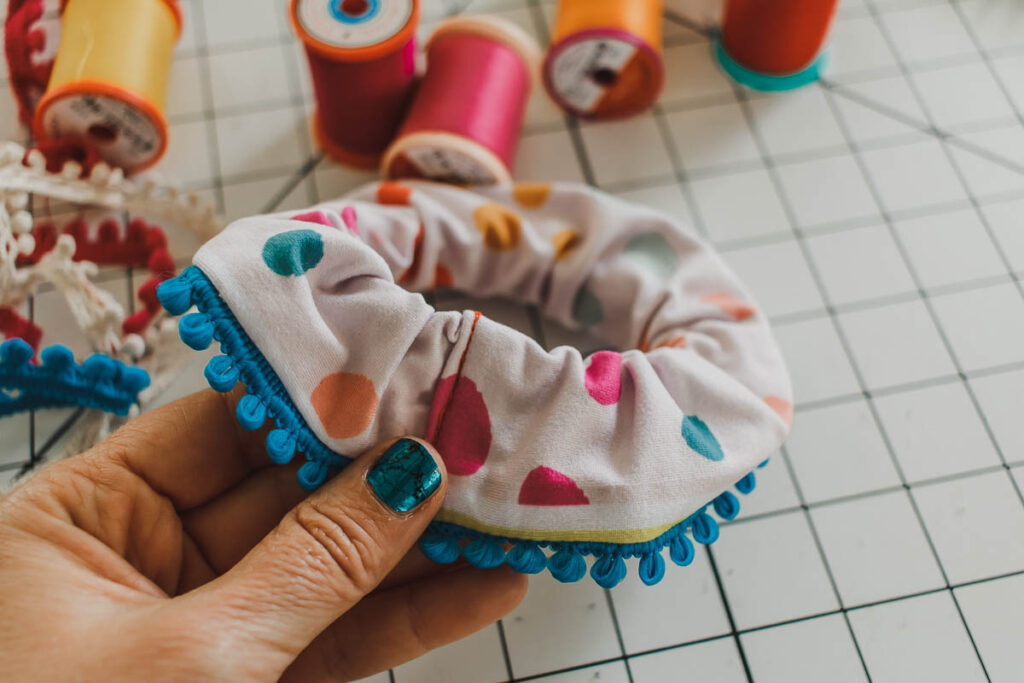 Make a whole bunch to wear with every outfit or share with your friends!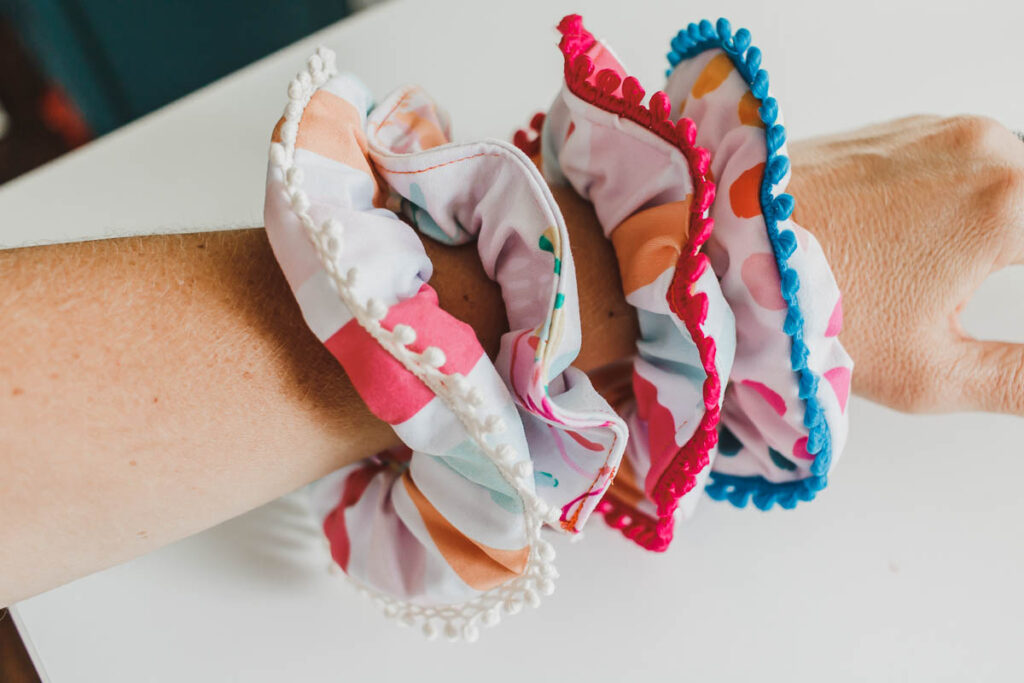 Watch this tutorial to see the scrunchie come together!