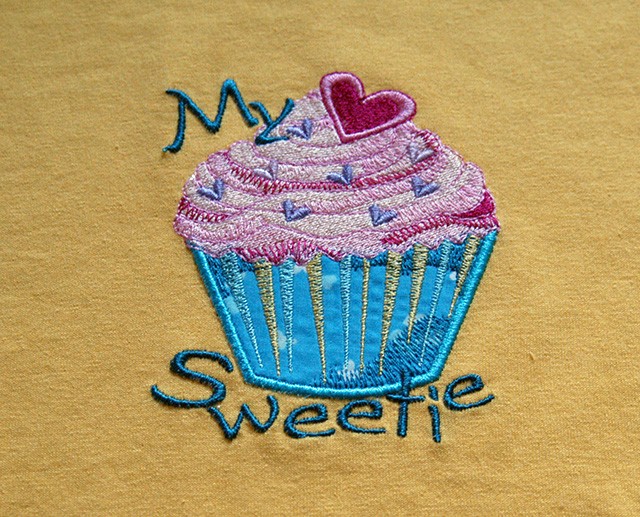 Machine Embroidery Series – Embroidery on T-shirts and Knits
This series is written by guest blogger, Pamela Cox. Pamela is an expert embroiderer, designer, digitizer and all around wonderful girl! We are so happy to have her contributing to the Sulky Blog!
T-shirts!
Light-weight cotton Jersey knits. Oh my gosh!  Fewer projects are more fun to do than stitching on a T-shirt!  First of all, the garment is already made…..what's not to like about that, right?  More importantly, a plain T-shirt is easily transformed into a "one-of-a-kind" special gift.
Knits stretch, which is why we love them!! However, we need to control this property during the embroidery process and yet still enable this wonderful trait to return.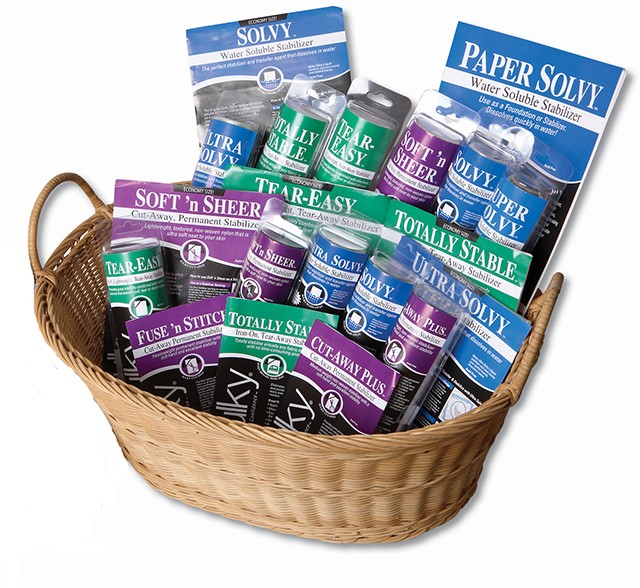 Because Sulky offers a variety of quality stabilizers to choose from, even within each category- Tear-Away, Cut-Away, Wash-Away, and Heat-Away– there are always a number of combinations which will work equally as well in producing a successful outcome.  The important factor is that a knit be stabilized on both wrong and right sides.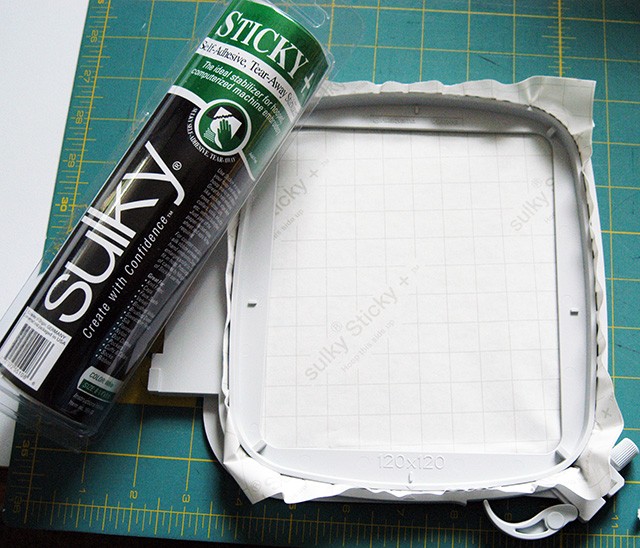 Since knits should not be hooped directly in the frame (stretching will occur), secure Sulky® Sticky +™, a self -adhesive, tear-away stabilizer, paper side up, directly in the hoop.  Select a hoop size slightly larger than the design requires which enables more of the fabric surface to come in contact with the sticky surface providing additional stabilization.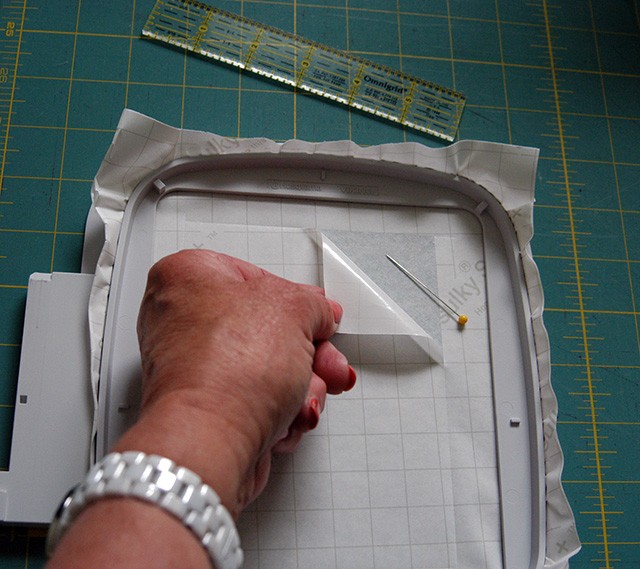 Using a pin, score the paper larger than the design and gently tear it away exposing the adhesive side.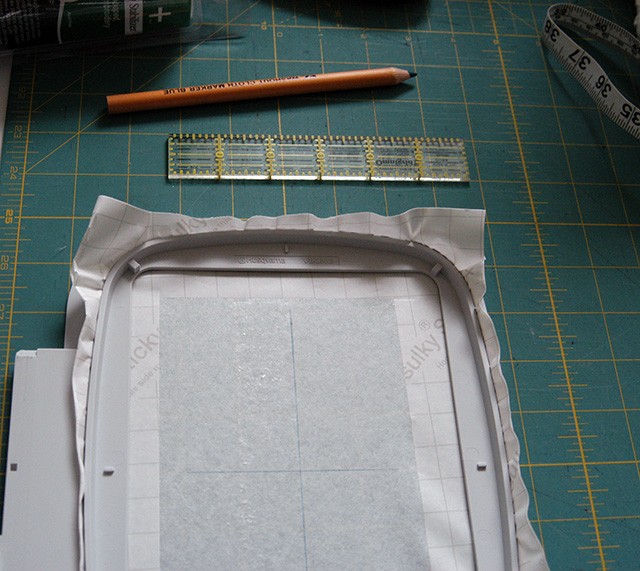 If needed, draw center hoop lines directly on the stabilizer with a fabric transfer pen or simply line the hoop up with grid lines which can be seen under the exposed surface.
HINT:  Usually a filled design or an applique, as opposed to a line design, will display a better result on a knit fabric.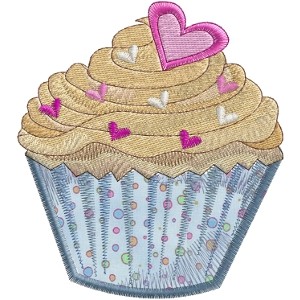 The design I used is a blend of both applique (the paper cup) and fill (icing and accents).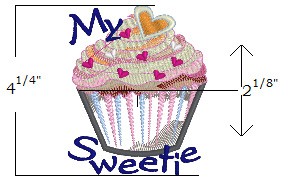 The cupcake design has been personalized by adding "President 20mm" lettering from Ultra Premier +™ by Husqvarna Viking.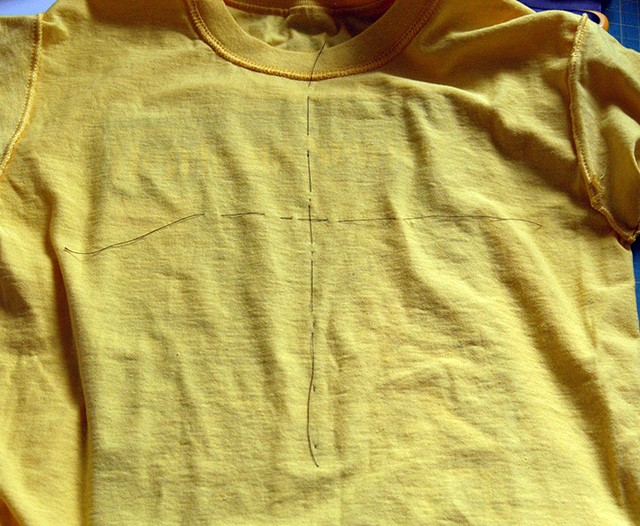 Mark the vertical center on a pre-washed T-shirt by turning it inside out and folding it in half matching side seams. Hand-baste a line along this fold.  Decide where the top of the design should touch on the T-shirt and measure down from this point, half of the design's height. Hand-baste an intersecting line.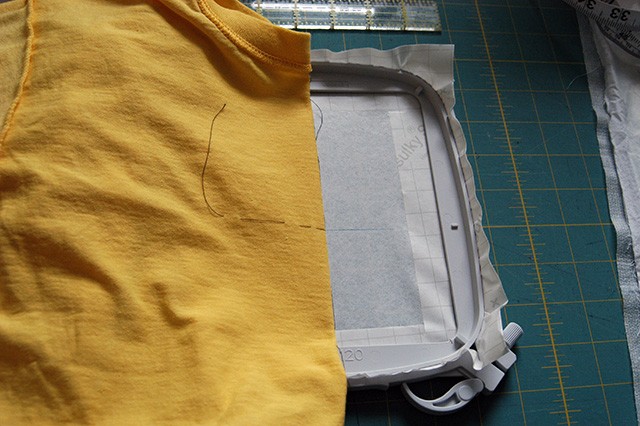 Fold the T-shirt along vertical center, press it (still inside out) to the sticky stabilizer along hoop's vertical center matching horizontal lines as well.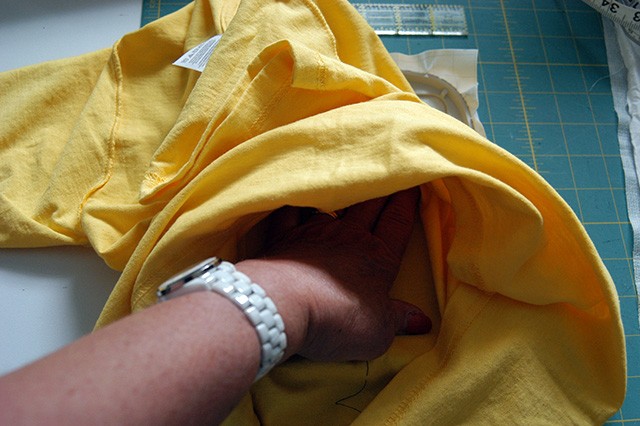 Reach inside and smooth the fabric, unrolling it to expose the right side of the T-shirt.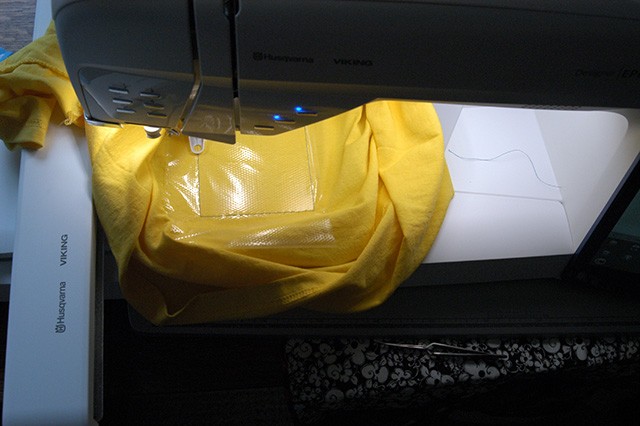 Cut a piece of Heat-Away Clear Film™ or Super-Solvy™ larger than the design. This stabilizer will be basted to the top of the knit. Not only will it prevent the fabric from moving as the needle penetrates, but it will also help to keep the design sitting "on top" of the texture of a knit surface.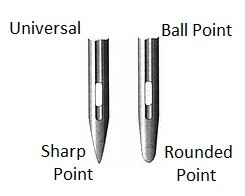 Although we're ready to embroider, it must also be noted that a Ball-Point embroidery needle should be used in the appropriate gauge for the fabric weight: 65/9, 75/11, 80/12. Universal or regular embroidery, have a sharp point that could potentially "cut" through a knit "link" as opposed to a ballpoint embroidery needles offering a rounded point to slide in-between "links". Stitches are more uniform when a ball point needle is used on knit fabric for seaming and this is true of embroidering on knits as well.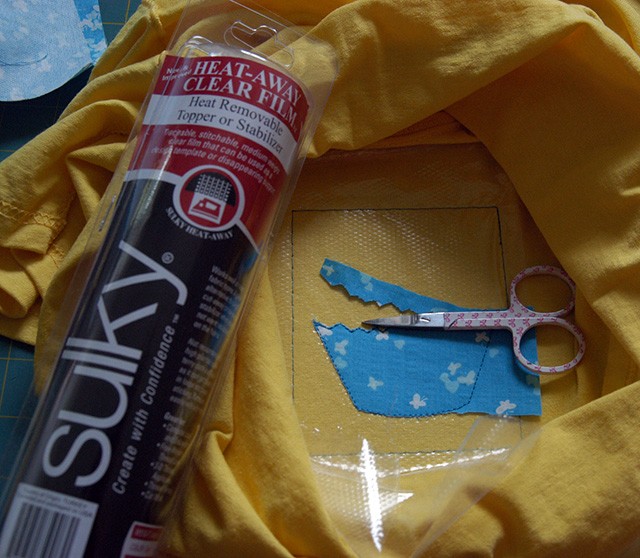 Begin to stitch the design, but only cut the fabric away for the applique leaving the top stabilizer in place.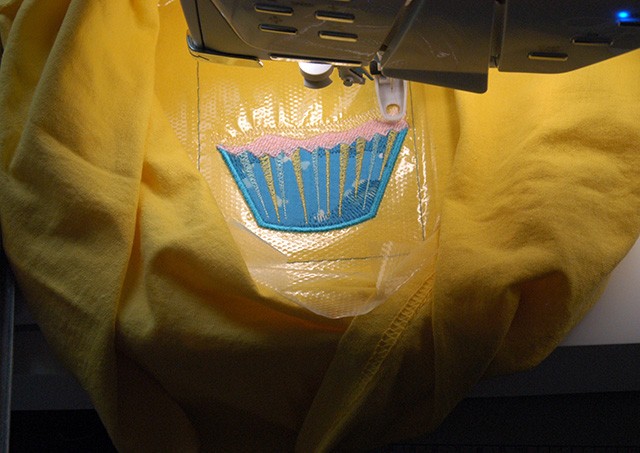 Complete the embroidery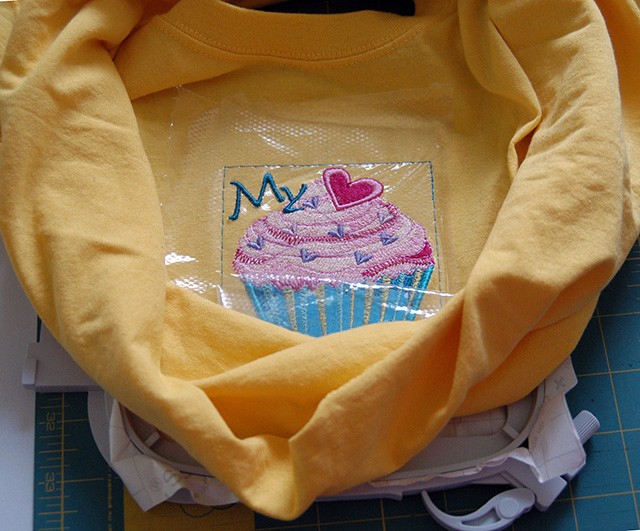 and remove the hoop from the machine.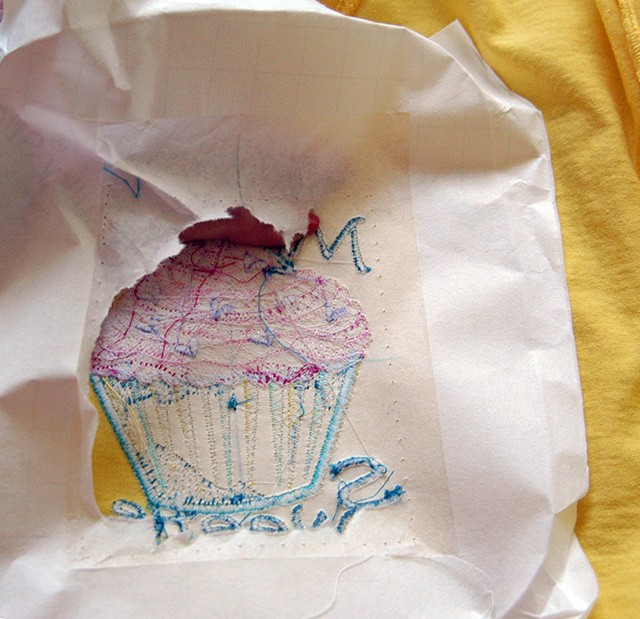 All excess stabilizers, both front and the back need to be removed. Begin by releasing the basting box stitches. Lay the T-shirt inside-out on a hard flat surface.  Hold the fabric flat with one hand, while gently pulling up on the stabilizer with the other until it reaches the embroidery. Gently tear it away from the stitches.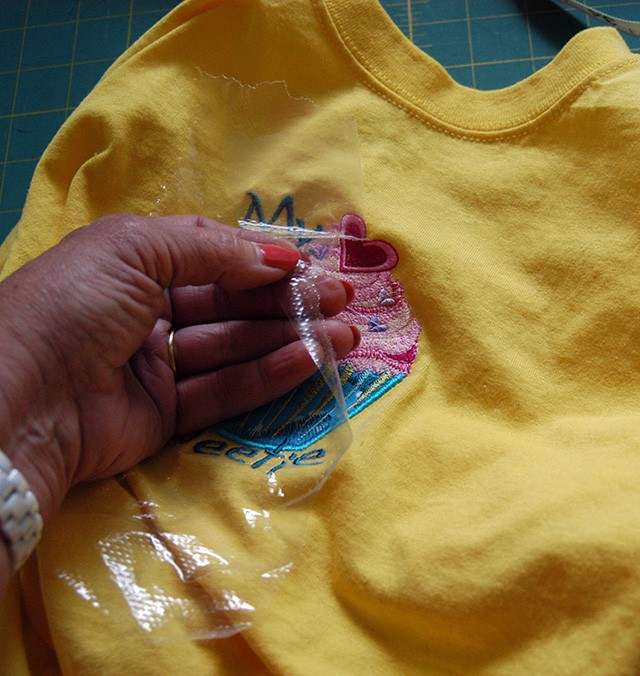 Turn T-shirt right side out and repeat for the front. Both stabilizers are easily removed from the project.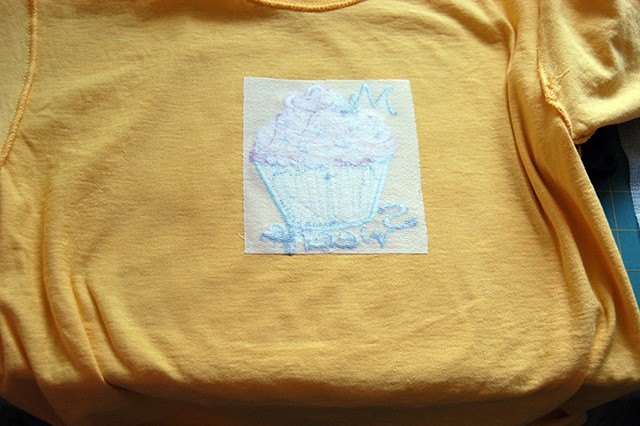 If the back of the T-shirt is to come in contact with sensitive skin, fuse a protective backing, like Sulky Tender Touch™ covering the embroidery's back stitches.  (Tip:  You can also pink these edges with a pinking shears or pinking or wavy-blade rotary cutter before applying.  This helps adhesion through washings, wearings and stretching.)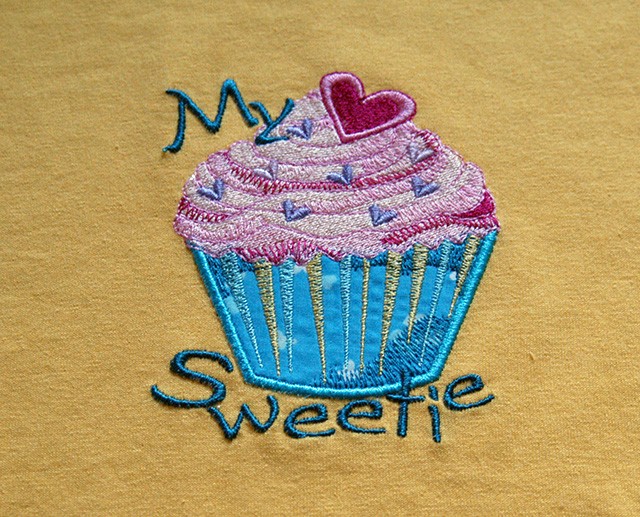 Now enjoy your new T-shirt!
Zyban Without Prescription
buy Sildenafil no Prescription
Buy Abilify online