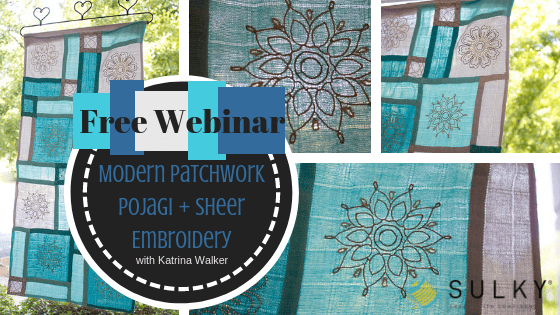 Patchwork Pojagi Webinar + Sheer Embroidery Techniques with Katrina Walker
Join our Modern Patchwork Pojagi & Sheer Embroidery webinar with Katrina Walker!
THE DETAILS
August 13th is the day, 2pm EST is the time. Register today to take advantage of all the great instruction, tips and techniques from Katrina. Plus be eligible to win door prizes throughout the presentation! That's right! Two lucky attendees will win the kit we've curated, including double-gauze Embrace yardage from Shannon Fabrics, lovely Sulky threads (including metallic!), Organ sewing machine needles, Sulky Solvy and Sticky Fabri-Solvy stabilizers, plus 7 exclusive embroidery designs.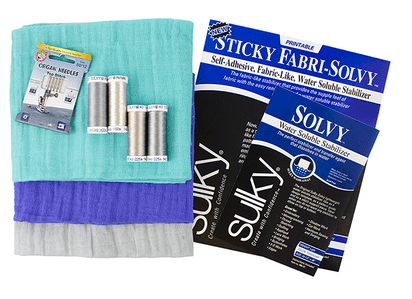 The sheer properties of the double gauze fabric lend themselves to Pojagi techniques well. The idea is to almost see through the fabric, and that the back look identical to the front. You'll learn easy flat-fell seaming techniques that you can apply to other projects. Then, Katrina will outline how best to stabilize sheer and other delicate fabrics for beautiful results every time.
The featured machine embroidery designs are only available with the kit, but we're also giving one design away for FREE to all webinar attendees. Don't have an embroidery machine? Don't worry! We're also including the hand embroidery templates, which work for free-motion work, too.
FEATURED ARTIST
Who is Katrina Walker? Learn more here. Katrina is a national educator who travels the country sharing her love of sewing. We're honored that she's spending her afternoon with us to teach us all about Pojagi and how to make an elegant art piece that can be used as a curtain, wall hanging, or table runner. It can even be used as a scarf when paired with the right outfit!
PATCHWORK POJAGI KIT
During the webinar, we'll announce super special kit pricing (you won't believe the value of these products!), specialty products that Katrina loves (now available at sulky.com), and other flash sales that are only accessible on the day of the webinar.
Participate by registering today, and you'll get a reminder to log in the day of the webinar and join in the fun. It's like a FREE sewing class in the comfort of your own home!
We hope to "see" you there!