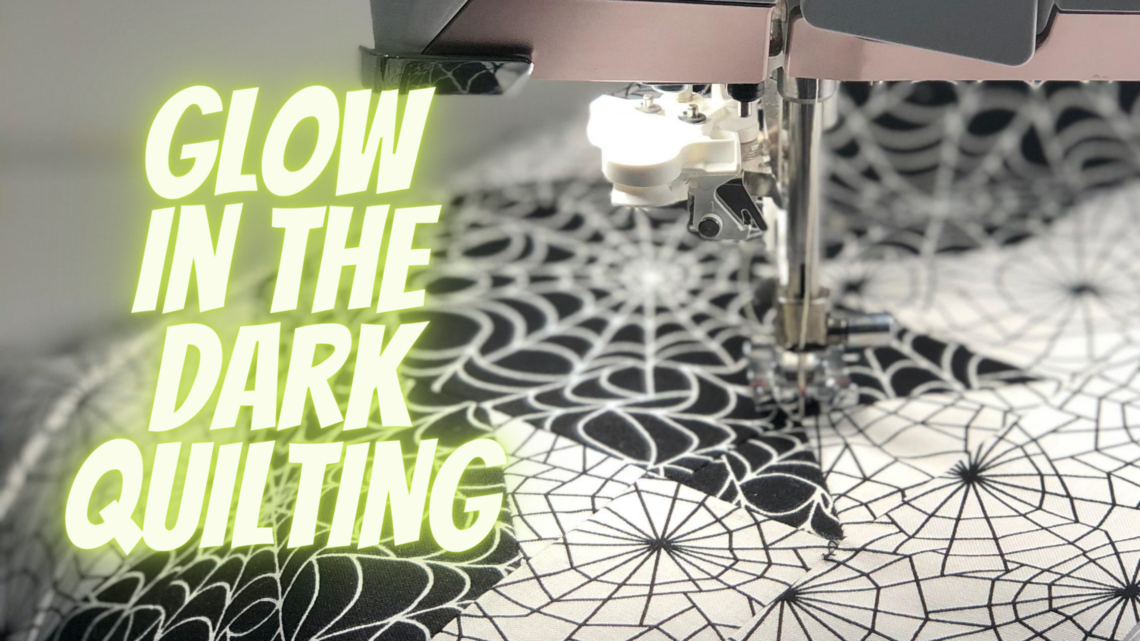 Quilted Bat Table Runner that Glows

Quilted Bat Table Runner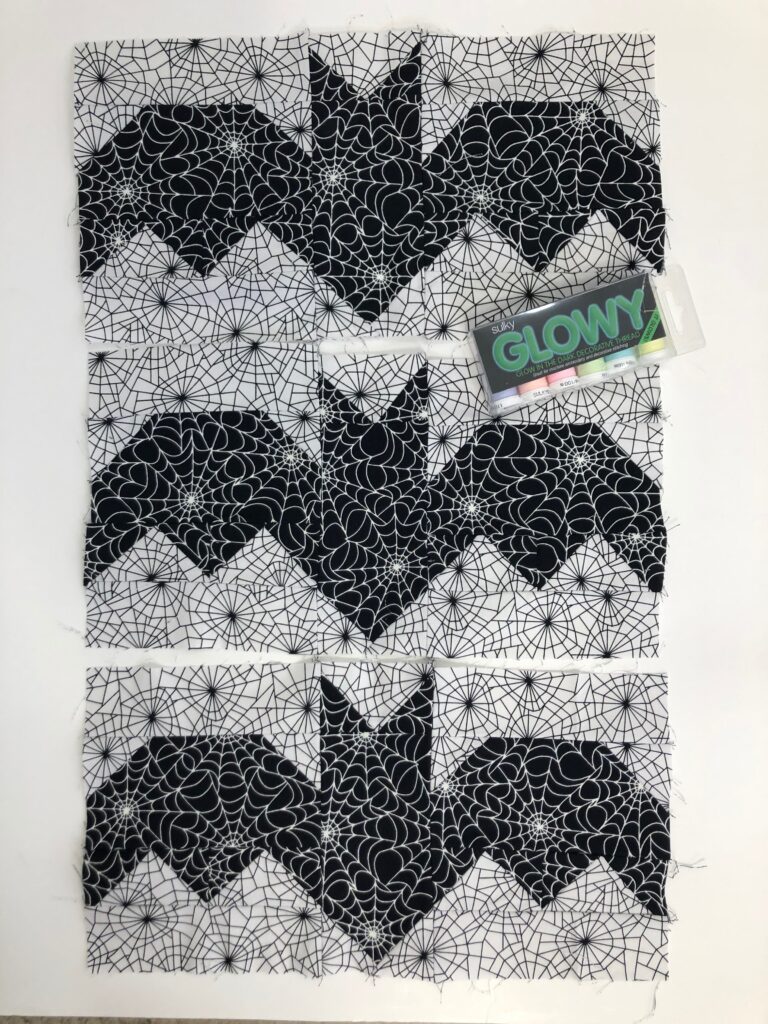 Piece together a few spooky bats to create a fun table runner or wall hanging for Halloween. Add Glowy™ thread into the mix when quilting to really get into the Halloween spirit!
Table runner measures approximately 15 1/2″ x 46″
QUILTED BAT SUPPLIES
BAT PLACEMENT
The featured pattern is for a 54″ x 69″ quilt, containing 12 Bat blocks. For the featured table runner, 3 Bat blocks were used. Choose the Bat orientation you prefer for the table runner, whether they face each other, face out, or are straight on along the upper or lower edge of the block.
The piecing will differ for each Bat orientation, so plan this ahead of time!
After joining the three blocks along the outer edges in the orientation you prefer, press the seam allowances away from center.
Create a quilt sandwich by placing the backing rectangle wrong side up on a flat work surface. Place a batting rectangle on the backing rectangle, using KK 2000 to secure.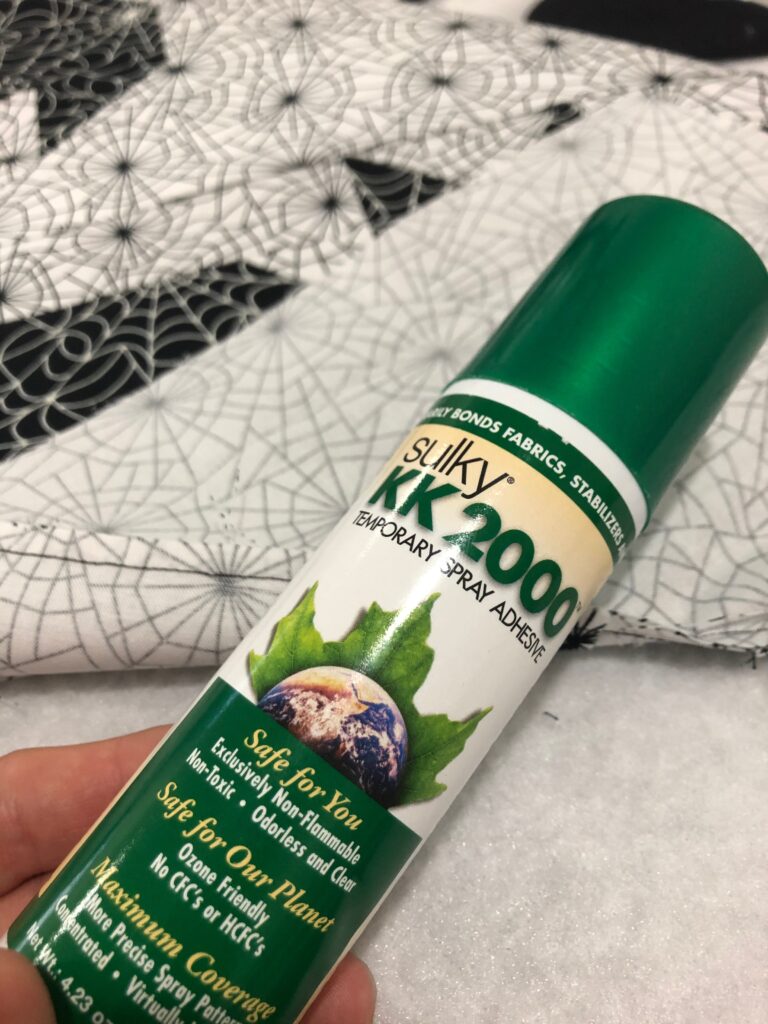 Place the table runner top right side up over the batting, using KK 2000 to secure. Smooth the top so it's nice and flat.
QUILTING
Insert a size 90/14 Top Stitch needle. Thread the machine with Sulky Glowy thread in the needle and wind 1/3 of a bobbin with the same thread.
Be sure to get a final press done BEFORE using the Glowy thread. It is NOT heat tolerant and will melt. If you must press it, use the lowest heat setting and a press cloth.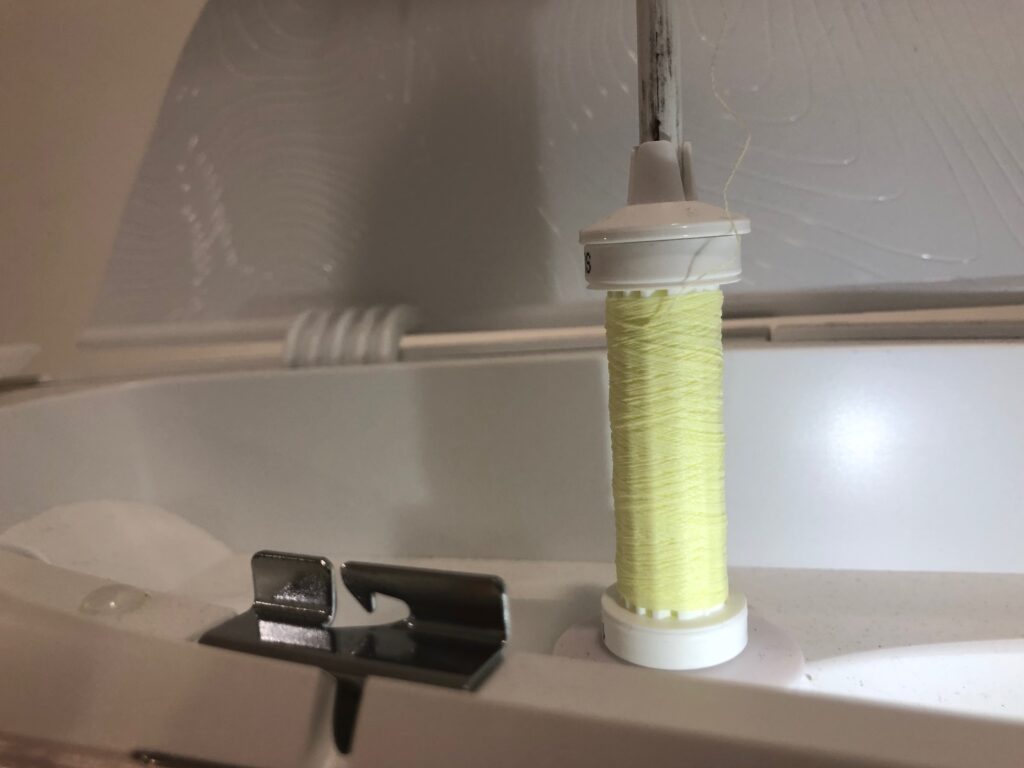 Quilt in the ditch, outlining each bat with Glowy thread. Roll up the excess table runner so it doesn't get caught in the stitching.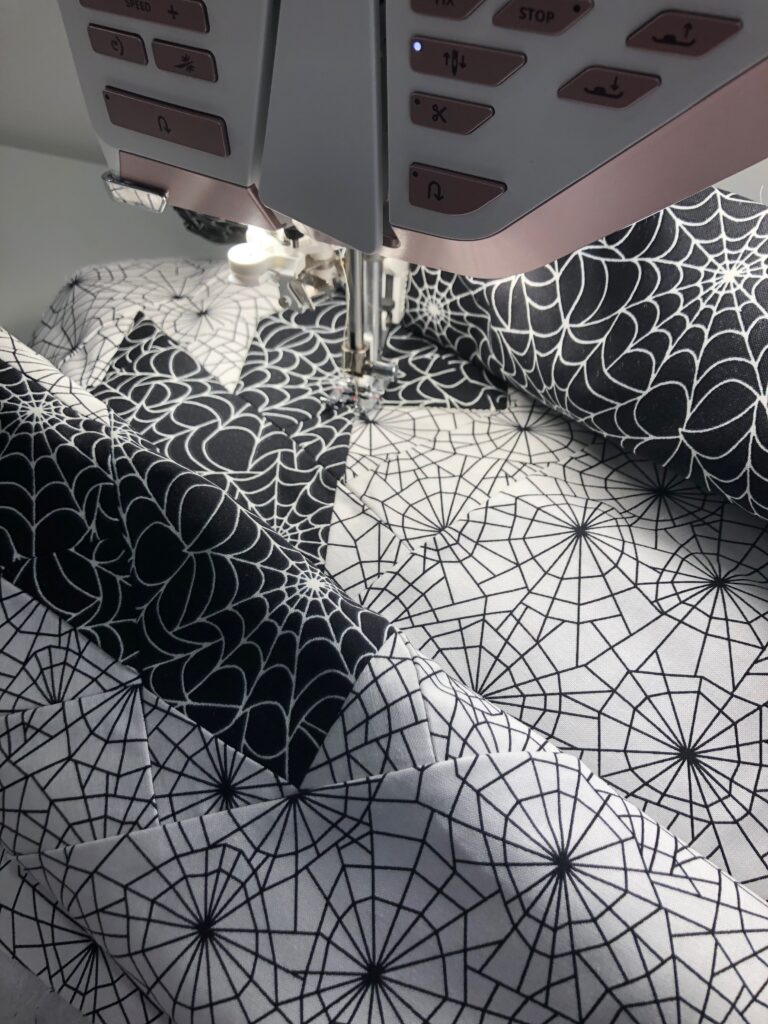 If desired, continue echo quilting a scant 1/4″ beyond each bat perimeter until the entire table runner is quilted using Glowy thread (This requires at least 2 spools of Glowy thread). Or swap the needle for a size 75/11 Quilting needle and thread the needle and bobbin with 50 wt. Cotton+Steel Thread by Sulky.
Echo quilt each bat, spacing the stitching lines a scant 1/4″ apart. Work from the center-most bat outward to the edges. For the featured table runner, white thread was used in the needle and black thread in the bobbin, to match the fabrics on either side.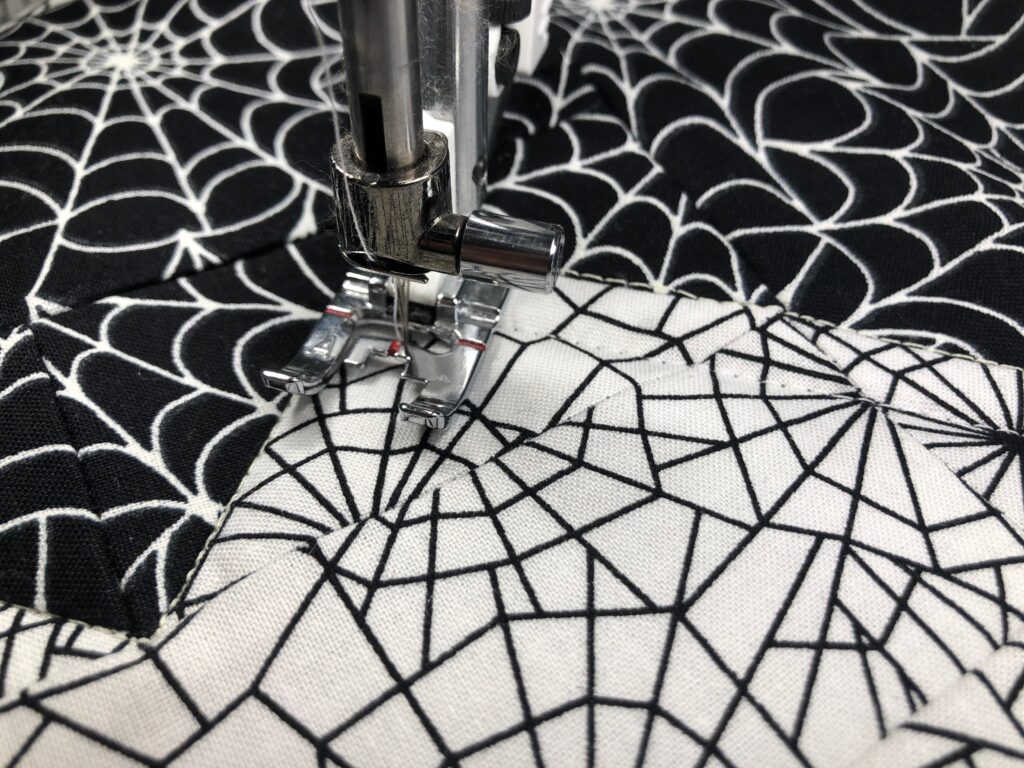 This way each bat outline glows in the dark from the right and wrong side. It's also fun to use glow-in-the-dark fabric for the bats for extra spook.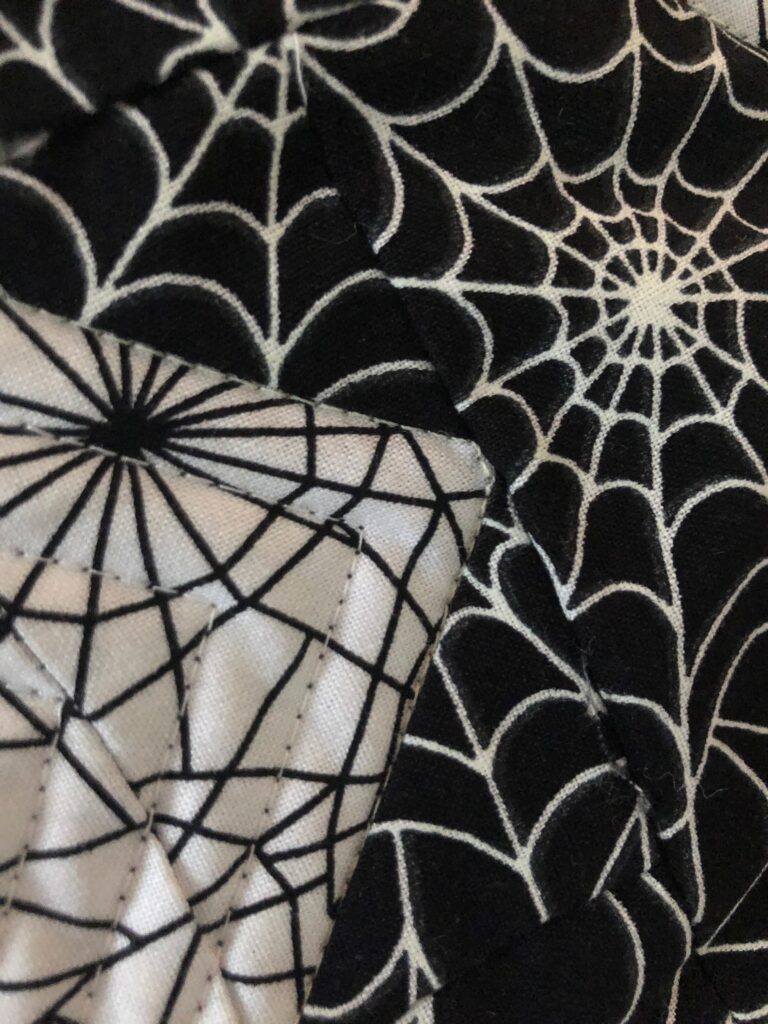 When the quilting is complete, trim the table runner edges even.
Bind the table runner using premade bias tape or self-made bias binding.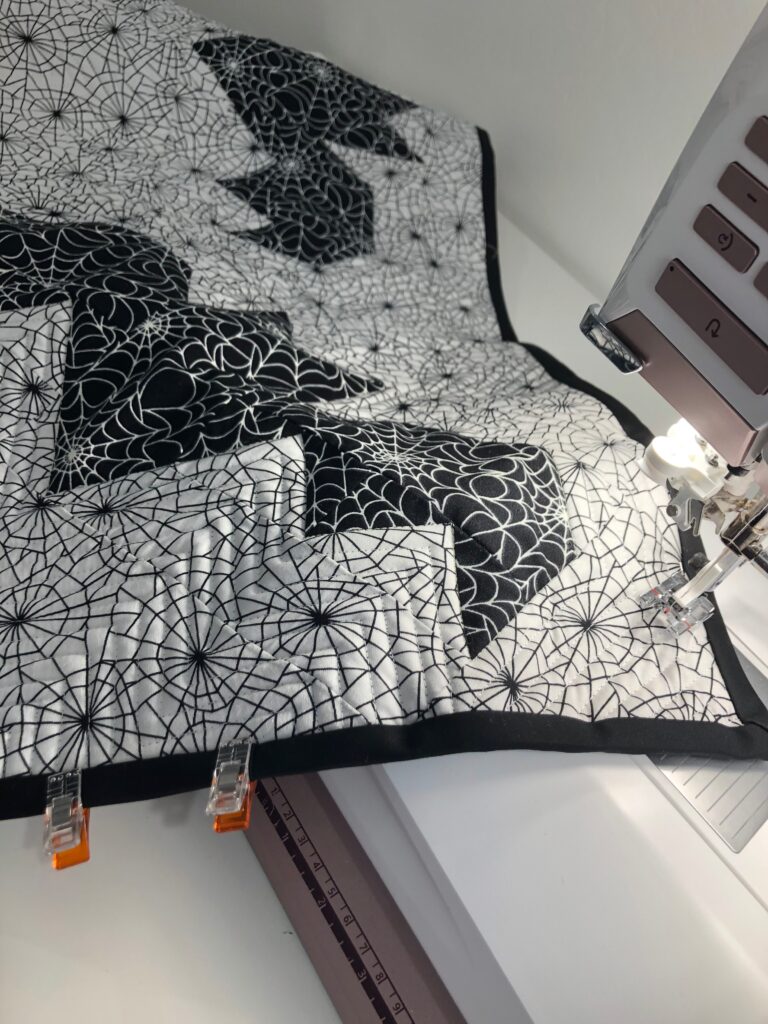 At night, turn off the lights and watch it GLOW!