St. Patty's Day Placemats – 4 mats in 4 hours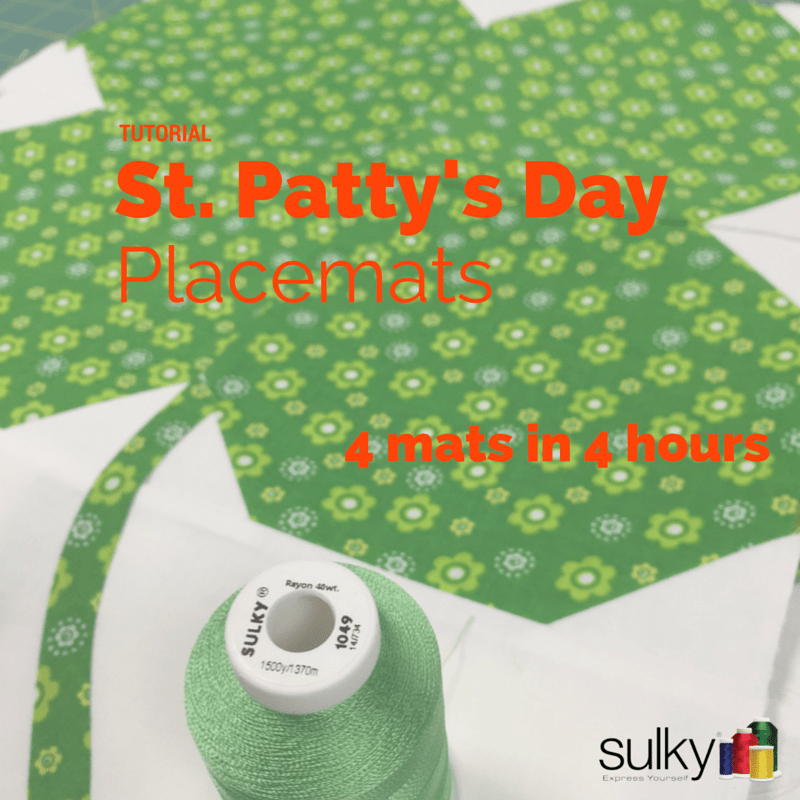 The other night I decided I wanted St. Patrick's Day place mats. I had found this cute fabric and had an idea in my head so I just went for it. They turned out so cute that I thought I should do a tutorial. These took me about 4 hours to do, start to finish, so you could make them this weekend and have them for your St. Patty's Day feast.
Supplies
1 yard of green fabric
1-1/2 yards of white fabric
Batting (I used Warm and White™)
Sulky® Soft n Sheer Extra™
Sulky PolyLite™ in Ecru or White
1/2″ Bias tape maker
1/2″ Steam a Seam tape
Ruler with a 60° line on it
Sulky 40 wt. Rayon #1049 Grass Green Thread or in a green to match fabric
Sulky Prewound Bobbins in white
Sulky KK 2000™ Temporary Spray Adhesive
6-1/2″ Square ruler (I love the EZ™ Square Ruler)
Rotary Cutter
Cutting Mat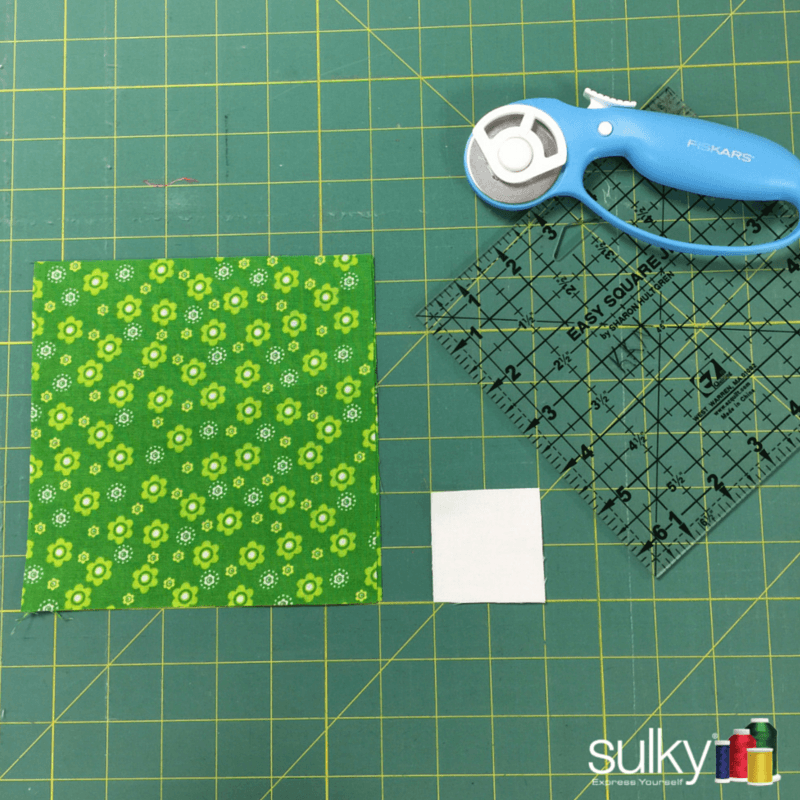 Cutting
(16) 6-1/2″ green squares
(2) 1″ strips of green cut on the 60° bias
(48) 2″ white squares
(4) 6-1/2″ x 12-1/2″ white rectangles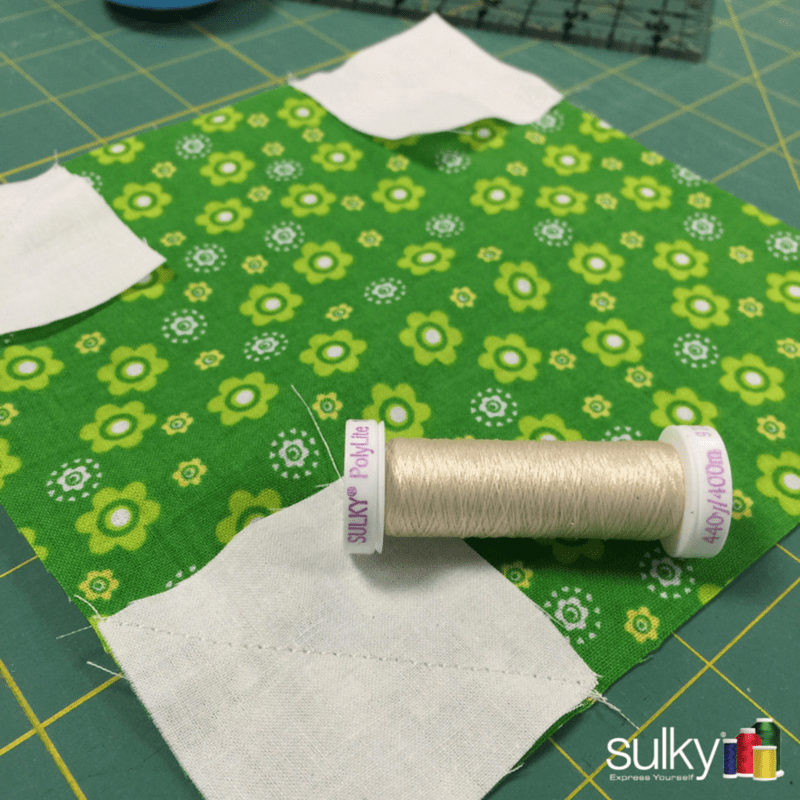 With PolyLite on the top and a Sulky Pre-wound in the bobbin, sew a white 2″ square to 3 of the corners of all of the green squares from corner to corner. This will go really quickly if you chain piece. You are basically making a snowball block with only 3 corners.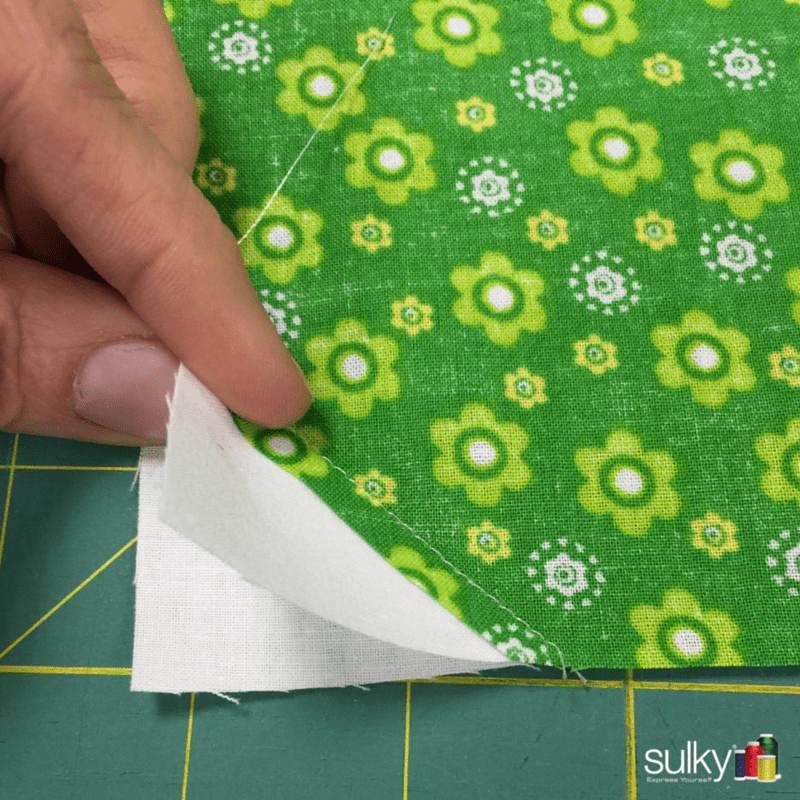 Press the white squares so they make triangles in the corners of the green square. Note: I only cut the green fabric back. By having 2 layers of the white fabric, I don't have to worry about the seam of the green fabric shadowing through.
Sew 4 green blocks together with the white corners all on the outside and the 4 green corners meeting in the center.
Sew the white rectangle on the left side.
Cut (2) 1″ strips of green fabric on the 60° bias. I do 60° because I can get a longer strip out of a smaller amount of fabric. I then used the bias tape maker to fold the two edges over to make a 1/2″ strip. For this project, I just made a gentle curve and fused the stem down with the 1/2″ wide Steam-a-Seam® fusible web tape.
Once you have the placemat tops together, fuse a piece of Sulky Soft 'n Sheer Extra™ to the back of each placemat. This will give the placemat a little more stability for the free-motion quilting and to stand up to washing. I don't know about you, but I have learned that the placemats in my house must be washable!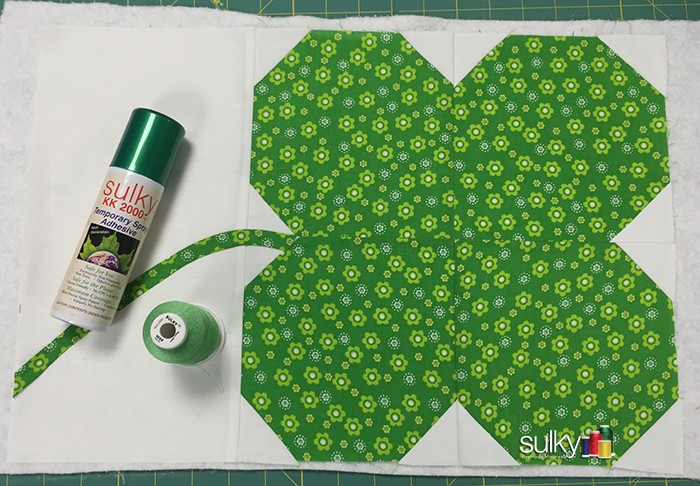 Use Sulky KK 2000™ Temporary Spray Adhesive to adhere the top and the batting together.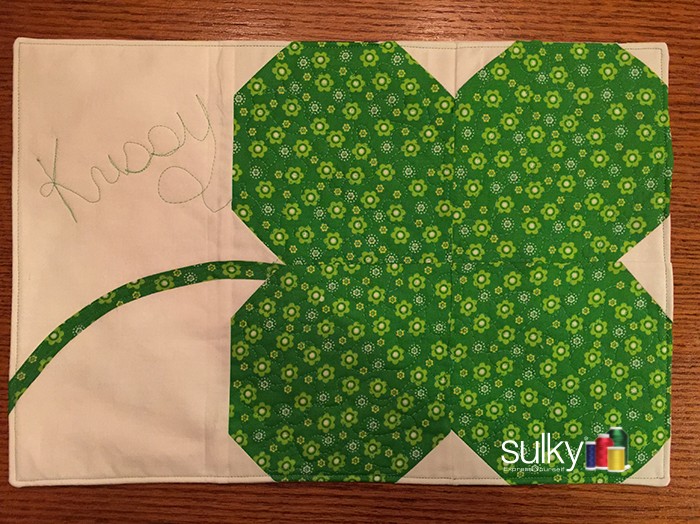 I used Sulky 40 wt. Rayon in Grass Green #1049 to do my free-motion quilting. I just did loop-de-loops in the green area and then wrote the girls' names in the white of the place mat. I love the added touch that a little thing like a name can give. I can't wait to see the smile on their faces when they see they each have there very own mat.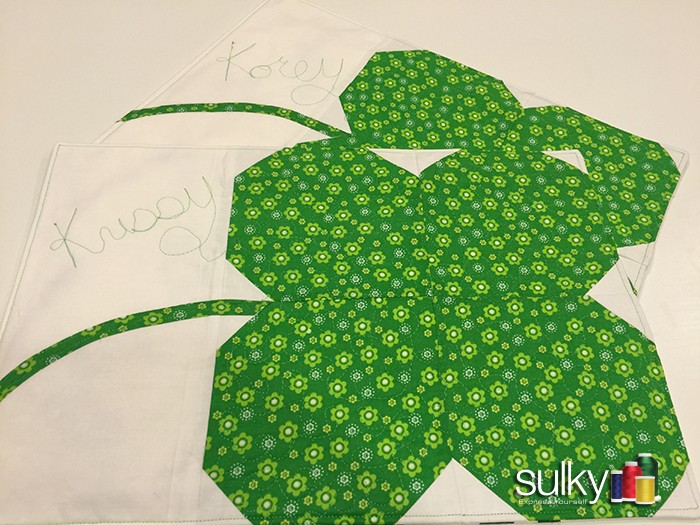 To finish it off, I did the pillowcase-turn method using the white fabric as the backing. Topstitch around the edge of the place mats in the Grass Green Rayon.
You're done! Enjoy!
Happy Sewing!