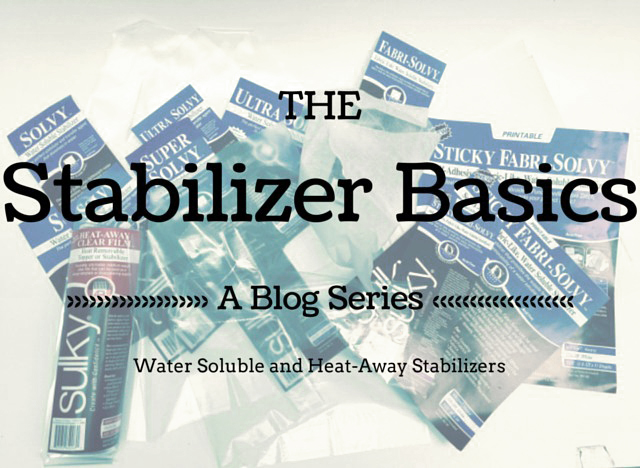 The Stabilizer Basics – Water Solubles and Heat-Away
The Stabilizer Basics
Water Solubles and Heat-Away
In today's Stabilizer Basics I am going to chat with you about Water Soluble (Solvy's) and Heat- Away™ stabilizers. These are both temporary stabilizers that started out with a couple simple applications, but, because you guys are so creative, you have discovered a million really cool uses for these amazing stabilizers!
Water Soluble Stabilizers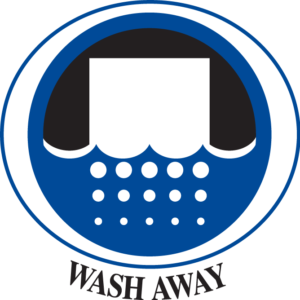 Water Soluble Stabilizers are just that, they dissolve in water. The number 1 use for the lightest weight Solvy is as a topper on napped fabrics, like towels, to keep the loops or pile from poking through the stitching; to prevent stitches from getting lost in the fabric; and/or to enhance the clarity of fine lettering and detail stitching. Sulky has several different types and weights in this category so let's go through some of them!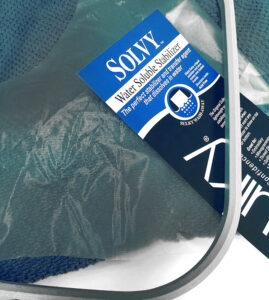 Sulky Solvy 
Sulky Solvy is the original water-soluble stabilizer and is my go-to topper. It is thick enough to help stabilize, but will tear away easily when the embroidery is done. I usually don't even have to wet it to get the stabilizer off. Anytime I am doing a towel, if I am doing very small lettering or if I am just not sure how an embroidery will come out, I use Sulky Solvy as a topper.
Hint: Keep Sulky Solvy in the original clam shell that you purchased it in or in a zip-top plastic bag. Exposed to air it can get crispy or wimpy – depending on the climate in your home at the time. It will still work, but It is easier to work with when it is in its natural state.
Sulky Super Solvy
Super Solvy is slightly heavier than regular Solvy. Its primary use is still as a topper but it can also be used as an additional backing when doing free-standing lace designs (it's too light to use alone for free-standing lace, though). As a topper, you may want this heavier Solvy when you are doing a very dense design or the the nap of a towel is particularly fluffy. I have used Sulky Super Solvy when I have done embroidery on Cuddle fabrics, too.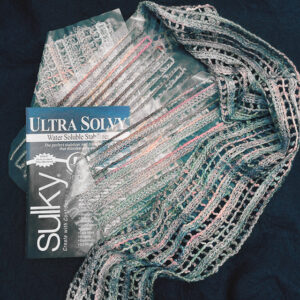 Sulky Ultra Solvy
Ultra Solvy is the heaviest Solvy we make. It feels sort of like a piece of vinyl. I love Ultra Solvy for doing very dense free-standing designs, for making thread scarfs and for doing lace or edging designs.  (When doing free-standing lace, try to find out what the design digitizer recommends – either the film-type like Ultra Solvy or the fabric-type like Fabri-Solvy.)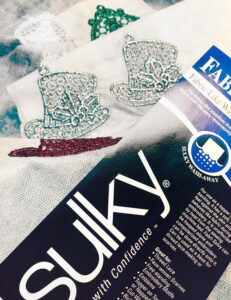 Sulky Fabri-Solvy and Sticky Fabri-Solvy
Fabri-Solvy is truly amazing and we keep finding new ways to use it that just make life "sew much easier!" Original Fabri-Solvy (without the sticky), started as a great way to do most free-standing lace designs. Because of it's fabric-like feel, it is easy to hoop and is a perfect base for things like Christmas ornaments, bookmarks, and cut-work designs on towels. With the cut work designs, it is best to use a little KK 2000™ Temporary Spray Adhesive to keep the towel in place, even if you hoop the towel along with the Fabri-Solvy.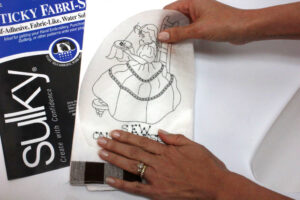 Then, we introduced Sulky Sticky Fabri-Solvy! This sticky-type has a release sheet on the back and once the release sheet is peeled away, you expose the adhesive that allows you to stick it right to your project and stitch away! This is great for lighter weight fabrics like scarfs and pashminas that you don't want to hoop but might not be able to handle the strength of Sticky+™ (If you read the Q and A posts here, then you may remember I ruined a pashmina because I used Sticky + when I should have used Sticky Fabri-Solvy). And…just when we thought we had found all the uses for Sticky Fabri-Solvy, we discovered you can print on it! This opened up  another world of uses. We now offer it in 8.5″ x 11″ sheets that can easily and efficiently go through your printer. This is now the only way I do hand embroidery (you can read about it here). Sulky Sticky Fabri-Solvy in printable sheets eliminates all the things I hate about hand embroidery (tracing the design and the hoops) – and leaves me with all the things I love about hand embroidery, the actual stitching and finishing much faster! People think I am exaggerating when I say the Sticky Fabri-Solvy changed my life but it did! Well, my sewing life anyway.
Sulky Paper Solvy
The last of the Solvy stabilizers is Sulky Paper Solvy. I absolutely love it for paper piecing! Paper Solvy is also printable so if you have a design that you want to paper piece, simply print it or copy it onto a piece of Paper Solvy. Do all of your paper piecing like you normally would. Paper Solvy, for the most part acts exactly like regular paper, until it's time to remove it. Have you ever done an intricate paper pieced design only to have it ruined and distorted when you tore out the paper? Yeah, me too. Not with Paper Solvy! Once you are finished sewing, take a cotton swab, dip it in a bowl of water and runs the wet swab on the stitching line. The Paper Solvy will dissolve away like magic and the rest of the paper just lifts off. No more tugging on your stitching lines, distorting your image or worrying if you are going to have to just leave that paper in and hope no one notices.  (Hint:  Paper Solvy has an actual wood pulp component, so it's best used underneath fabrics.)
Heat-Away Stabilizer
Sulky Heat-Away
Heat-Away is an amazing stabilizer that disintegrates once you iron it! This is an ideal stabilizer for projects that you can't get wet, like burlap! Burlap has gotten extremely popular lately, and it can handle a great deal of heat, but does not behave well when wet. Heat-Away is also perfect for thread stetting or just quilting a quilt. Simply trace your design onto the Sulky Heat Away, use a little KK 2000 to temporarily stick the Heat-Away to the right side of your fabric and sew over the lines! You can do it free-motion or let the feed dogs guide the stitching. When you are finished stitching, then comes the fun part. You just iron the Heat-Away in a circular motion, the KK 2000 will dissipate and the Sulky Heat-Away balls up and you just brush the little balls away. Like magic, your project looks great.  (If you didn't stay on the lines – they're gone anyway!)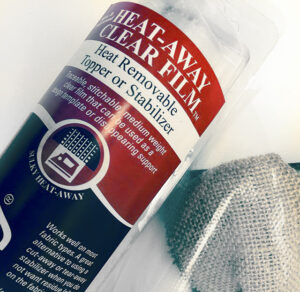 So there you have it! Those are the BASIC uses of all the Sulky Stabilizers. I say "basic" because we haven't even scratched the surface of the myriad of ways we can use these stabilizers and I will start delving into all of that next week. My question for you this week is: What is your favorite way to use Sulky Stabilizers? Let me know in the comments below. The best way for us to learn is for all of us to share, so please share with us your tips, tricks and favorite uses in the comments. And keep the questions coming!
Happy Sewing!