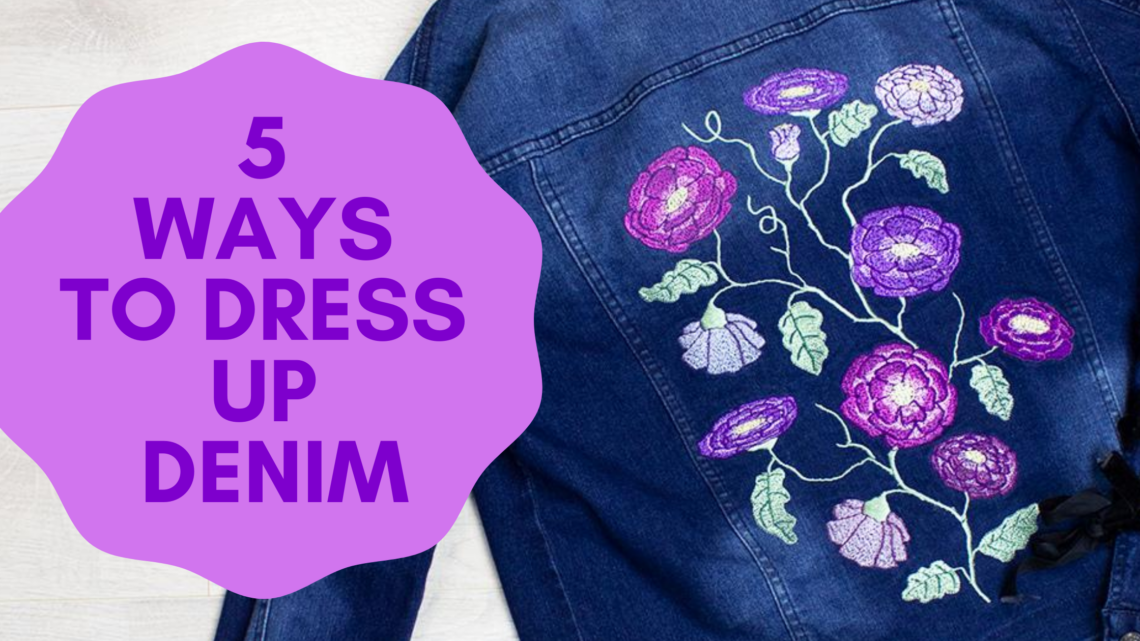 Denim Embellishments FIVE Ways
5 Denim Embellishments to Sew & Embroider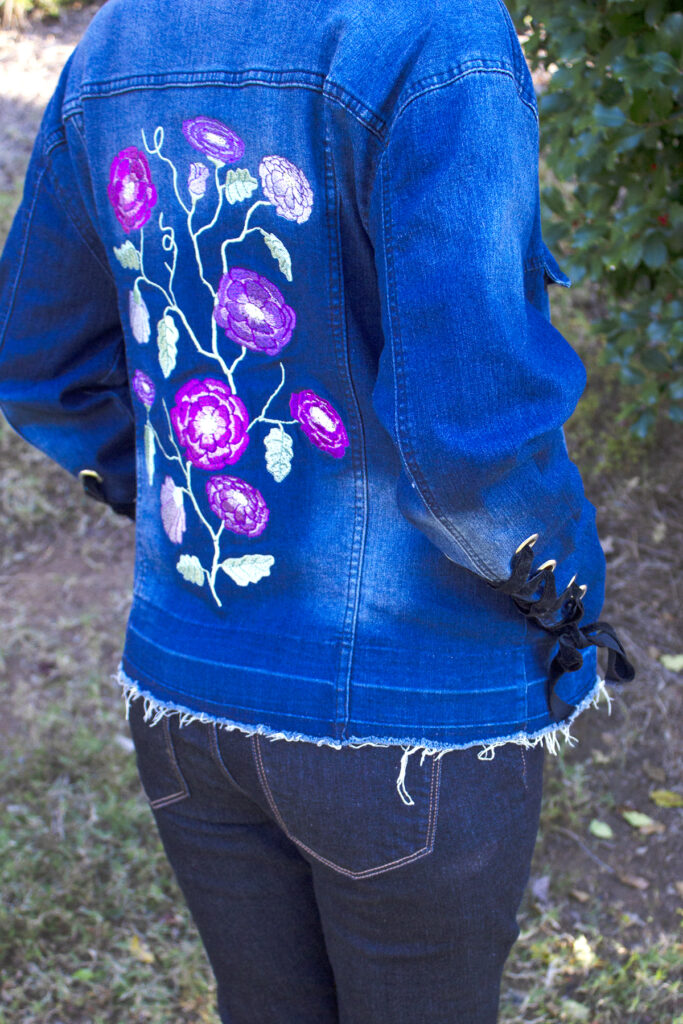 Personalizing denim, whether it's jeans, jackets, vests or bags, is a great way to dress up a staple in your closet and make it special. From machine embroidery to topstitching and more, we'll explore five denim embellishments that are easily completed in no time.
Denim Embellishment #1: Machine Embroidery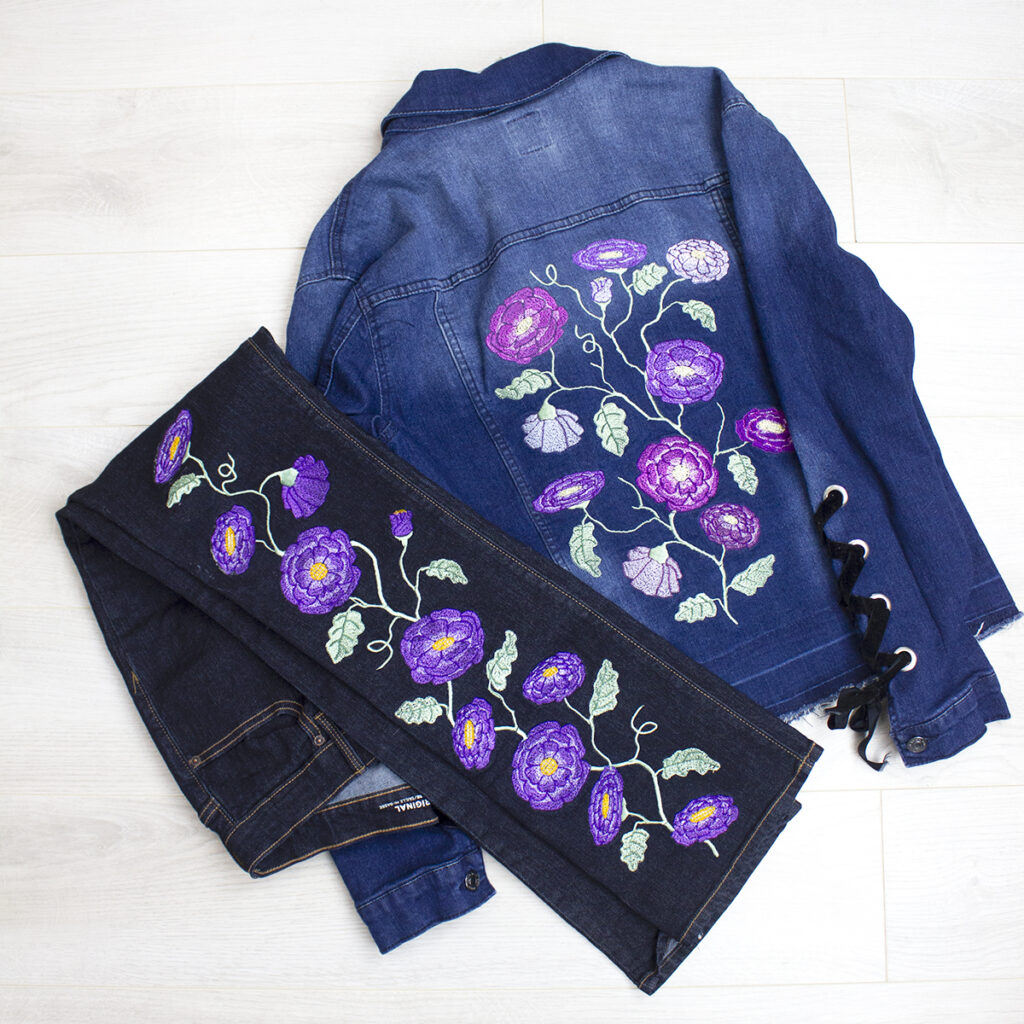 Machine embroidery is a super popular denim embellishment because the design options are truly endless. Designer Katrina Walker tells us how she embroiders her jeans, by taking apart the inner seam and embroidering a large-scale design along the leg.
from Katrina:
The featured designs were created and digitized by me for my Embroidering Denim Craftsy class. They are free for download for class participants. The thread is Sulky Rayon.
"Official" colors for the collection are:
I played around with the colors for the jeans and jean jacket. Here's what I chose!
Jean Jacket colors:
Jeans colors:
About the Designs
My philosophy as a fashion embroiderer is that the best designs for fashion are those that are easily combinable into different looks and to fit a variety of garment shapes. When I create fashion embroidery using commercially available designs I often "cut apart" the designs into smaller components so that I can then recombine them into the shapes, sizes, and design combinations that I really want to use. So when I created these designs for my Craftsy class it was natural to create them in individual, easily combined components that can be stitched in any size hoop. I created a variety of flowers, stems, and tendrils. They are combined here on the jacket back and jeans in different ways with slightly different color stories.
How to Plan the Designs
To create an embroidered garment, I first take a photo of the garment area or pattern piece. This allows me to create a "real size" custom background in my embroidery software (Premier+ 2) so I can arrange my designs and know they will look and fit the way I want. You can also do this by printing full size templates of your embroidery designs and working directly on your garment. If I will use the designs more than once I print them on a translucent vellum. It's stronger than paper, somewhat see through, and can be taped and re-taped and saved for future use.
For jeans, it's necessary to open up a seam if I want the design to go all the way up the leg. I open whichever seam is easiest – usually the one that isn't topstitched, which is normally the inside leg seam.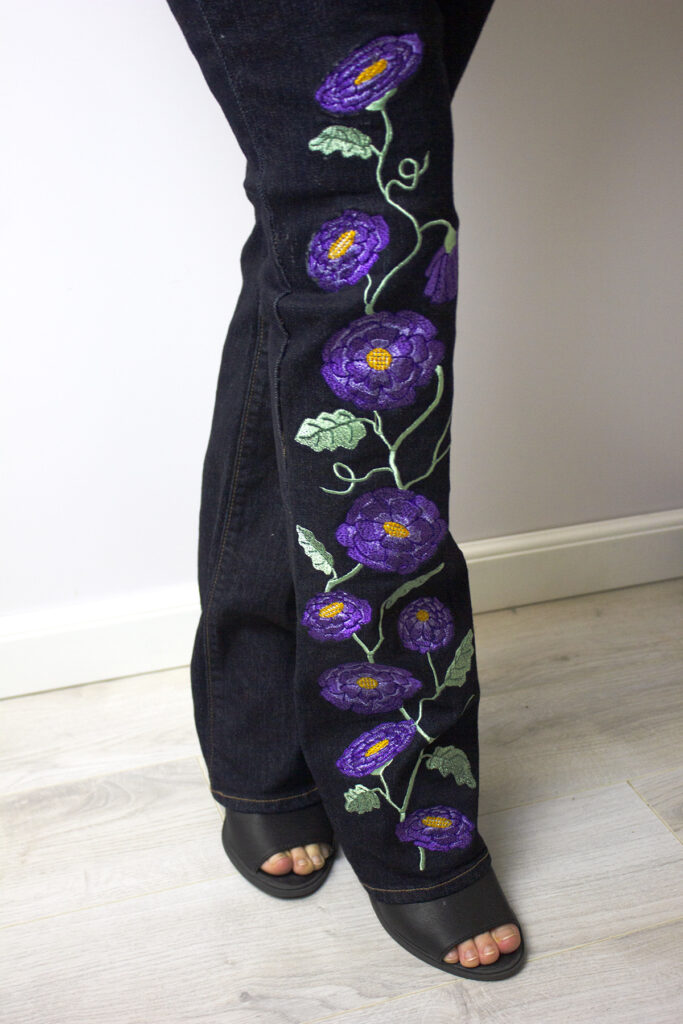 Designer Secrets
My secret technique for perfect denim embroidery is starch. I use a liquid stabilizer, such as liquid Solvy, or even spray starch and thoroughly stiffen the denim first. This really helps keep the denim from stretching or distorting during stitchout. Of course you also must use quality stabilizer – I often use a triple layer of Sulky Soft 'n Sheer™, Fabri-Solvy™, with a top layer of Sticky Fabri-Solvy™ to further keep the denim from moving around during stitching. The Soft 'n Sheer helps keep the designs looking good long-term through many washings.
I am lucky to have really big hoops for my PFAFF Creative Icon, so I embroidered the jeans in two hoopings, and the jacket in one. I created the jeans design as one big design, and then "cut" it into two hoopings using my embroidery software.
Denim Embellishment #2: Topstitching
A super simple denim embellishment is topstitching. Take an existing jean jacket or denim vest and stitch right over the existing topstitching using Sulky 30 wt. Blendables® thread. This thread is randomly dyed about every 2-1/2″ to 5″, making a completely random colored stitch.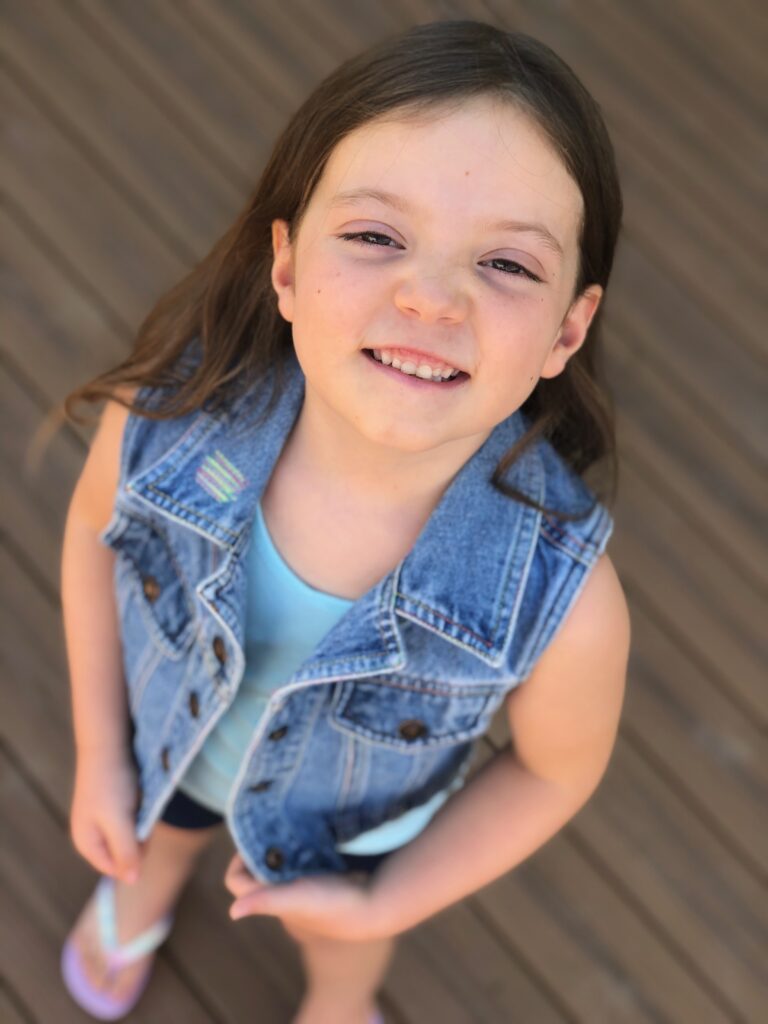 Make sure to use a size 90/14 or 100/16 Jeans needle so the needle is sharp enough to penetrate the denim layers.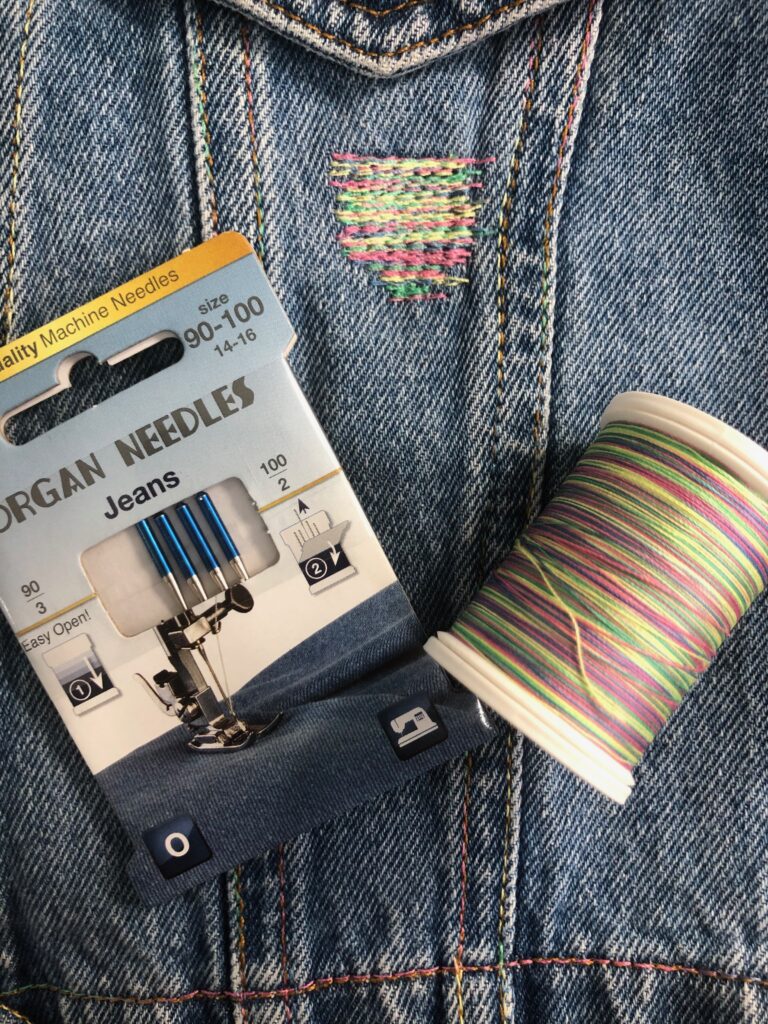 Set the machine for a longer stitch, such as 3.5mm.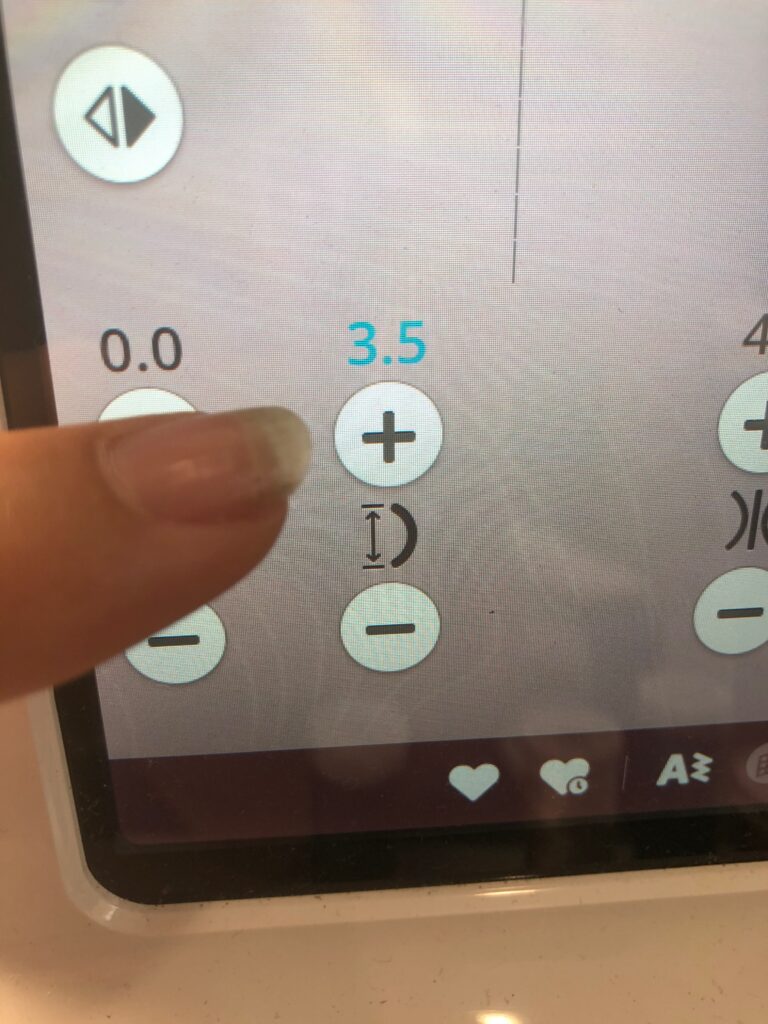 If there are areas of the jacket or vest that aren't easily navigated (buttons, rivets, arms-eye seams, simply leave them as-is. This is a subtle embellishment but gives the garment a little something fun!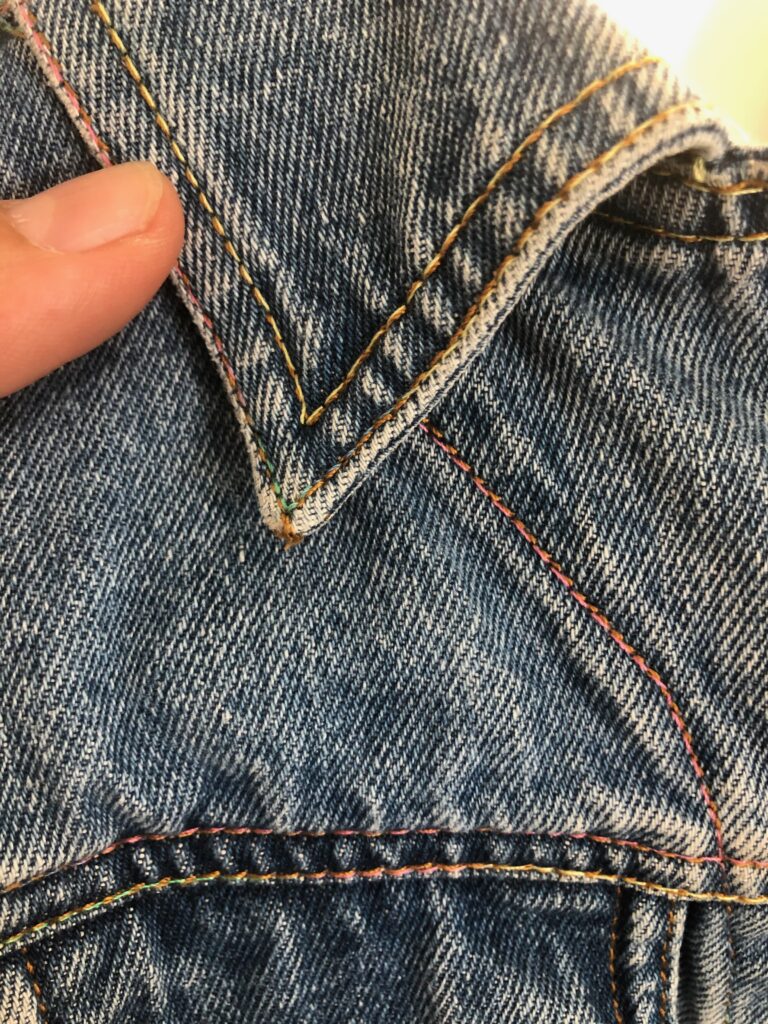 If the jacket or vest has an unsightly tag on the front or bag, cover it in stitches! Stitch back and forth over the tag to completely cover it, creating a new design element.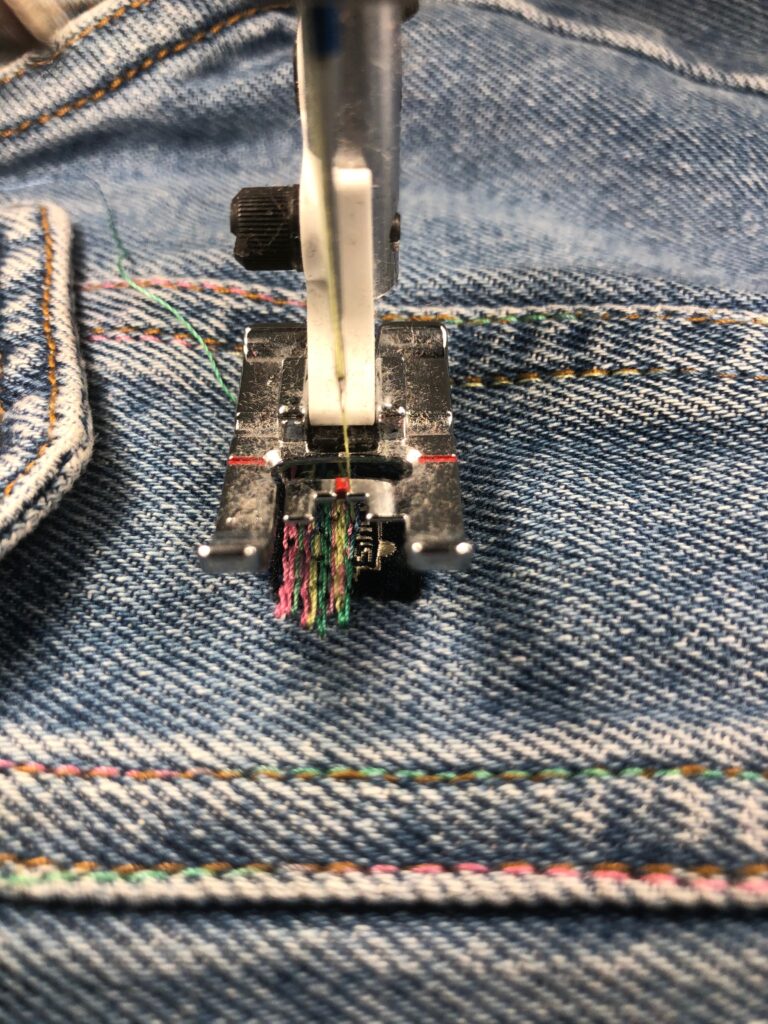 Add that same embellishment somewhere else on the jacket or vest to continue the design, such as the opposite collar point.
Denim Embellishment #3: Decorative Stitching
Similar to the topstitching embellishment, decorative stitching is a lot of fun. Use Sulky Blendables®, Rayon or Poly Deco™ threads, or a mix of all three, and choose fun built-in stitches on your machine to create different patterns.
Practice the stitches you want to use on scrap denim before stitching the garment to see how the stitches begin and end. Some stitches may need lengthened, while some stitches may be unsuitable, such as satin-type stitches. Practice to get a feel for how the stitch is formed, how the fabric moves under the presser foot, and make note to any changes you made to reference later.
Space the stitching equidistant or intersect the lines, depending on the desired finished look. This technique looks particularly good along the hem of a garment, such as a skirt.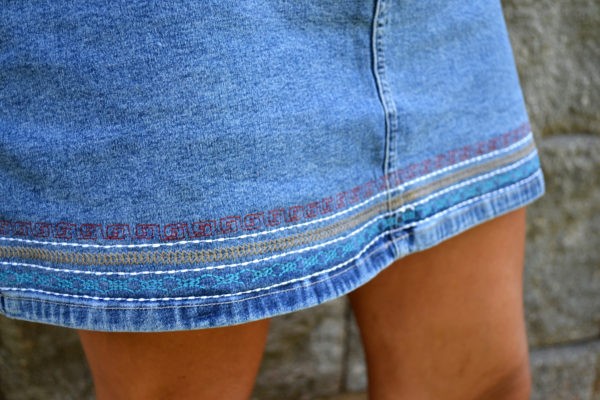 Denim Embellishment #4: Machine Embroidery Appliqué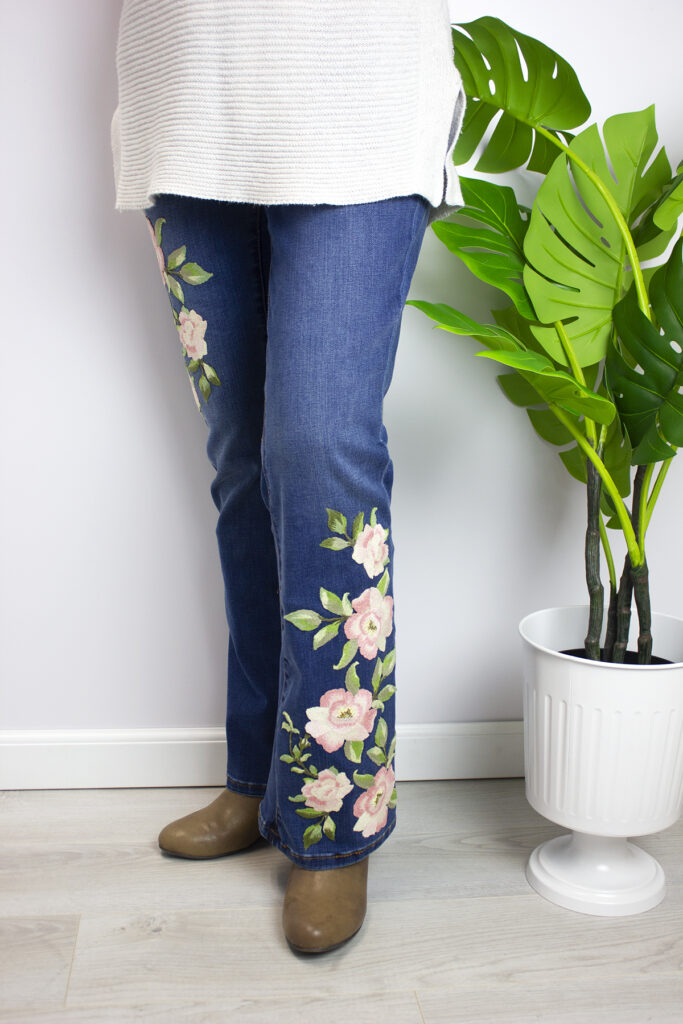 To embroider your jeans WITHOUT taking them apart, create fusible appliqués! Embroider the designs in the hoop, and then fuse them to the jeans where desired. Add a bit of security stitching after fusing by edgestitching the appliqués or tacking them in various places. Grab all the how-tos on our free project page, under Floral Embroidered Jeans. The featured flowers are embroidered with textured Sulky Filaine threads.
Denim Embellishment #5: Machine Embroidery Patches
Making patches in the hoop of your embroidery machine is a fun way to cover a rip, tear, or simply embellish jeans, a jacket or backpack.
Our Pandemic Patch Palette includes the machine embroidery design files as well as the six Sulky Rayon threads you need to complete the design. Grab the how-tos to make sure your patch turns out great!
Which ever technique you prefer, you're sure to love these denim embellishments for the fall season! Need more denim inspiration? Check out our Upcycling with Denim online course.