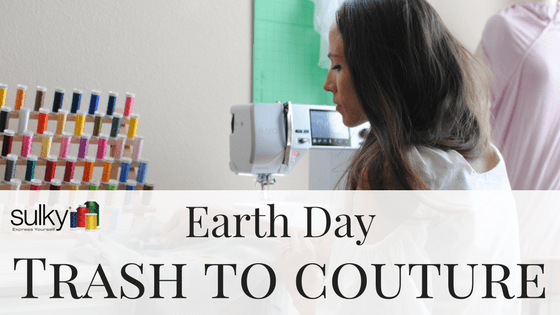 Earth Day Featured Artist: Laura Pifer of Trash to Couture

Happy Earth Day!
Earth Day is an annual, worldwide event held to demonstrate support for environmental protection. This week we highlighted two of our Eco-friendly products, Sulky Rayon Thread and Sulky KK 2000 Temporary Adhesive Spray. Both products demonstrate that you CAN have a great product, while still being eco-conscious.
Also in the spirit of Earth Day, we wanted to feature Laura Pifer, founder of Trash to Couture. Laura has reinvented the way we see fashion. With her innovative DIY projects she is teaching her viewers how to up-cycle clothing into creative, trendy looks. Her refashioned designs are not only eco-conscious, they are absolutely adorable! We met with Laura to discuss Trash to Couture, her vision for the future, who inspires her, and much more….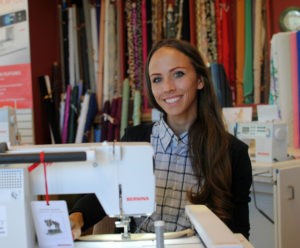 What inspired you to start Trash to Couture?
As cool as it is to have my own business and understand how to gain instagram followers by posting fashion-related content (or just interesting content), being in this industry allowed me to saw firsthand how wasteful the fashion industry can be even in my own little studio. I did my best to approach my business as sustainable and Eco-friendly as possible. I handmade every garment made to order. I used recycled packaging and up-cycled materials whenever possible. I bought my fabric from local, small businesses. At that time there wasn't much information on sustainable brands so it was something I was doing because it felt right.
I ended up closing down my clothing line. I was young and didn't understand how much help I'd need with the growth my brand was getting. I did everything on my own from running the online shop, customer service, marketing, design, pattern making, sewing/construction of the garments, photography, modeling, and shipping, etc. It got to be too much and all while being at home raising my 2 babies at the time. WHOA! I think back to that time, and I must have been crazy. I kind of quit cold turkey.
After a couple of months off from sewing, I really missed the creativity and joy it gave me. I've always wanted to start a blog where I shared sewing tutorials on how to refashion and up-cycle clothing into fashion-forward looks. If I ever go ahead with this, I may contemplate utilizing the services of a Newcastle SEO Company to help the growth in popularity of my new blog. I wanted something to inspire me and others to get creative all while being Eco-conscious. Hence, Trash to Couture was born. I remember one of my first tutorials was where I transformed a t-shirt into a dolman-style top.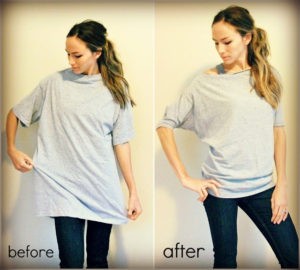 What is your mission statement?
I hope to inspire a less wasteful approach to fashion through sharing my refashion DIY tutorials. I want viewers to see they don't have to sacrifice style and creativity to live consciously.

Who inspires you?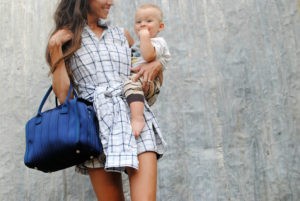 My children are my main source of inspiration. There is nothing better than when my kids get inspired to create art because I'm sewing. Nothing fulfills me more than when I make something special for my kids that they enjoy. We design and sew their Halloween costumes every year, and they're "famous" that time of year at school for the costumes we come up with. I also love making booties for my baby every couple of months. He has the biggest feet for such a little guy and we can't find any that seem to fit. I up-cycle his brothers old fleece pajamas and call them Louie's Booties (his name is Louis).
How did you get started in the sewing/designing world?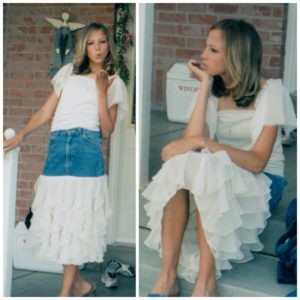 I remember always being interested in fashion, even at a young age. It really started with Barbie; I wanted to makeclothing for her. As I approached my teen years, I wanted to sew my own designs that I was sketching orthinking about. When I saw sewing offered in middle school, I was thrilled. From then on, I was making clothing pieces whenever possible. My mom would bring me to the thrift store where my sister and I would get things to refashion. I wore some ridiculous things to school. I'd have a t-shirt with a denim waist as the collar… or redesign one of my dad's old shirts. Street style before it was cool.
Do you have any professional training or were you self-taught?
I was trained by the teacher at my school who was a master seamstress herself. By my senior year, she created a class specifically for me to sew whatever I'd like. That was probably because I'd hurry up and finish the initial project and then start sewing my own designs. It was my favorite class. I'm still so grateful to this day for having sewing offered in my school and a teacher that let me create without restrictions.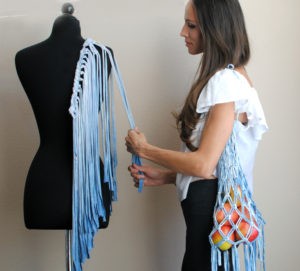 From there it became just trial and error of learning from the process of doing it over and over. I now have a couple of mentors I've connected with that always offer me advice and help when needed and vice versa. I think sewing is a never ending skill to be learned. There are so many different channels: different types of garment construction (wedding, active wear, couture, ready to wear, tailoring, costumes, etc.), quilting, crafts…I mean we really could go on. So I always feel there is more to learn, and that's exciting to me!
What are your other hobbies?
Running was actually my first love. I was one of the best prep runners in the country coming out of high school in track and cross country. I chose to focus on athletics over design and went to the University of Colorado. I do still run but not at the level I used to. Now I run more for the serenity of it because it helps my mental and physical well-being. I also enjoy photography, which go hand-in-hand with running a blog and designing.
What is your vision for the future with Trash to Couture?
I really enjoy what I'm doing now which is working with creative brands to design original content. I would like to continue and steadily grow to have a larger platform of partnerships with brands that share Trash to Couture values.
Right now I'm working on a project with Sulky using Sulky 40 Wt. Rayon Embroidery Thread and Fabri-Solvy Stabilizer. Kelly of Sulky really inspires me to try things I would never think you could do with machine embroidery. For example, currently I'm embroidering with lightweight textiles like tulle and organza. I'd initially be intimidated by embroidering with these, but Sulky has products for all types of projects and Kelly's expertise is the perfect combo.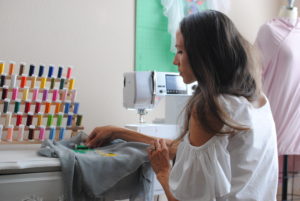 What is your favorite Sulky product and why?
It really depends on what project I'm working on. Right now I've been using the Fabri-Solvy water soluble stabilizer. To be able to embroider directly onto it, and the stabilizer disappear with water is pretty cool. You can create free-standing embroidery or use it for the finest of fabrics like tulle, knit, and organza.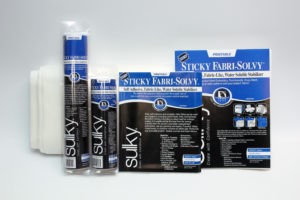 Sulky really opened up my eyes to what you can do with embroidery. The threads are top notch and the stabilizers Sulky offers are innovative. I think they've really changed what you can do with embroidery. I used to think machine embroidery was something you'd do on medium-weight fabrics with heavy iron-on stabilizer, but now I'm free motion sewing my own sketches right onto my clothing!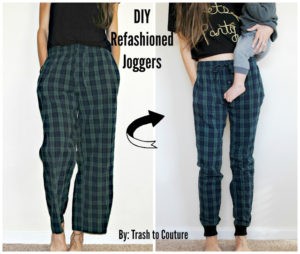 We love meeting people like Laura, who are living an eco-conscious life.