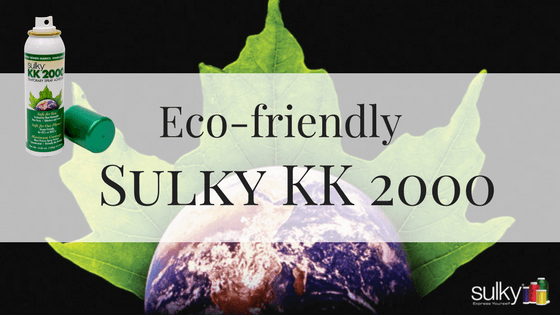 Environmentally Friendly: Sulky KK 2000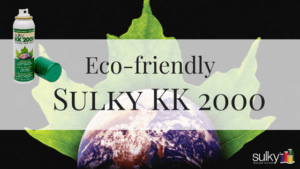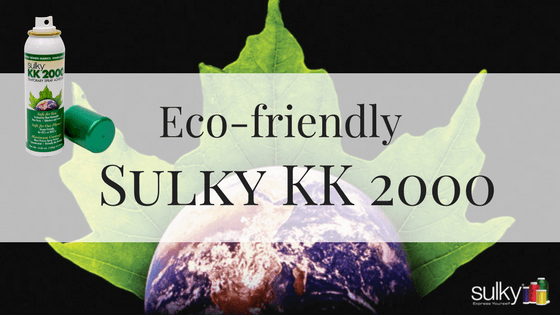 In honor of Earth Day, we want to highlight our environmentally friendly KK 2000 Temporary Spray Adhesive. Read on to learn what Sulky KK 2000 is, how it's safe for you, AND how it's safe for the environment!
What exactly is Sulky KK 2000?
While Sulky KK 2000 Temporary Spray Adhesive was developed for applique, it is a must-have for machine embroidery, as it also helps provide drum-tight hooping for stretchy fabrics when sprayed onto the stabilizer. This allows these fabrics to be placed in their own natural lie. (This is particularly useful when dealing with large hoop areas!) That's not all! It is also great for "unhoopables", such as collars cut on the bias, pocket flaps, cuffs, etc – even socks!
KK 2000 helps reduce warping of knit rows during embroidery and is also ideal for temporarily mending holes by spraying the damaged area together along with a suitable backing. The great thing about Sulky KK 2000 is that it is a temporary glue, which does not make fabric permanently stiff as other spray adhesives can.  Bonding will disappear within 2 to 5 days without any stain. To dissipate earlier than that, iron the sprayed fabric with a warm dry iron.  (KK 2000 is not water soluble, so you want the tackiness gone when you launder.)  BONUS HINT:  If you want the bond to last longer, store your project in a zip-lock bag with all the air squeezed out.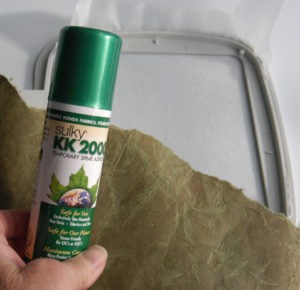 Safe for you…
Sulky KK 2000 is the only SAFE Temporary Spray Adhesive on the market that contains NO dangerous flammable gas propellants. KK 2000 uses a totally different non-flammable propellant that is heavier-than-air. The lighter-than-air, highly-flammable, petroleum-based competitive products require a much larger can to contain the propellant. Sulky KK 2000 is, therefore, significantly smaller with virtually the same amount of usable product! Adhesives with lighter-than-air propellants come out with such a forceful burst that you must hold the can 10 to 15 inches from your target. This can cause the glue particles to float up and disperse all over your room, making it easier to inhale these potentially dangerous propellants.  Our small can has a great directional spray nozzle, which makes it easier to target smaller areas precisely.
The force of Sulky KK 2000's non-flammable, heavier-than-air propellant is considerably less. When you hold the can 6  inches away from the target and spray in light, spritzing bursts, it falls away from your face, onto your fabric, and is very accurate. This means very little is lost to over-spray and there's little to no clean-up after.  Hint:  If you do get KK 2000 on your hoops it comes off very easily with rubbing alcohol.  All of these components make Sulky KK 2000 very safe to use indoors.
Safe for the environment…
Sulky KK 2000's highly concentrated material and heavier-than-air gas propellant makes it the only non-flammable, safe, non-toxic, ozone-friendly, temporary spray adhesive on the market today!  KK 2000 is considered safe for the environment because it contains no CFC's or HCFC's, which are harmful organic compounds that eat away at Earth's ozone layer.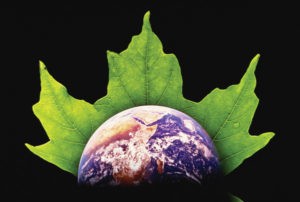 Now through 4/30/18, Sulky KK 2000 and Sulky 40 wt. Rayon 250 yd. spools are 25% off! Shop here.