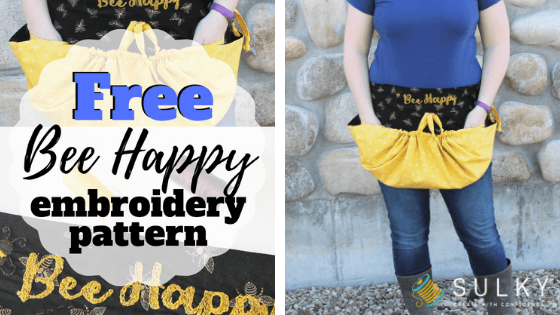 Embroidered Apron, Free Design & Free Pattern
Embroidered apron patterns are fun and functional, plus they remind us of our moms, grandmas and other influential women in our lives (I'm sure aprons remind some people of certain men in their lives, too).
On the week before Mother's Day, we invite you to make a new embroidered apron pattern using fun fabrics and a cute spring-inspired embroidery, courtesy of Chelsea Briner of Sew Simple Home. We hope it gives you the warm fuzzies!
This embroidered apron pattern is a great gardening apron, as it gathers up to hold your fruits and veggies as you pick them! Fun and functional at its best.
About Chelsea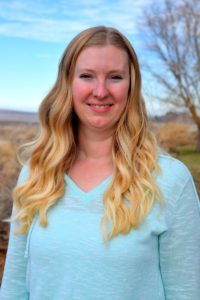 Chelsea Briner is a wife, mother of 3 and owner of Sew Simple Home.  She has always enjoyed all things domestic, which is why she graduated with a degree in Family Consumer Science (aka Home Economics).  She shares quick sewing and crafting projects, family friendly recipes and organizing tips to help guide busy parents on how to manage their home effectively and use their creativity to accomplish it.
From Chelsea:
Bee Happy Embroidered Apron Pattern
I love customizing any handmade items that I make. One way to do this is with simple embroidery designs. Because gardening season and Mother's Day are just around the corner, I thought a fun spring design was in order.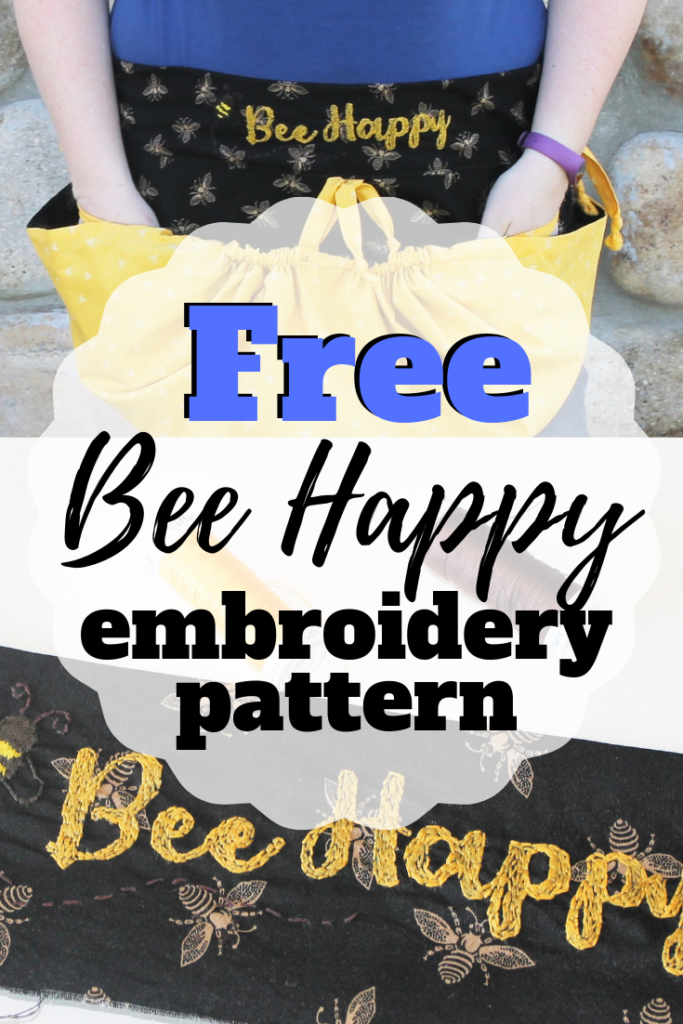 This hand embroidery Bee Happy pattern is the perfect design for a cute garden apron, pillow pattern or on some simple kitchen towels. Any mother would enjoy a sweet gift like this.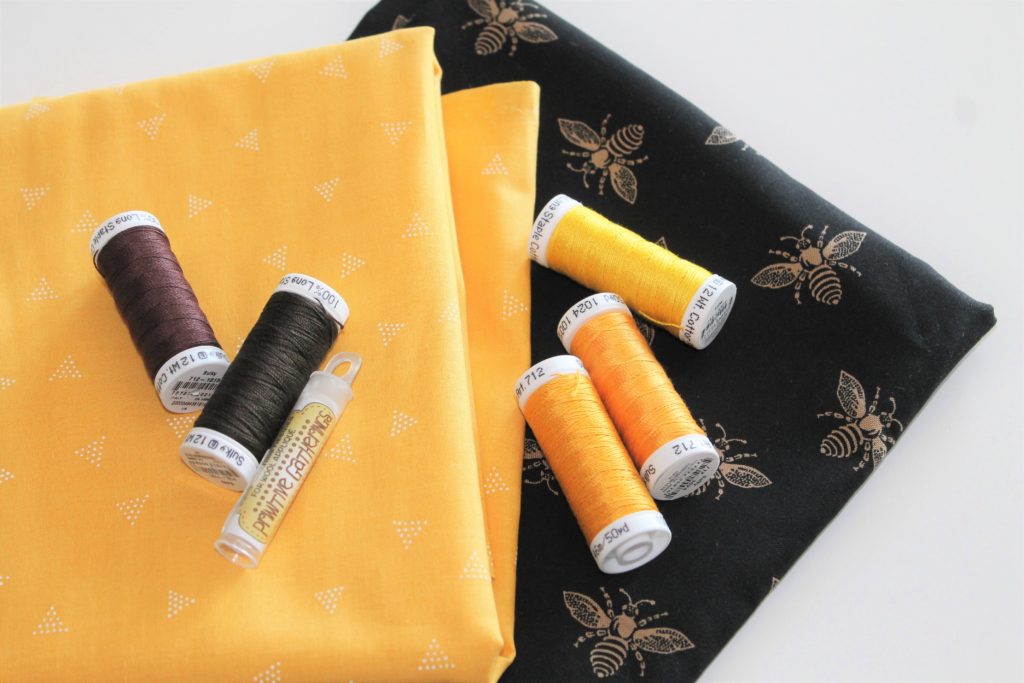 Embroidered Apron Pattern Supplies
(Apron supplies come later! But this fabric is similar to the featured prints:
Dear Stella Honey Bee Triangle Dot Bumblebee Fabric
and 
Timeless Treasures You Are My Sunshine Sunflower & Bee Chalkboard Black Fabric.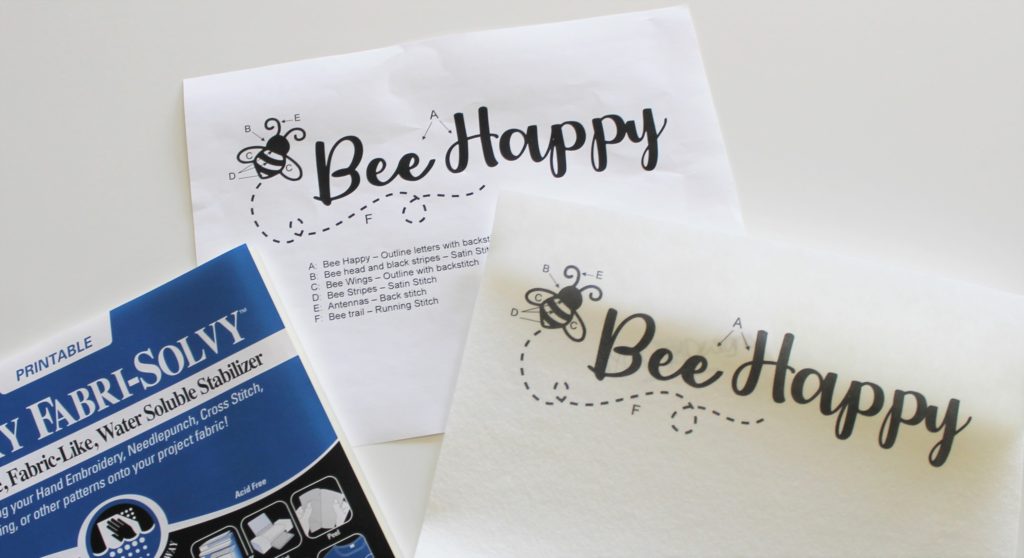 Step 1
Print the free Bee Happy embroidery pattern onto a sheet of Sticky Fabri-Solvy Stabilizer. Trim the stabilizer close to the design perimeter.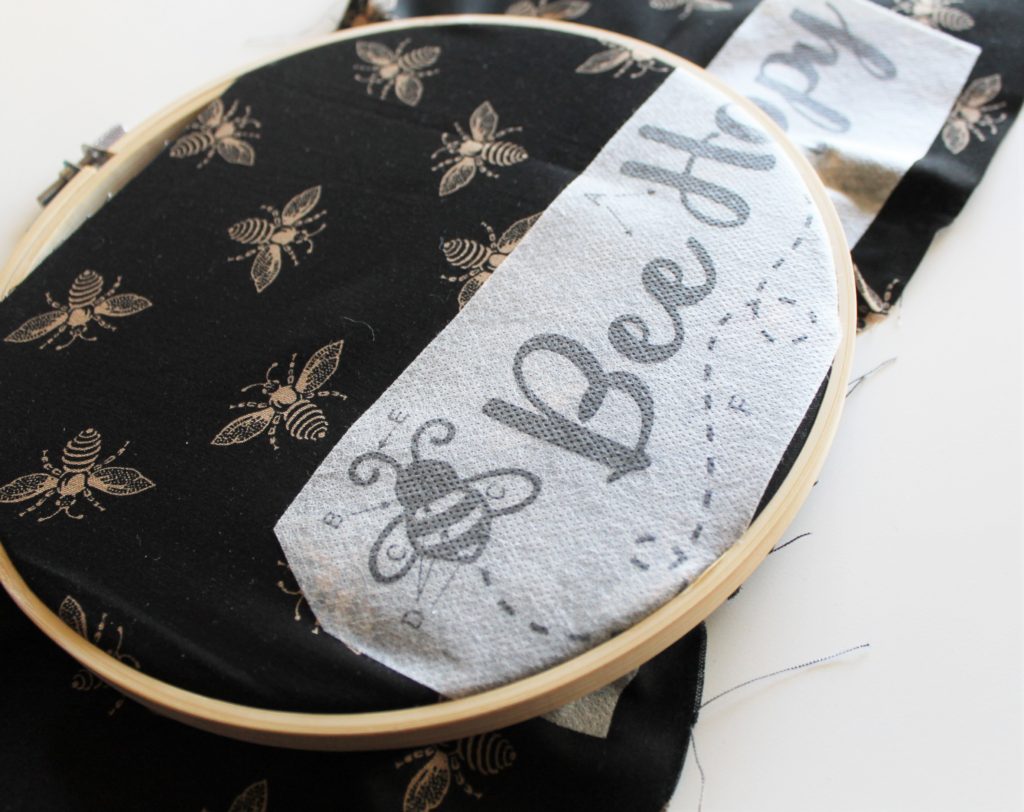 Step 2
Peel design off of the paper backing and place onto the fabric right side where you plan to stitch the design. Hoop the fabric in the embroidery hoop.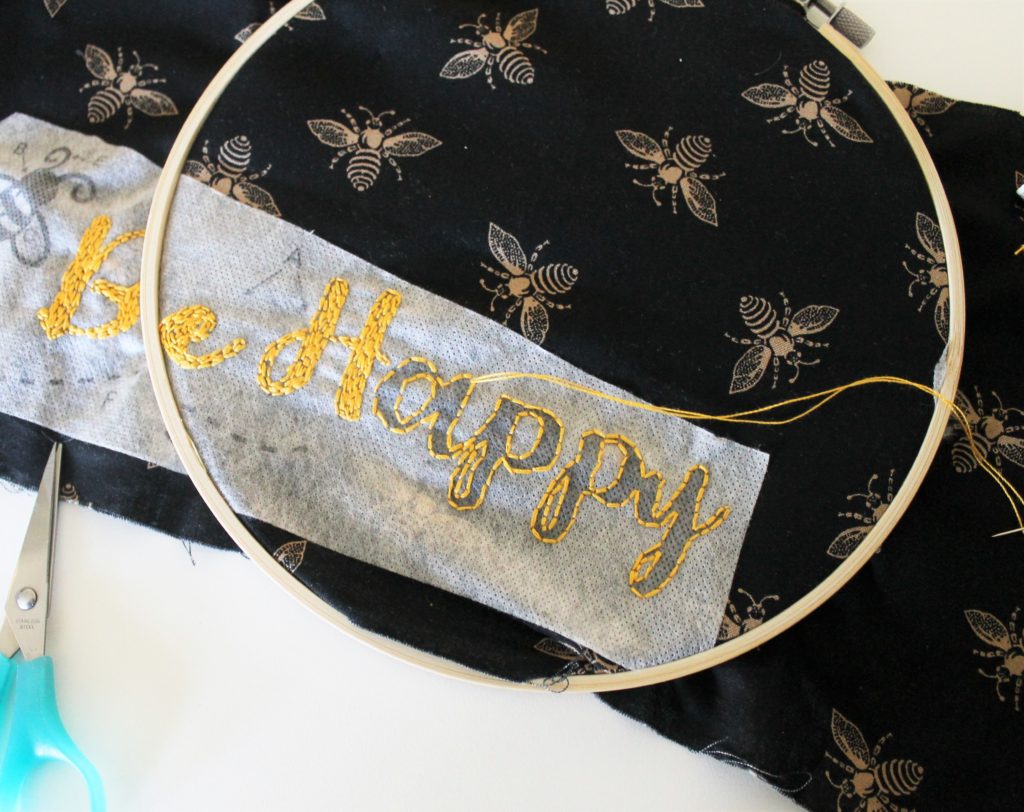 Step 3
To make the embroidered apron pattern, thread the needle with one to two strands of thread (each strand mimics two strands of traditional floss). Hand embroider the design using the following stitches:
A:  Bee Happy – Outline the letters with a backstitch and fill with layered backstitch
B:  Bee head and black stripes – Satin Stitch
C:  Bee Wings – Outline with backstitch
D:  Bee Stripes – Satin Stitch
E:  Antennas – Back stitch
F  Bee trail – Running Stitch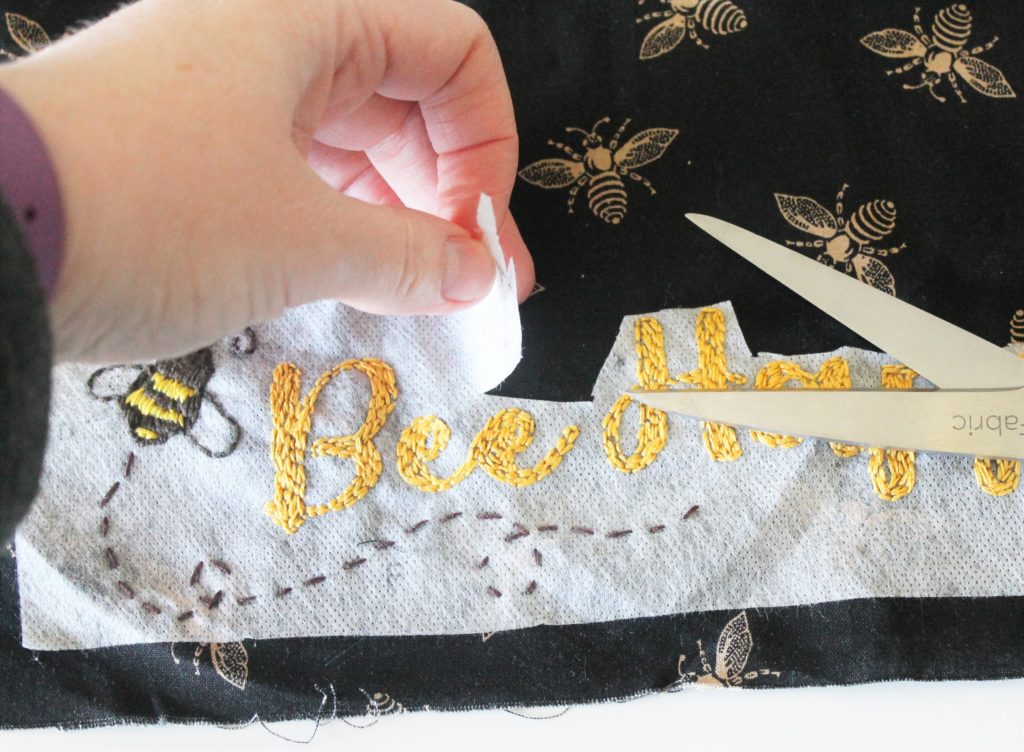 Step 4
Remove the design from the hoop and trim the excess Fabri-Solvy from the design perimeter.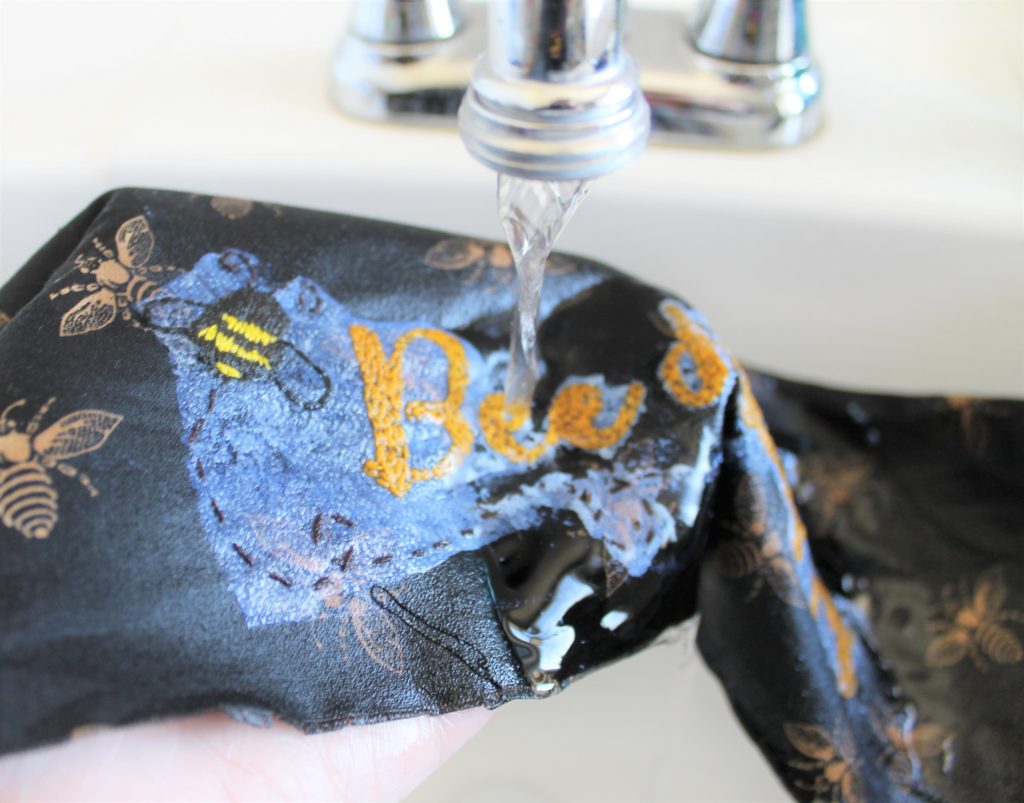 Step 5
Place the design under water to remove the stabilizer.  Allow to air dry.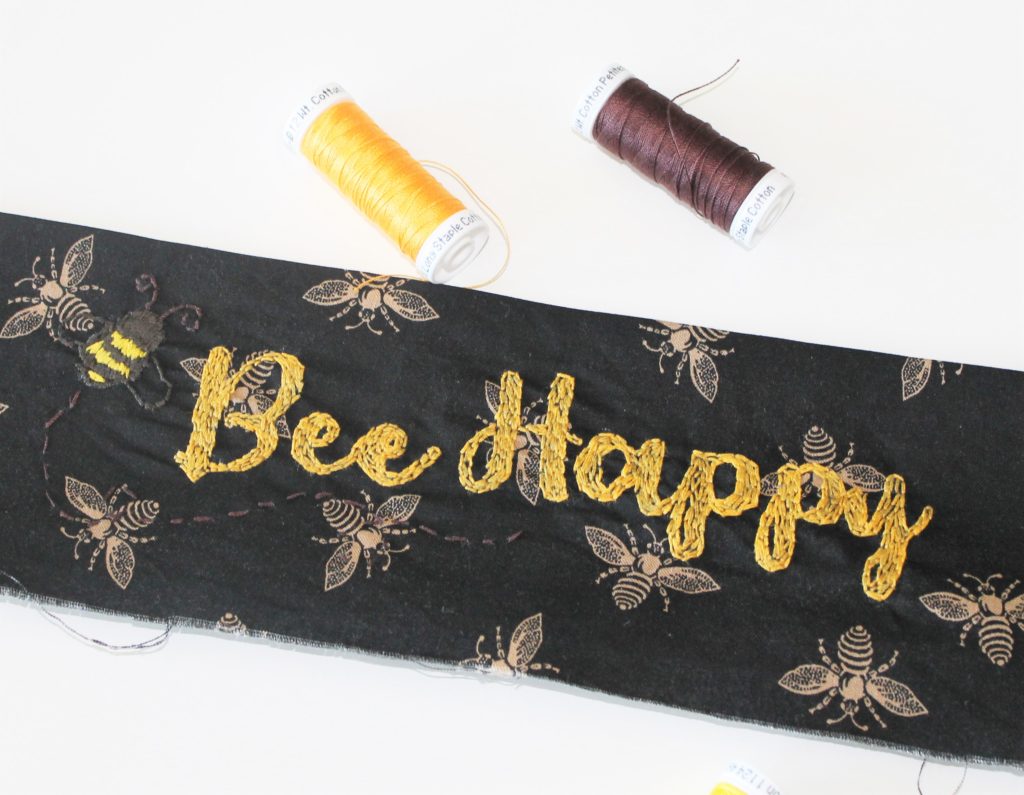 Step 6
Construct the waistband and sew it to the rest of the apron.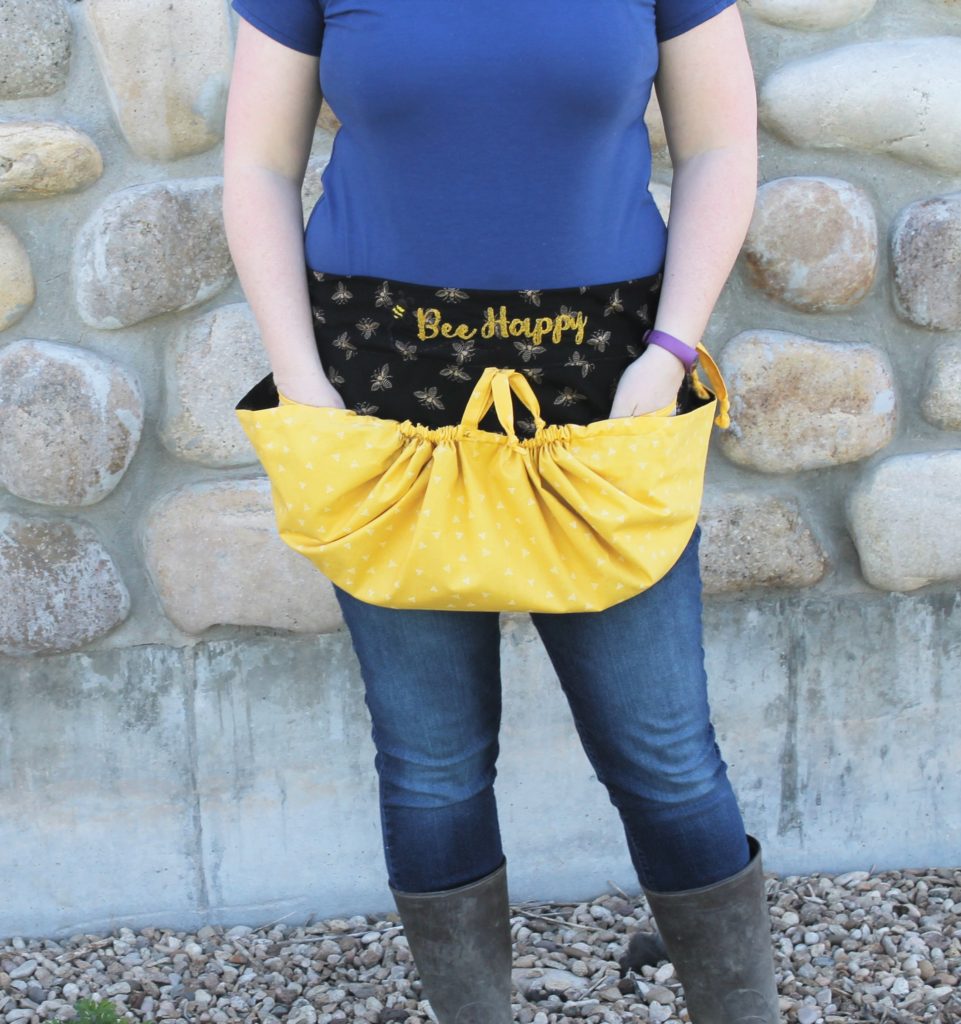 Grab the garden apron pattern to make this embroidered apron pattern at Sew Simple Home.
Find more inspiration from Chelsea by following her on social media: