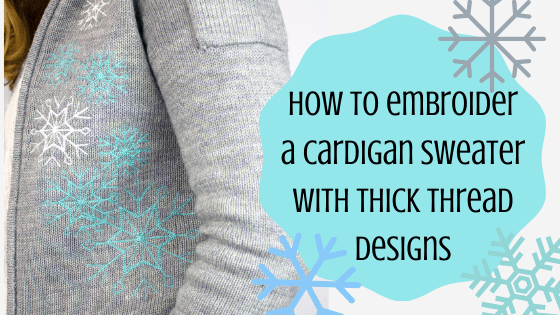 Embroidered Cardigan Sweater with Thick Threads for Winter
How to Make an Embroidered Cardigan Sweater with Soft Filaine Thread
by Katrina Walker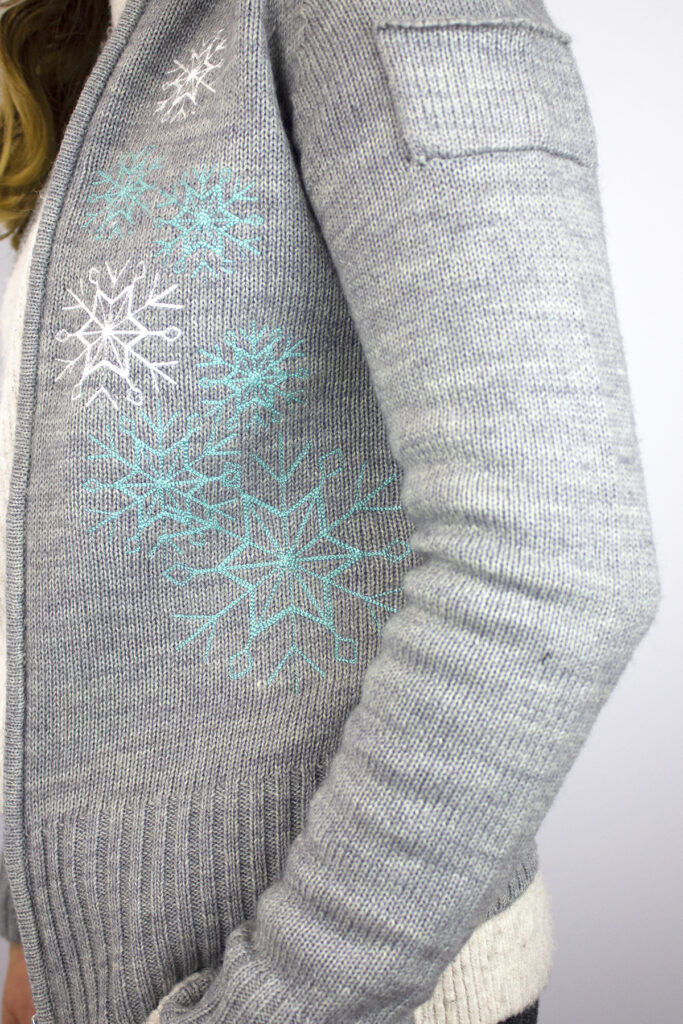 Create a beautifully cozy embroidered cardigan sweater with lovely pastel snowflakes stitched in soft Sulky Filaine thread. This festive look is easy and fun to embroider and even more delightful to wear. Follow these simple instructions for a great addition to your winter wardrobe.
SUPPLIES
Choosing a Design for Embroidered Cardigan Sweater
Sulky 12wt Filaine thread is a lovely soft thread with a thick, lofty texture that's a great choice for an embroidered cardigan sweater. The thread thickness allows even the lightest designs to stand out. Embroidery designs that are specifically digitized to work with heavier threads are the most ideal. Running stitch designs, such as the featured from Urban Threads, work especially well.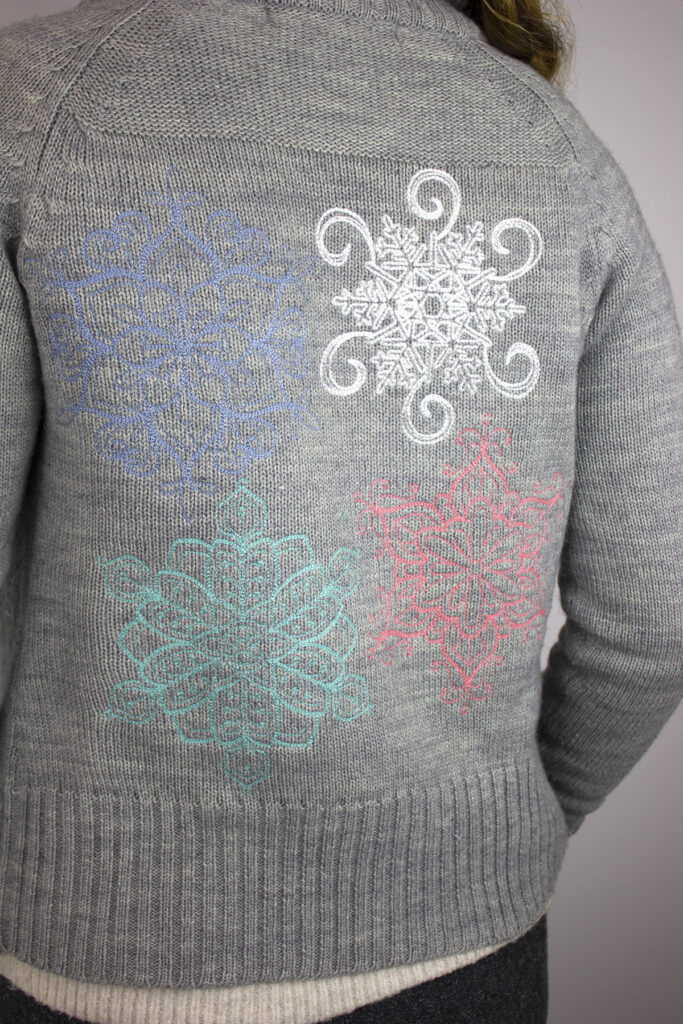 Choosing a Needle for Filaine Thread
Whenever a heavy thread is used for embroidery, a large needle is the best choice to protect the thread from abrasion and allow it to flow freely through the needle eye. For this winter sweater, a size 100/16 Universal needle was used. A size 110/18 may also be used with great results.
Stabilizing the Cardigan Sweater for Stitching
Hooping a sweater is difficult due to the thickness of the yarns and their tendency to become distorted or damaged when tightening a hoop. Instead, hoop the stabilizer and use Sulky KK2000 to secure the sweater to the stabilizer. KK2000 will adhere the sweater knit evenly to the stabilizer and keep the soft sweater yarns from shifting during stitching. Using the baste-in-the-hoop function of your embroidery machine or software to also help keep the sweater firmly secured.
Embroidered Cardigan Sweater with Filaine Thread
Once the sweater is secured in the hoop, thread the embroidery machine with Sulky Filaine thread, using a size 100/16 needle. Lower the needle stitching tension to accommodate the thicker thread. Use a bobbin wound with bobbin thread in a color to match the sweater.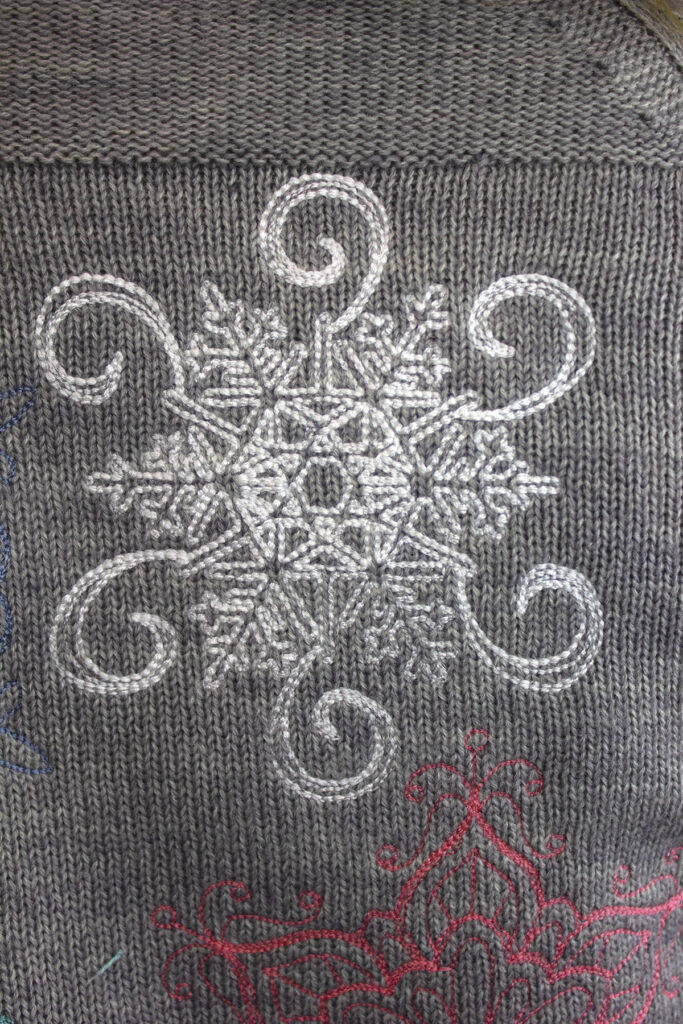 Turn off any automatic jump stitch cutting functions prior to embroidering the design. Many embroidery thread cutters have difficulty with heavy threads, and this also avoids large knots on the back side of your embroidery. Stitch the embroidery designs using a lower speed to reduce friction on the thread. This helps avoid any thread breakage.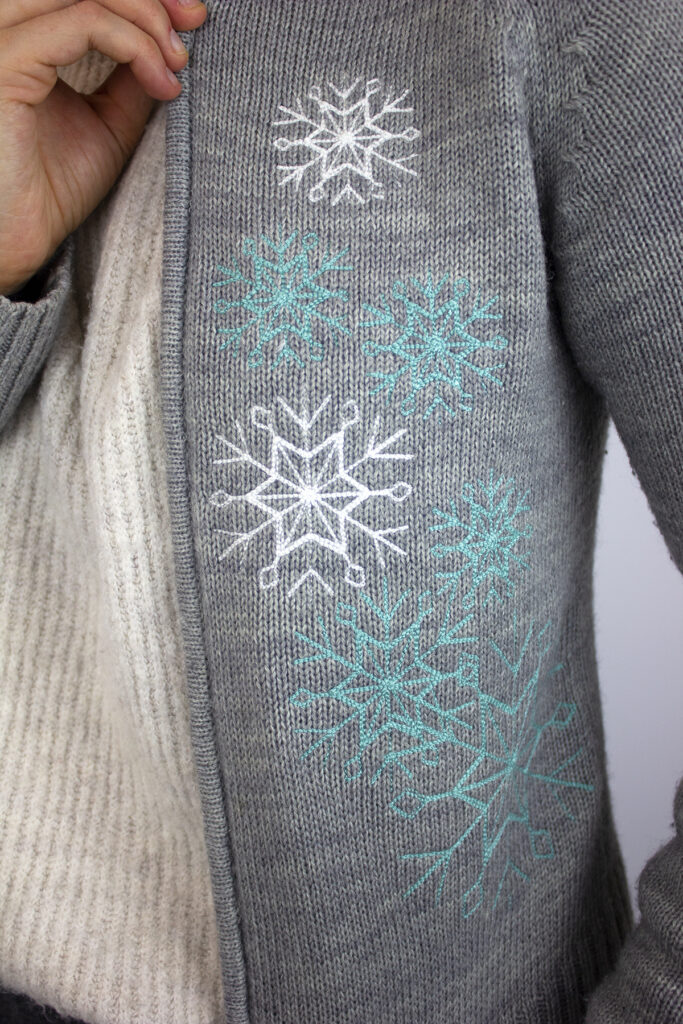 After stitching is complete, gently remove any basting stitches and carefully trim the jump stitches in the embroidery on the front and back of the sweater.