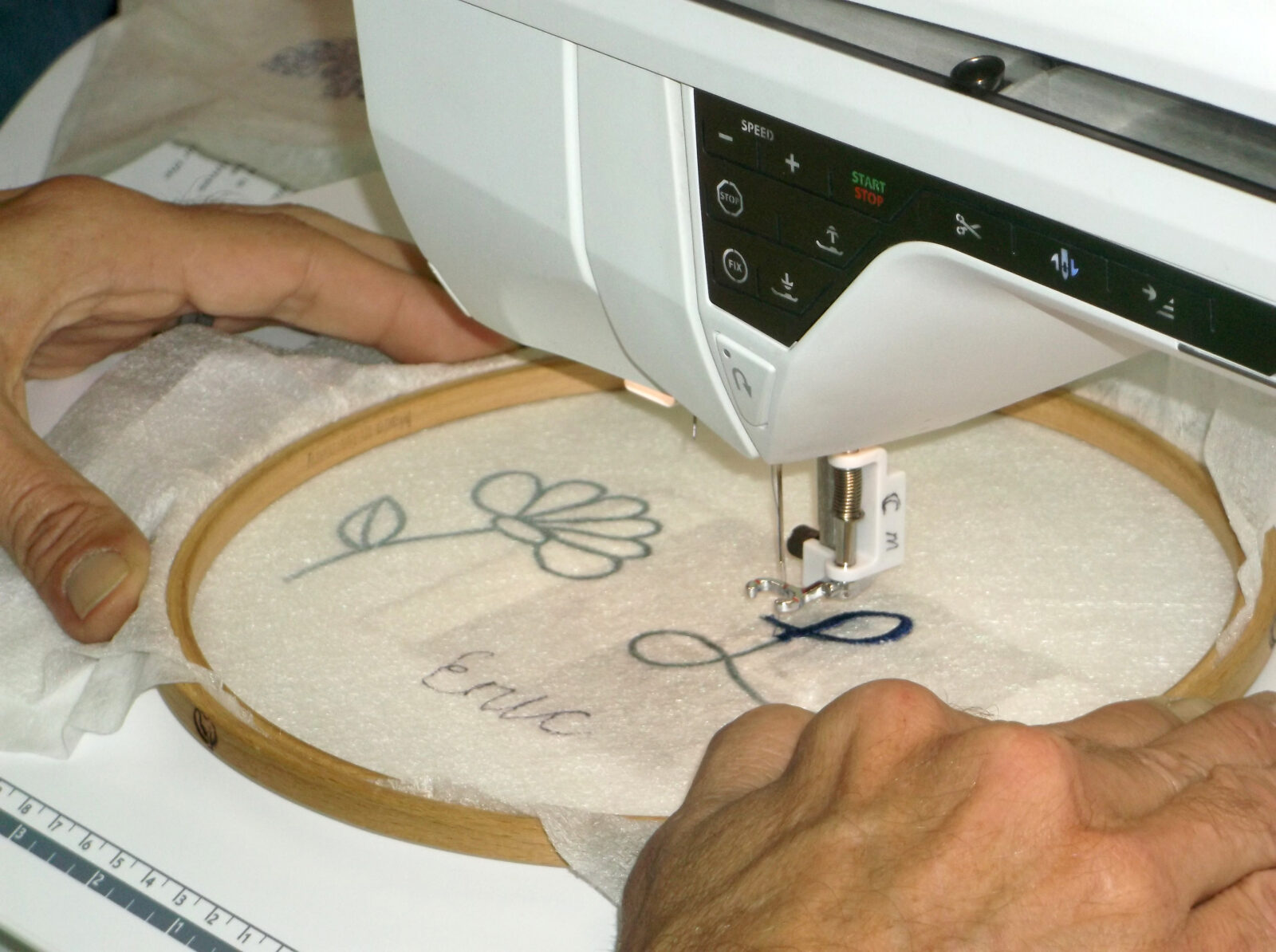 Top 10 Notions from Eric Drexler, Sulky Educator
Eric Drexler's Top 10 Notions
If I was on a deserted island with power and my sewing machine, these are the 10 notions I would need, and why:
Collins Sewer's Aid: It is a silicone lubricant that helps with some speciality threads, and fabrics. What I like the most is it keeps the adhesive off my needle when using any sticky-back product (including fusible webs). Simply put a drop on your finger and rub on the needle. Reapply as you start to see a build up again.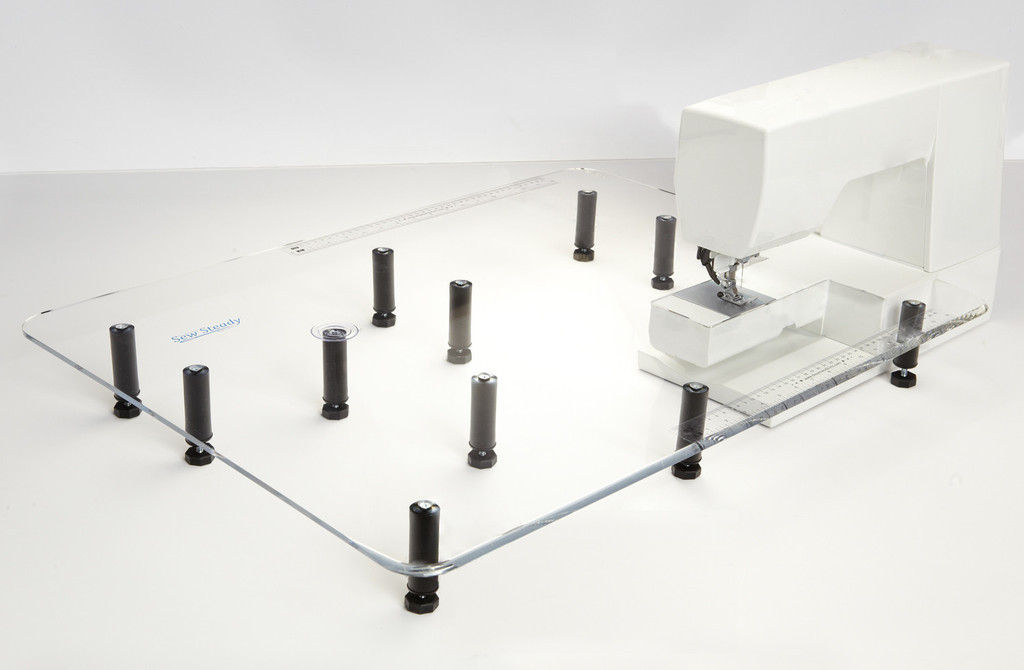 Sew Steady Table: Since I first laid eyes on this extension table, I knew I was in love. The square inches of extra work area are really useful when I'm working with a large project. It has improved my free-motion skills by giving me more surface to "plant" my hands and keep me steady. Yes, sometimes I feel like I'm laying on it when my elbows are almost touching. I almost forgot… I use it as my light table now instead of the sliding glass door. Just slip an under-the-counter fluorescent light underneath. Presto!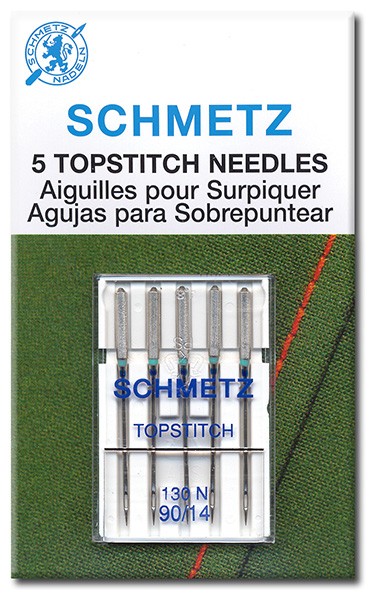 Schmetz 90/14 or 80/12 Topstitch needles: I love the 80/12 when I am free-motion stitching with Sulky 40 wt Rayon because it has that extra large eye that is very gentle on my thread. When using heavier threads like Sulky 30 wt. Solid Color Cotton Threads, or 30 wt. Blendables I switch to the 90/14 topstitch needle.
Sulky KK 2000™: People are still amazed when I tell them that I have never pinned any of my wallhangings or crib-size quilts. I make my quilt sandwich, pull down half of the quilt top, spray with KK 2000, and smooth it back down. I repeat with the other half and the back of the quilt. Even though I roll and unroll it many times it just holds everything in place.  Oh, and if I don't finish in one sitting (who does?) I keep it in a ziplock plastic bag and squeeze all the air out.  It lasts for weeks and weeks.

Pilot FriXion® Pens: Even though Pilot didn't want to discuss their pens being used in our world, I was hooked the first time I tried them. I have used them in many, many projects and only had a problem one time. The GEL pen ink turned a white color when the ink disappeared. I have been told that washing usually takes care of it, but have not tried it yet. Better to be safe than sorry, and always test on a scrap.  These pens "heat away" with an iron.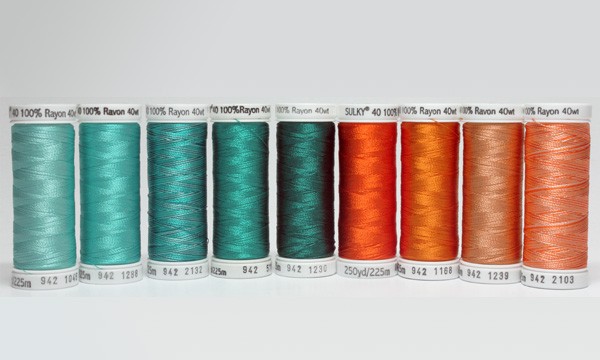 Sulky 40 wt. Rayon: Is there anything else for the best quality embroidery (free-motion in my case). I know Sulky has a Polyester line of 40 wt, but I have always loved the natural sheen of Rayon when comparing them side by side.
Sulky 60 wt. PolyLite™: This has changed my world of free-motion embroidery. I used to wind the same color Sulky 40 wt. Rayon on my bobbin when sewing my designs. Now with Sulky Poly-Lite my designs are 1/3rd thinner and more pliable. Hey if it works for the embroidery machines, it's good enough for me.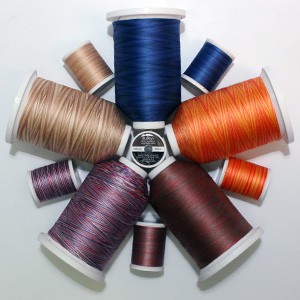 Sulky 30 wt Blendables: Well we all should know why but in case you didn't, Blendables are dyed in random 2 to 5″ color increments.  A very forgiving thread to quilt with because of the random color changes.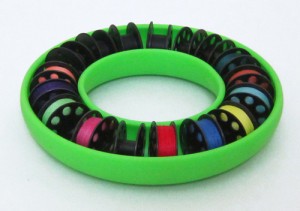 My Bobbin Jelly Ring: Because I like to have lots of colors wound on bobbins at my finger tips.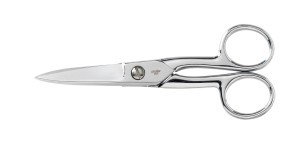 Okay, it wouldn't be fair to if we didn't have some fabric and batting on the island, too. Right?
Don't you love Eric's list? If you have never had the chance to take a class with Eric and have always wanted to, don't miss your chance! Eric teaches you step-by-step how to do free-motion in the Artistry in Applique online class that is going on right now! We have extended registration for 3 more days so hurry and register now! (PSST: Use coupon code SULKYAPP50 and you will get $50 off the registration fee!)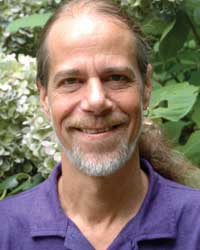 Today's Post was written by Sulky National Educator and Free-Motion Guru Eric Drexler. On a personal note, Eric is an awesome person and friend. You will truly never meet someone as genuine and kind-hearted as he. On a professional note, if I could have a thimble-full of his free-motion talent I would be set for life. In addition to his amazing talent, he is also a sewing machine repairman and has been for more than 30 years. I don't know about you, but when someone knows that much about sewing and about the machine, I am going to take note of the notions he can't live without!