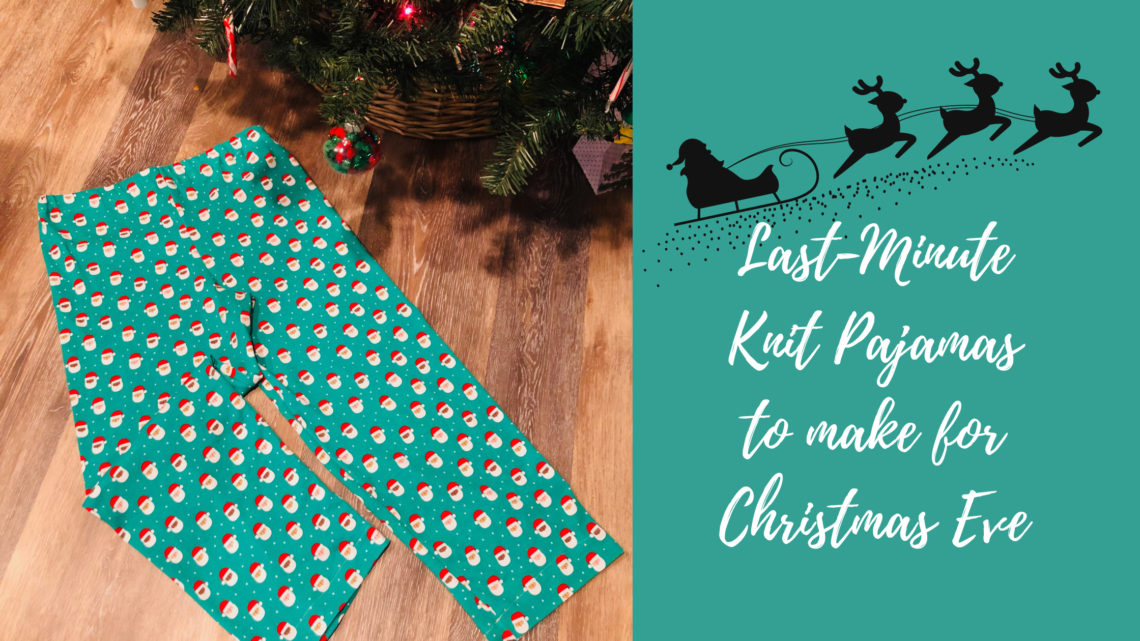 Knit Pajamas for Christmas Eve (& Beyond!)
Knit Pajamas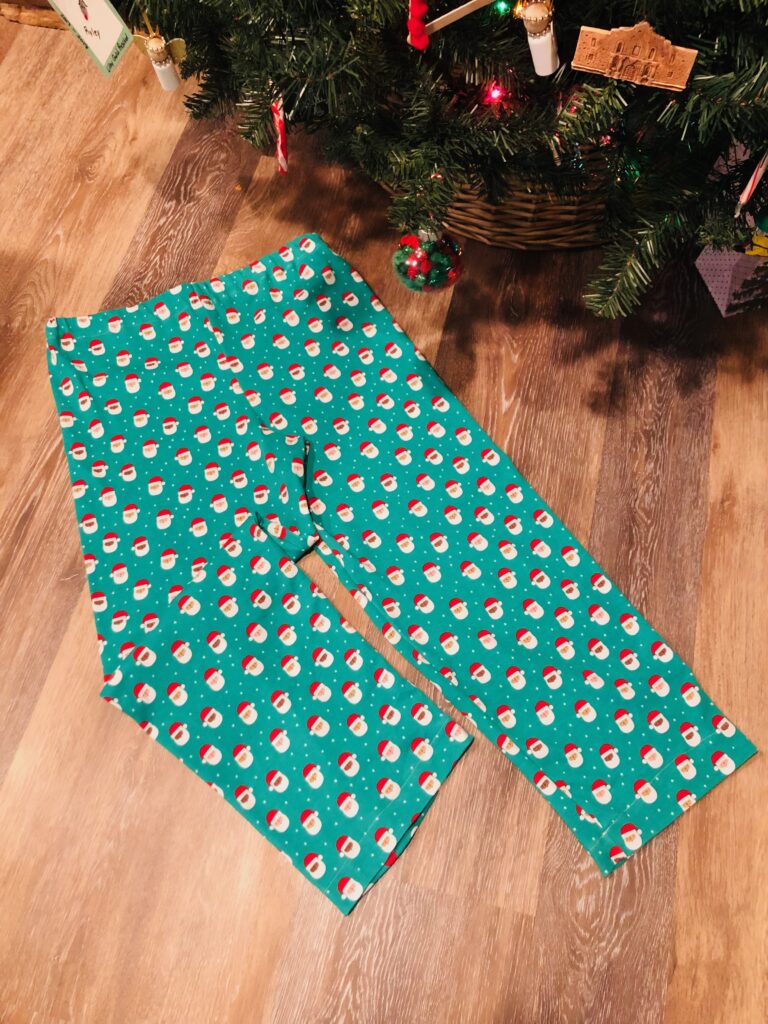 for Christmas Eve & Beyond
Gifting new knit pajamas on Christmas Eve is a family tradition of mine. I guess the pajamas haven't always been made of knit fabric…but those certainly are the preferred fabrics in my family. This year, I started with the Sulky Kids' Pajama Pant pattern (bonus – it's FREE! And it comes in multiple sizes from toddler to size 16Y!) and experimented with swapping knit fabric for the woven the pattern directed. The result? Read on to find out!
KNIT PAJAMAS SUPPLIES
Good quality knit fabric with 2-way stretch (amount is determined by pattern size)
Sulky 50 wt. Cotton Thread
1″-wide knit elastic
FABRIC CHOICE
What does "good quality knit fabric" even mean, anyway? In my opinion, this means that when stretched, the fabric has good recovery and springs back where it started. The color/dye doesn't disappear along the seamline (turning white) after sewing, stretching or wearing. And the fabric just feels buttery against your skin. Brushed Poly Spandex (affiliate link) is a particular favorite of mine, and readily available from online fabric companies.
There are many holiday-themed knit prints available (which I like to choose for optimum Christmas Day photo ops), but choosing a fun motif that suits the recipient's interests is always a hit, too. And the pajamas last long after the Christmas festivities are done. (My kids will wear holiday-themed pajamas any time of year, so I wasn't worried about that, but you may want to consider it.)
Always, I mean ALWAYS, wash and dry knit fabrics before constructing any garment. The degree of shrinkage could be minimal or severe, and you'll never really know util you wash the yardage in the same manner you plan to wash the finished pajamas. Purchase a bit of extra yardage to account for potential shrinkage. It's better to have too much than not enough.
It's worth noting that typically patterns designed for woven fabrics do NOT work with knits and vice versa. However, the forgiving fit of these pants allowed for the substitution. Conversely, if the pattern had been designed for knits, a woven fabric would NOT have worked as most knit patterns take the stretch factor into account, which woven fabrics do not have at all. So while swapping substrates won't always work, it did in this case! Hurrah!
THREADS & NEEDLES FOR KNITS
I love using Sulky 50 wt. Cotton Thread for knit fabrics. It's a lightweight, yet strong, thread and also works well in the serger. By the way, if you do have a serger now is the time to use it! Knits + sergers = TRUE LOVE. Just remember to grab up four spools of thread if you plan to use a serger. I prefer a 4-thread overlock stitch, but a 3-thread overlock would work as well, requiring only three thread spools.
Ballpoint needles are absolutely necessary when working with knits. The tip won't pierce through the fabric fibers during construction. Instead, the needle pushes the fibers aside to make room for the thread, eliminating any snags, pulls or holes in the fabric. Go with a Jersey size 70/10 when using 50 wt. Cotton Thread.
If you're using a serger, make sure you change the needles with every new project. Your serger may require different needle types, such as EL 705 SUK, so be sure to consult the manual or manufacturer's website for more information.
If not using a serger, choose a stretch stitch on your machine, which looks like a narrower zigzag stitch at an angle.

KNIT PAJAMA PATTERN TIPS
The pattern directions include a tip for adding a tag to the pants waistband along the center-back seam. I highly suggest this, especially when working on kids' clothing! If you can fussy-cut a motif from the fabric to use as the tag, that adds a special touch. The knit edges won't really fray, so you don't necessarily have to finish the edges of the tag loop.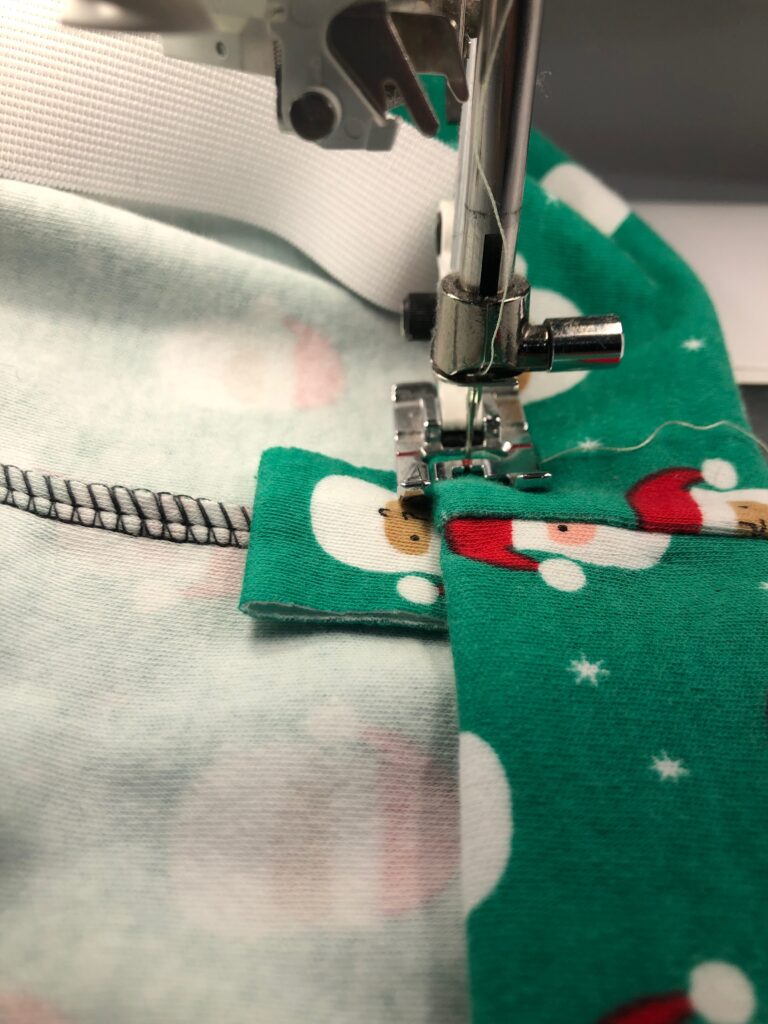 Fold the fabric strip in half widthwise with wrong sides together, matching the raw ends. Insert the raw ends into the waistband seam before finishing, and then stitch to close.
When completing the waistband and hem, choose a long stretch stitch so those seams move with the fabric stretch. Don't use a straight stitch, or those seams will pop once stretched.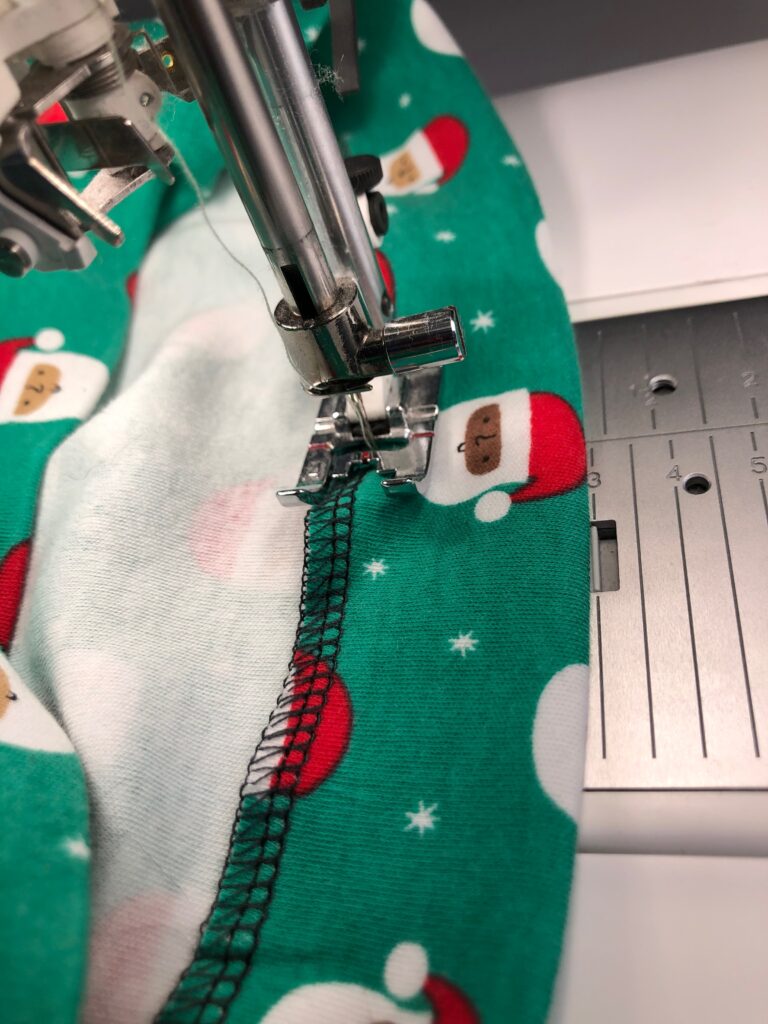 To hem, simply stitch just inside the serge-finished raw edge of the pants. Serge-finishing the raw edge isnt necessary, but makes it nice and tidy if leaving the hem edge raw.
If desired, create a double-fold wide hem to be able to let the hem out when the child grows. This ensures the knit pajamas last more than a few months! And, it conceals any raw edge, too.
Have fun making knit pajamas for all the littles in your family!