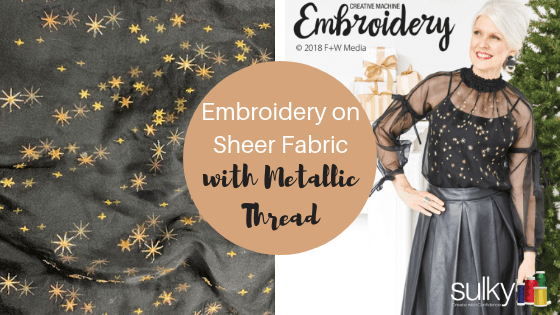 Embroidery on Sheer Fabric with Metallic Thread
Embroidery on Sheer Fabric with Metallic Thread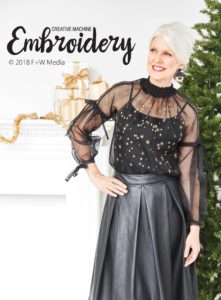 by Katrina Walker
Learn tips for embroidery on sheer fabric with metallic thread to create fashions worthy of any New Year's Eve party.
The holiday season is the perfect time to add some shimmer and shine. Embroidery on a lovely sheer silk organza with metallic thread always looks so elegant. Whether used on a blouse (like the one above using a BurdaStyle pattern, from Creative Machine Embroidery) a simple scarf, or even home décor – it's a fabulous accent perfect for any festive occasion. Embroidery on sheer fabric with metallic thread may look intimidating but it's actually quite easy to do if you follow these tips for success:
1. Choosing Designs: Less (Density) is More
When it comes to embroidery on sheer fabric with metallic thread, the fewer the stitches, the better! Light density designs – those that have light running stitches, or only small areas of fill – are least likely to change the hang of the fabric, require the least amount of stabilizer, and avoid damaging delicate fabrics and metallic threads. Even simple, tiny star designs can have dramatic impact when scattered across the fabric in an array of constellations.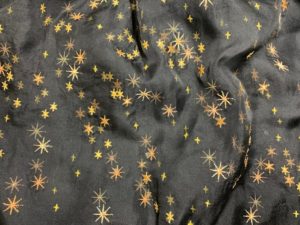 Add further dimension to a simple design by playing with color. Even if your design scheme is monochromatic, you can add subtle depth simply by choosing an assortment of metallic colors and effects. Sulky® Original Metallic, Holoshimmer™, and Sliver™ threads all create gloriously different shimmer when used for embroidery. Mix solids and variegated threads for even more glitz.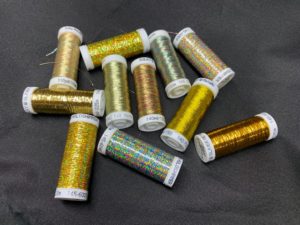 Embroidering sheer fabrics (with metallic threads no less) are challenging for two reasons: first, the fabric can be damaged by hooping and stitching. Second, it's see-through, so it must look as good on the back as it does the front. Sulky Sticky Fabri-Solvy is the key to gently securing your delicate sheers into the hoop. Start by hooping the stabilizer with the paper side up.  Use a pin to score the paper around the inner edge of the hoop, and then tear the paper away.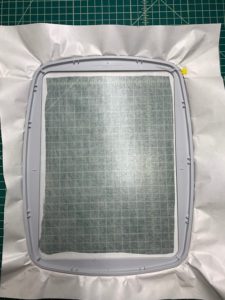 Next, gently place the organza in the hoop on the sticky surface, and smooth into place.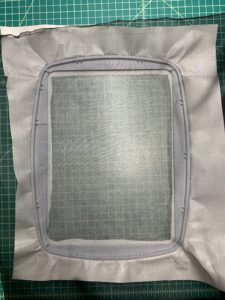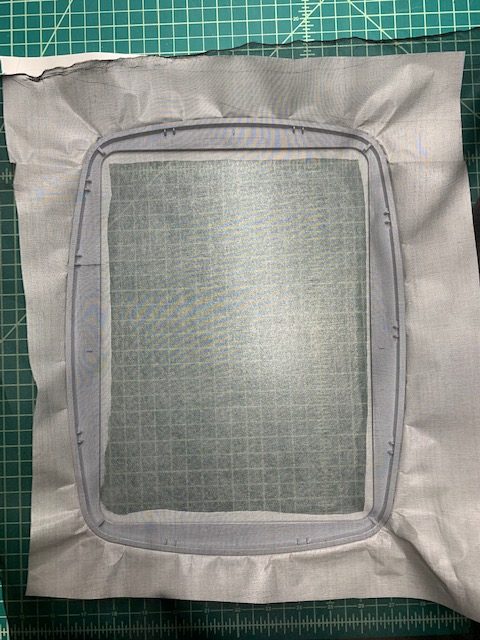 Finally, it is helpful to add a topping layer of Sulky Solvy® wash-away stabilizer to help protect the sheer from damage during stitching, and give the embroidery additional stabilization.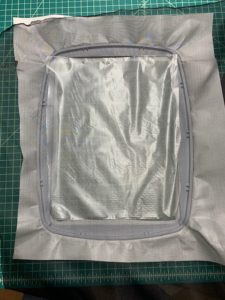 It helps to baste the film in place before stitching. You can do this by activating the basting function on your embroidery machine, using a fine needle and thread (test first to ensure that the basting stitches do not leave permanent marks). Or use a glue stick sparingly around the edges.
3. Be Patient and Gentle When Stitching
Delicate fabrics and threads benefit from slower stitching speeds and gentler handling during embroidery.
Use a needle that has a larger eye and deeper groove to help protect the thread from abrasion. Organ® topstitching needles work well for this, or a special needle designed for metallic threads. Needle coatings, such as chrome, titanium, or non-stick also help to keep the needle cool and reduce abrasion, both of which help prevent thread breakage. Finally, slowing down the embroidery machine to half speed is another preventative measure.
4. Don't Cut Before You Jump
Disable the cut jump stitch function, if your embroidery machine has that feature. This means a bit more work trimming the threads during and after embroidering. But it avoids the knots that are formed when the embroidery machine pulls both needle and bobbin threads to the back of the embroidery. Manually cutting the jump stitches creates a virtually identical appearance front and back, and is well worth the extra effort.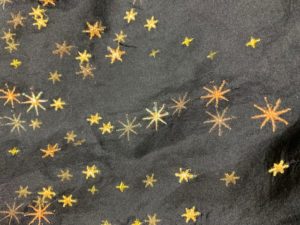 Find the featured designs shown to create your own New Year's Eve party-worthy blouse, courtesy of Katrina Walker. Note: Formats for Tajima, Janome, Baby Lock, Brother, Husqvarna Viking, Pfaff, and Singer only. 
For more help with embroidery on sheer fabric with metallic thread, invest in the Metallic Success kit, containing a Thread Director, which helps the thread feed off of the spool pin with ease.
And this assortment of the most popular Sulky metallic embroidery threads is a great starter pack to add to your sewing room.