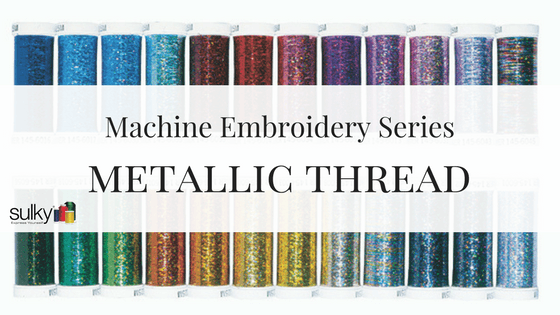 Machine Embroidery Series: Metallic Thread
Specialty Threads: Metallic Thread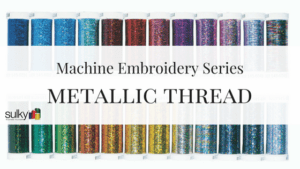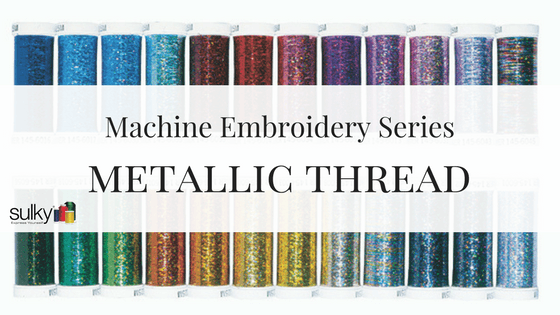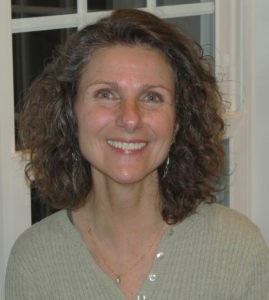 This series is written by guest blogger, Pamela Cox. Pamela is an expert embroiderer, designer, digitizer and all around wonderful girl! We are so happy to have her contributing to the Sulky Blog!
If you have been following the Sulky Blog about "Thread", hopefully you agree that one of the most important elements needed for stitching exquisite machine embroidery is to have a variety of Sulky Threads on hand to select from!
There is really not a single "perfect thread", but rather "perfect choices" for different applications. For example, 60 wt. PolyLite™ is best for lettering, while Sulky 40 wt. Rayon reflects the luster of silk thread. 40 wt. PolyDeco™ is bleachable, while Sulky Cotton Threads mimic hand-stitching.  All have their necessary place in our thread chest!
Let's add to our thread chest by exploring why "Specialty Threads", beginning with Sulky Metallic Thread, must also be readily on-hand.
Sometimes, especially around the holidays, we want to add a bit of "sparkle" to a chosen design. However, the notion of even LOOKING at a spool of metallic thread will generate thoughts equivalent to fingernails on a chalk board!
Yeah! Not Happening!!
Sulky has found the solution to allow the terms "metallic" and "user-friendly" to be featured in the same sentence by offering various Metallic thread types – meaning one type is sure to meet your needs.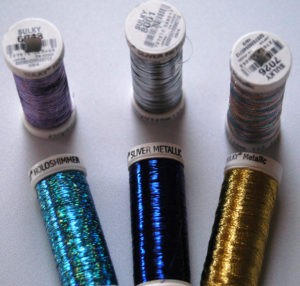 First, Sulky Original Metallic Thread is created by twisting and bonding a fine metallic foil around a strong polyester core to create an exceptionally smooth, strong, and pliable thread.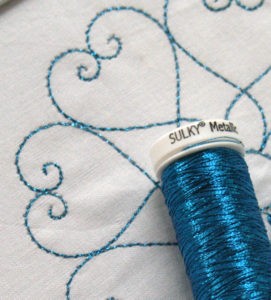 Second, Sulky Sliver™ Metallic Thread is a thin, flat, ribbon-like foil laminated with polyester. It vividly reflects light.

Finally, Sulky Holoshimmer™ Metallic Thread is also a thin, flat, ribbon-like, foil that is laminated with polyester. However, the difference is that the foil is holographic. The thread filament reflects light differently under different conditions!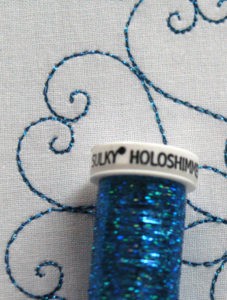 Sulky Metallic Threads easily add the ultimate sparkle to any imagined project, including….
A satin top designed for a winter holiday party:
I accented with Graceful Embroidery snowflake designs. I used individual snowflakes and several different silvers and whites in Sulky Holoshimmer Metallic Thread, Sulky Sliver™ Metallic Thread, and 40 wt. Rayon Thread.
A pulled-thread place-mat: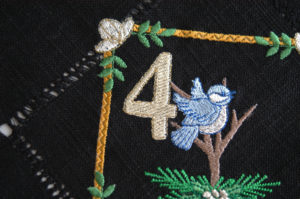 Finally, a tote bag: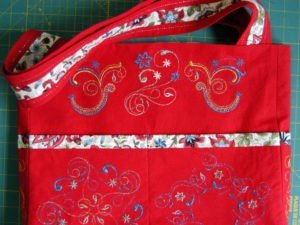 "Fleur de Grunge" designs by Graceful Embroidery. Graceful Embroidery Designs are available at  www.gracefulembroidery.com
To easily and successfully stitch designs in metallic thread, use a Schmetz® 90/14 Topstitch or 90/14 Metallic Needle and reduce the speed of the sewing machine at least by half.
Although it's always important to make sure that any type of thread comes off the spool in the proper direction (refer to Thread Applied to Machine Embroidery) this is especially true when stitching with metallic thread.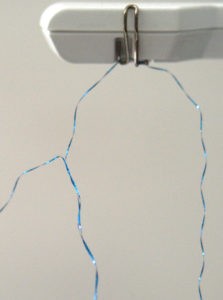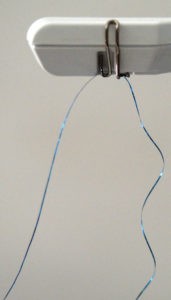 The thread should come off the spool flat and remain flat throughout the path into the thread tensions (at least as flat as possible).
One way to insure proper feed-direction for metallic threads is to use "The Thread Director" or  Thread Director 2, which are both now available at many locations, including on the Sulky website.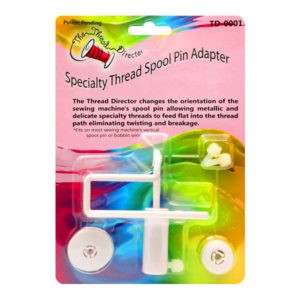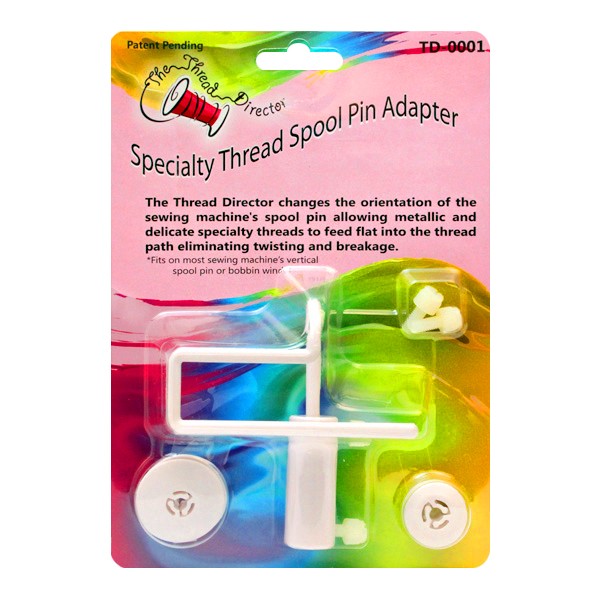 This device allows the thread to unwind flat, eliminating any twisting, which might cause thread breakage.
Sulky now has The Thread Director 2 – a new and improved Thread Director that holds TWO spools at the same time for added flexibility and creativity!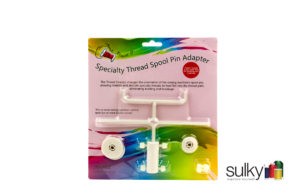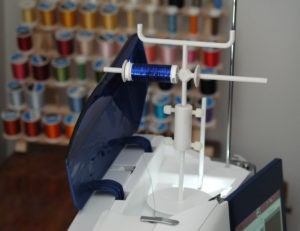 How about blending Sulky thread types to stitch your embroidered designs in an "originally special" fashion?
Thread a Sulky 40 wt. Rayon and a Sliver™ Metallic (#8040 Opalescent) into the sewing machine following the machine's manual for "twin-needle" threading. However, put both threads through the single eye of a Schmetz® 100/16 Topstitch Needle. As seen in the photo, just a hint of sparkle radiates throughout this beautiful Sulky Embroidery Club's butterfly design #1181.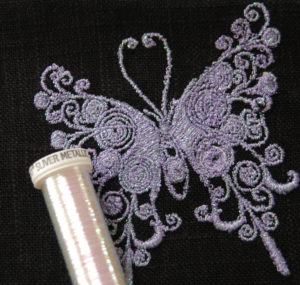 Have fun experimenting with all the wonderful Metallic Threads available from Sulky; and, please, share your experiences and projects! That's how we all learn!
Sulky, of course, offers other "specialty" threads that inspire creativity, which we'll explore in a future blog.