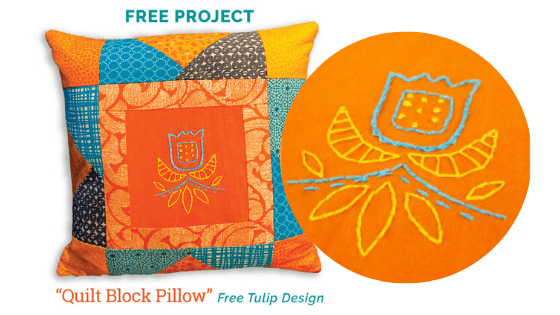 Quilt Block Pillow with Hand Embroidered Center Block
Quilt Block Pillow

Making a quilt block pillow is a great entry into quilting. If you don't want to commit to making an entire quilt right off the bat, making one block helps you understand quilting fundamentals.
If you're a quilting pro, experimenting with different block patterns is a great way to discover new fabric or color combinations for future quilts. Perhaps you don't have enough fabric to turn that one block experiment into a full-fledged quilt. Or maybe your experiment turned into something you'd love to showcase in another way.
What to do with one-off blocks? Turn them into pillows! Better yet, add hand embroidery to make a statement or personalize the block with a favorite phrase or motif.
QUILT BLOCK CHOICES
A sawtooth star quilt block is rather simple to construct, and presents the opportunity to use different fabrics, combine different colors, and embellish the center with just about any design you like.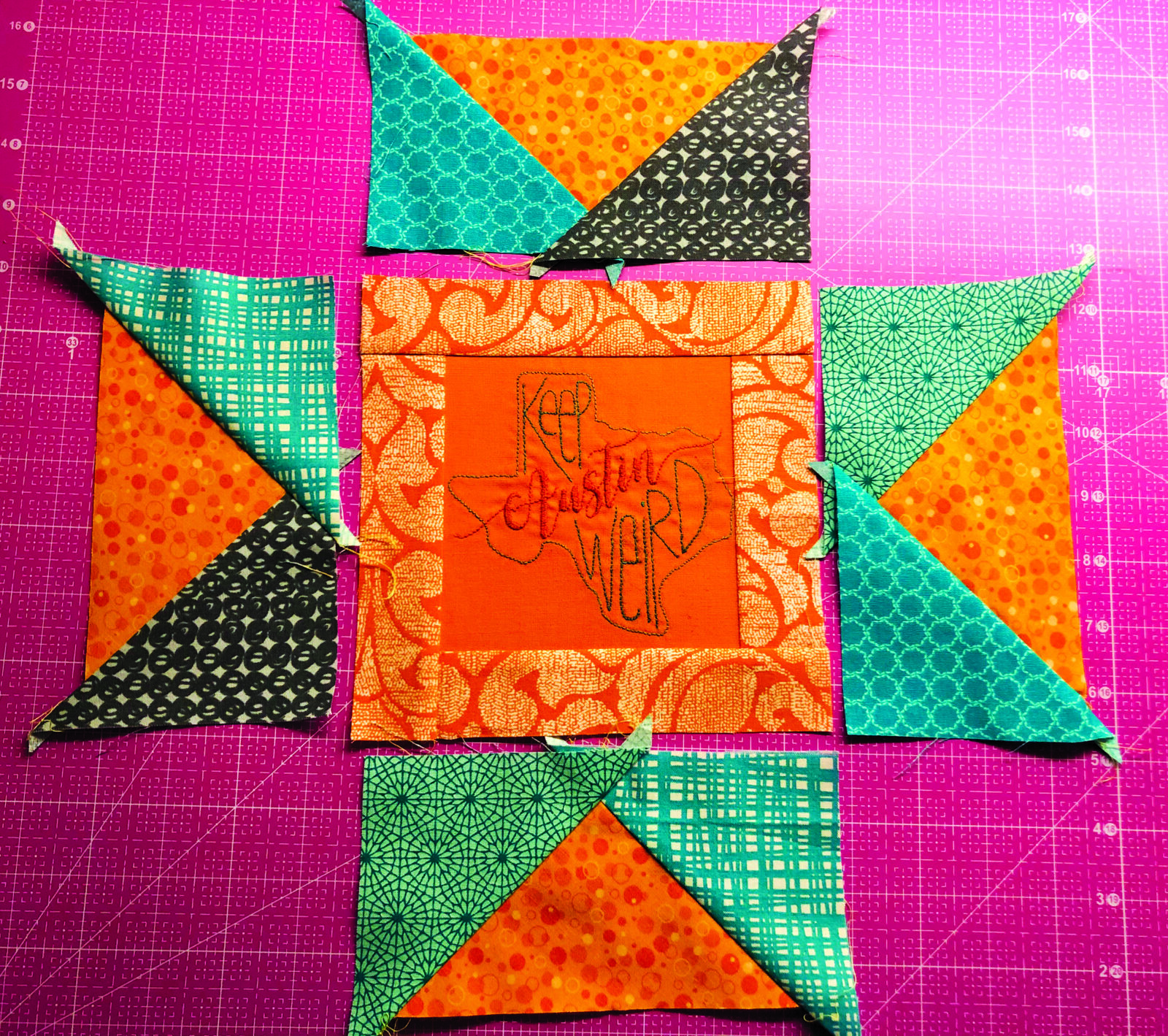 The center of this quilt block isn't pieced. It's one fabric square where you can add hand embroidery, free-motion embroidery, or machine embroidery. For the featured Quilt Block Pillow project, we chose hand embroidery.
SUPPLIES
The supplies needed to make the Quilt Block Pillow are all listed in the Free Project download.
Dive into your fabric stash and find some unique color combinations to test out with this pillow. Or keep it more traditional and go with coordinating neutrals.
Grab some Sulky 12 wt. Cotton Petites™ thread spools in colors that match the fabric. This thread acts as two strands of traditional embroidery floss, but it comes on a snap spool! No more tangles, no more mess when hand sewing! And you'll love the look and feel of your finished embroidery.
Also recommended is Sulky Stitck 'n Stitch™. This stabilizer has a self-adhesive sticky back so you can print directly onto it and stick it to the right side of the fabric. Then stitch right through it, following the pattern, and wash the stabilizer away when finished!
EMBROIDERY CHOICES
With the Quilt Block Pillow download comes some different options for hand embroidery designs. Choose from Amy Barickman's Tulip design or a Texas outline design with a fun phrase (our homage to QuiltCon, held in Austin this year). Or choose your own adventure and stitch your favorite motif or phrase on the center fabric.