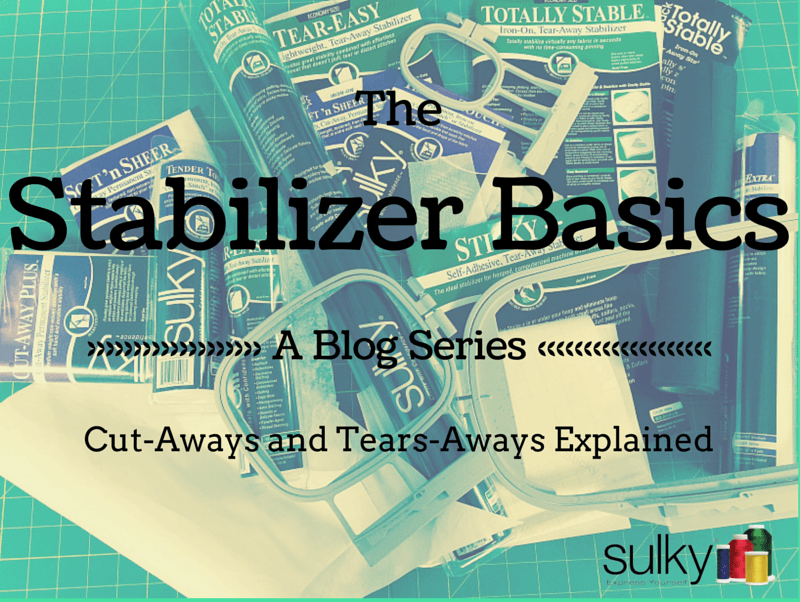 The Stabilizer Basics – Cut Away and Tear Away Stabilizers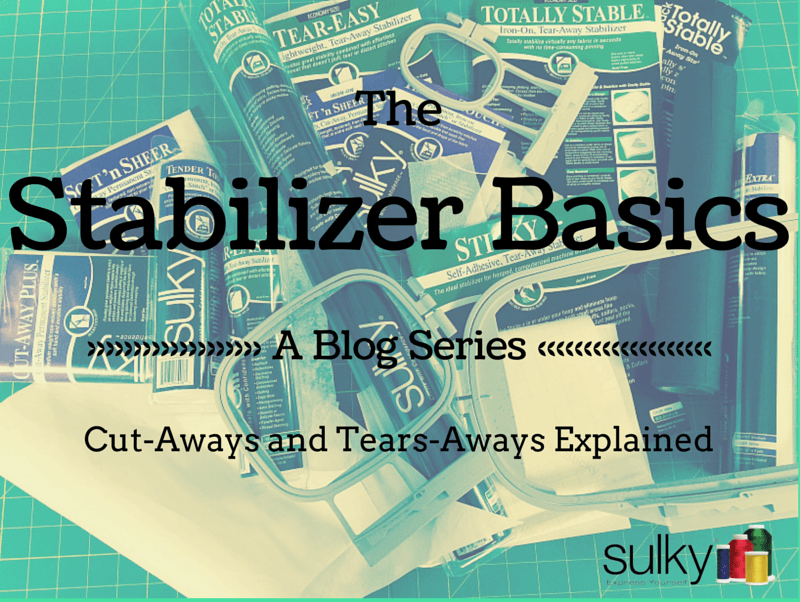 Note: This is the second in a series about stabilizers. You can read the first installment here.
When I started doing research for this series, the more I uncovered, and the more I realized there was to learn! One of my first questions was "How many stabilizers are there?!?!" It can feel like there are 4 million different kinds and they all seemed to have a very specific use.
There are basically four different types of stabilizer: Cut-Away, Tear-Away, Wash-Away and Heat-Away. All of our stabilizers are color-coded, too. In this post, I will give you the basics and primary (most common) uses for Cut-Away (purple packaging) and Tear-Away (green packaging) stabilizers. This is not a list of embroidery rules. This is a list of the most common uses of these stabilizers. You may find that for your specific project you need a completely different stabilizer. This list is not the boss of you, it's just a guide to help you get started if you are as lost as I was when you first start out in this new world of machine embroidery.
Cut-Away Stabilizers

Cut-away stabilizers are permanent stabilizers which range from rather heavy, like Sulky Cut-Away Plus™ to very light like Soft 'n Sheer™. They are perfect when you need a design to be stretch resistant and you need continued stabilization through many laundering and wearings. Cut-Away Plus is what you see on the back of most of your sweatshirts and golf shirts that have embroidered designs on them. Most t-shirts will use the lighter Soft 'n Sheer which stabilizes and is stretch resistant so your design tends not to distort over time, but doesn't have the bulk of Cut-Away Plus.  (You know how some embroidered designs tend to "wad up" after washing?  Using a permanent, cut-away helps to prevent this.)
Sulky Fuse 'n Stitch™ is a permanent stabilizer and one of my favorites! I love it because it is a permanent iron-on stabilizer that provides extra support to your project. This is the perfect stabilizer if you are making a purse or tote bag and you want that extra stiffness. I also use Fuse 'n Stitch when I am making coasters and mug rugs. I did a tutorial for a 45 minute mug rug that uses it here.  Anytime you want the fabric to have extra body.  Also great for framed embroideries.
The last stabilizer in this category is Sulky Tender Touch™. Tender Touch is a soft, fusible stabilizer that is usually put on a completed embroidery design to cover the stitches on the wrong side. You most often see this on baby clothes. (You get the best adhesion for these often-washed, and often-stretchy items by using a pinking shears or wavy-blade rotary cutter to cut the piece you need.) I also like to use Tender Touch as a fusible interfacing for clothing projects. Check out this blog post from Mimi G Style. She used Tender Touch to line a dress and loved it. It is also a great way to stabilize t-shirts for a t-shirt quilt.  Helps minimize stretch, but still keeps it soft and cuddly.
Tear-Away Stabilizers

Tear-away stabilizers are temporary stabilizers that are easily removed once you have stitched out an embroidery design. This is most likely what you will use when embroidering on towels, scarves and regular woven fabrics. They prevent an embroidery design from tunneling, distorting and puckering while the design is being stitched out but since they are torn away once the design is sewn on, they do not give the on-going support like cut-away stabilizers do. Tear-away stabilizers like Sulky Tear-Easy™ are great, because although you sometimes only need one layer, you can use several layers (and you can even float one or two layers under the hoop "just in case") and then tear them away individually so you don't have to worry about your design getting messed up while pulling off a heavier stabilizer.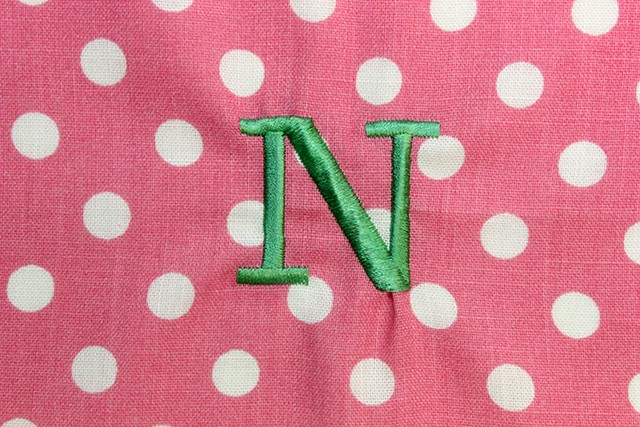 Sulky Totally Stable™ is an iron-on, tear-away stabilizer that feels and looks a lot like freezer paper, only thinner and not made of paper, so therefore it won't hurt your really expensive embroidery machine and doesn't dull your needle! This is good when you need a lighter amount of stabilization for a design, like when stitching out a line drawing or less dense design, but the fabric can be ironed. I have talked to many machine embroiderers that love Sulky Totally Stable simply for the fact that it does iron onto the fabric and yet, it is not permanent. "It allows me to get my stabilizer in the exact place I want it and I don't have to worry about anything shifting around when I hoop it," one embroiderer said. "In my sewing room, Totally Stable is totally a staple!" Totally Stable is also great for design placement by tracing the design onto the stabilizer and then ironing it onto the front of the fabric, and it's re-positionable and can be reused many times.  (It would be for placement only, though.  Normally you won't use a tear-away on the right side of project to stitch through, just for placement or to stitch around.)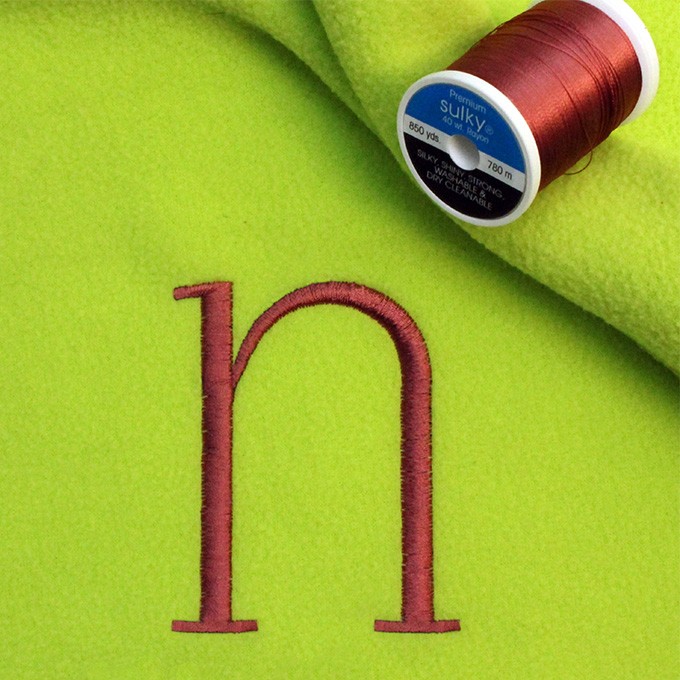 Sulky Sticky+™ is a wonderful stabilizer that is not only a strong tear-away stabilizer, but it has a backing sheet with a grid on it that is torn or peeled away to reveal a sticky back. Discovering this stabilizer allowed me to stop cussing at my machine. Well, more specifically the hoops. If you have been embroidering for any amount of time at all, then I guarantee that you have had run-ins with the hooping process. With Sulky Sticky+, you can simply hoop the stabilizer, score the release sheet with a large X using a pin, then peel away the backing sheet to reveal the sticky stabilizer, and then stick whatever it is that you are embroidering to it! I have done nylon tote bags, baseball caps, towels, grosgrain ribbon, linen napkins and scarves all with this stabilizer – all unhooped! You just have to love a stabilizer that allows you to take out the worst part of embroidery. HINT: It's best to remove Sticky+ within an hour or so after use, for easier removal.  AND DID YOU KNOW…. All stabilizers with a release sheet tend to get stickier with heat and less sticky with cold!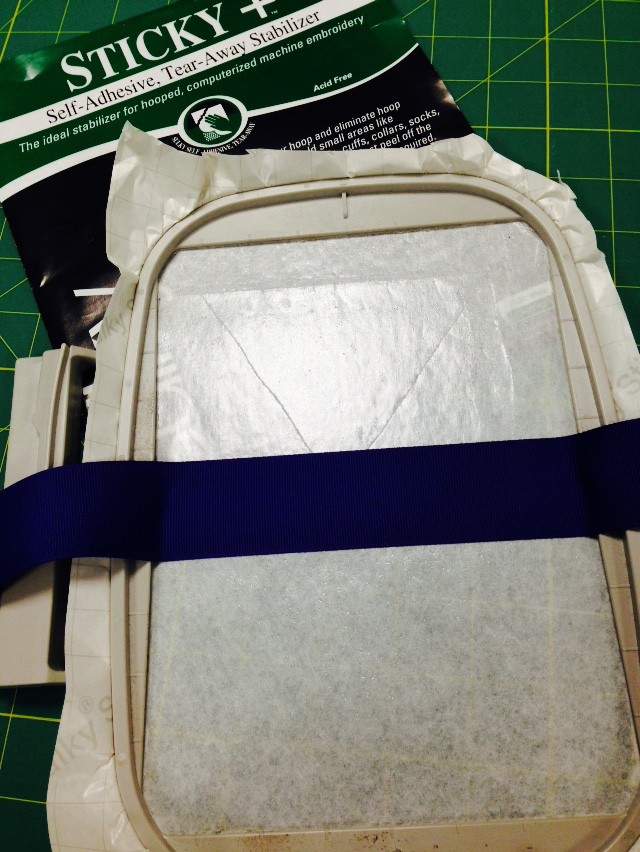 Is your brain swimming yet? I hope not! I hope this helps you understand the basic uses for these two stabilizers. Next week we will talk about wash-away stabilizer and heat-away stabilizer. I will go over the basics of those two groups but I will also add in some amazing other things you can do with them as well.
Did anything confuse you or spark an additional question? Let me know in the comments. I am keeping a list of all the questions and will be addressing every single one of them at some point in the series.
Until then…Happy Sewing!