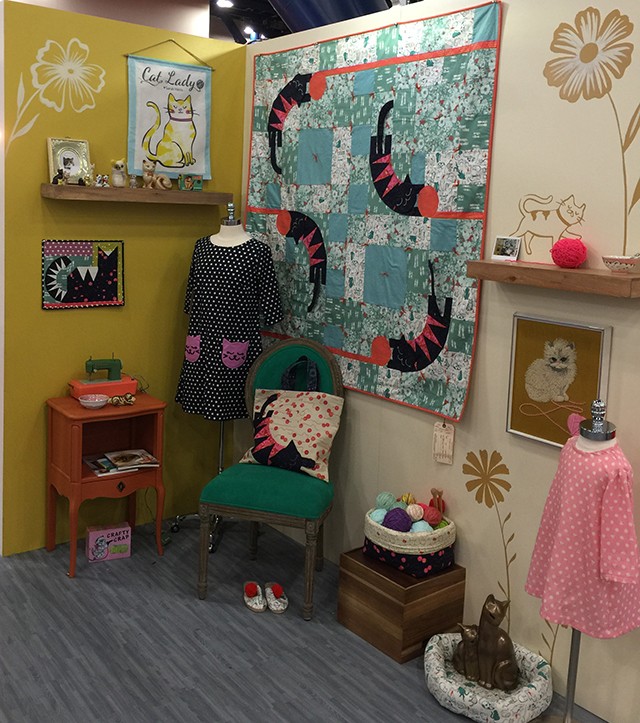 Trends From 2015 Fall Quilt Market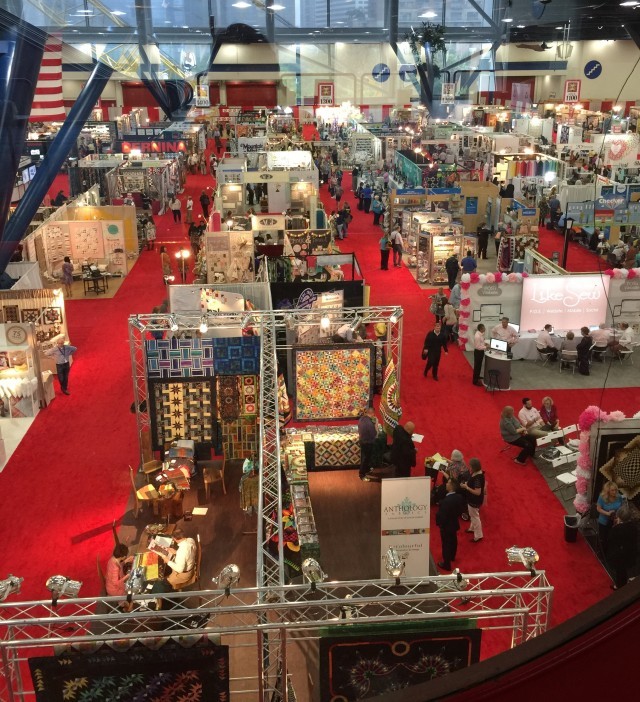 The International Quilt Market in Houston is an exhilarating experience. The exhibit hall is the biggest I have ever seen and it is full of new quilting and sewing things. Everything from the newest fabric lines to the latest gadget.
All that newness is overwhelming. After a couple weeks of digesting, I have come up with what I believe are the trends from this year's Market. Here are my thoughts.
The Slow Stitch Movement is in full swing! Whether you are into traditional redwork, wool applique, sashiko or modern embroidery, everyone is incorporating hand embroidery into their sewing.

Hand Embroidery from Adorn It

Traditional Blue Work

Quilt by Lin Hsin-Chen from The Viewpoints 9 Exhibit with hand quilting

Colors – I am in love with the current color palate that is permeating the fabrics, threads, notions and buttons. They are soft, yet rich in value. They play with daring mixes of color, pattern and texture. They give a respectful nod to our past while still looking fresh and modern.

Cotton + Steel by Rashida Coleman-Hale

Cotton + Steel by Sarah Watts

Cotton + Steel by Kimberly Kight

Shannon Fabrics

Quilting isn't just about quilts anymore. As I walked around the exhibit hall, I saw plenty of wonderful and innovative quilts, but I also saw lots of other ways to express yourself! Everything from purses, wool candle mats, and pillows; to clothing, aprons, stuffed animals and even rugs. It is like the quilters of the world have collectively said, "I will no longer stay in the quilting box! I will now create in any way I see fit!"

Amy Barickman has patterns for her shirt, this purse, and the hand embroidery on the purse! Amy did the embroidery using the Sulky 12 wt. Cotton Petites in her collection shown above.

I love this dress, rug and pillows!

Machine Embroidery is not so traditional anymore! If you are looking for a cool new way to add some spice to your work, machine embroidery may be the way to go! It's not just teddy bears and tea cups anymore. Now you can get everything from skulls and full Halloween designs to amazing Free Standing "Lace" that often doesn't look anything like lace. The variety of In-The-Hoop designs that are available now is wonderful, too. Machine Embroidery is not just for monogramming any longer. (Don't worry, I'm southern. If it stands still long enough, I will still monogram it.)

Claudia and I in front of Claudia's Creations Halloween Embroidery Designs

This is not your grandmother's free standing lace!

Nature. For as long as humans have been creating, nature has been inspiring us, but I saw an increase in nature inspired fabrics and projects this year. I personally loved these digitally printed fabrics from Red Rooster.

"Just Dahlias" from Red Rooster Fabrics

Coloring Books. Yes, you read that right, coloring books! Come one, come all, children of all ages are coloring. The most popular one at Market was Tula Pink's new book. Let's be honest here for a minute. We may be adults, but we never really outgrew coloring. We are quilters; loving color is a prerequisite and now it's as if we have given each other collective permission to color, even as adults, to our little heart's content.Those are the trends that I saw this year! How about you? What trends are you seeing out there? Let me know in the comments.
Happy Sewing!