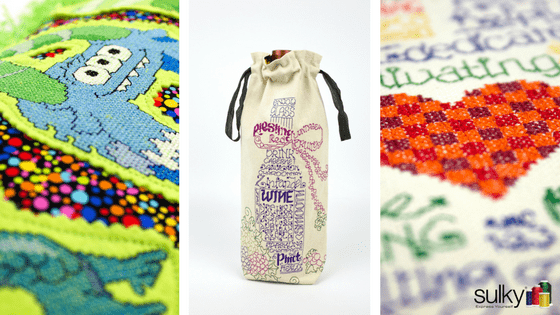 Why You Will Fall in Love with Machine Cross Stitch!
Why you'll fall in love with Machine Cross Stitch (like we did!)
We still can't get over how amazing Machine Cross Stitch embroidery designs are!  We recently added two new designers to the Sulky Embroidery Club (where you can find hundreds of unique downloadable designs!).  These designers are Marcia Manning of Lickity Stitch Designs and Ursula Michael.
We adore Marcia's whimsical Christmas tree designs, her adorable Monster Alphabet, and her most recent camping and Christmas designs are too funny.  And wait til you see Ursula's fun word play designs! There are tons of designs to choose from and we could rave about them for days, so why don't we just show you a few!
Monster Alphabet Designs:
Aren't they adorable?!  You can purchase all 26 letters or buy them individually!  HINT: $195 if sold separately – combo price only $90!
Each Monster Alphabet Letter fits 4×4 and larger hoops.  Designs come in 10 size/densities. 22-2 count, 18-2 count, 18-4 count, 16-4 count, 16-6 count, 14-2 count, 14-4 count, 14-6 count, 11-6 count, and 11-10 count.
Monster Alphabet Pillow:
Ellen Osten stitched out a few letters from Lickity Stitch's "Monster Alphabet" onto a pillow, which gave us a chance to really capture the amazing detail in Machine Cross Stitch designs:
This slideshow requires JavaScript.
Wine Word Play Machine Cross Stitch: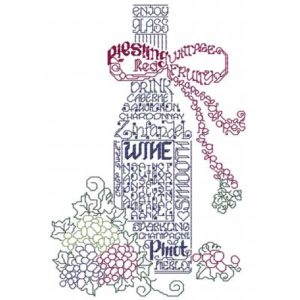 Thankfully, Ellen also recently stitched up a couple of wine bags (blog tutorial coming soon!) using a couple of word play designs.
You can also buy this design in a collection (and save money!) "Vibes and Embibes": $76 if purchased separately – only $60 combo price!
Original designs by Ursula Michael and digitized by Marcia Manning of Lickity Stitch Designs.  Designs come in multiple size/densities.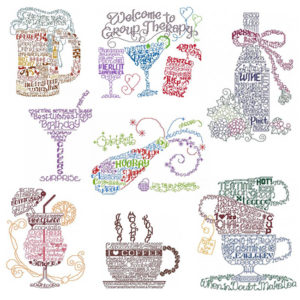 Hug a Teacher Word Play:
Ellen stitched up one more awesome project (blog coming soon!) for us – a journal cover using one of Ursula's wordplay designs "Hug a Teacher Word Play":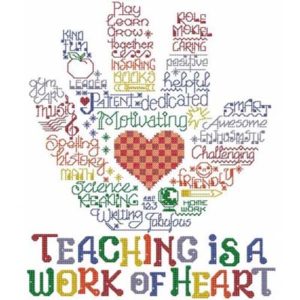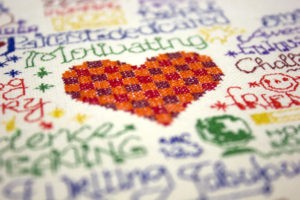 Buy the Work Word Play Collection!:  $90 if sold separately – $72 combo price!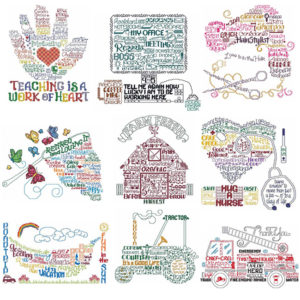 There are so many more designs to choose from!
We'd love to see what you create!  Like us on Facebook and follow us on Instagram and share your projects with #SewBetterWithSulky for a chance to be featured! 🙂
Happy Sewing!