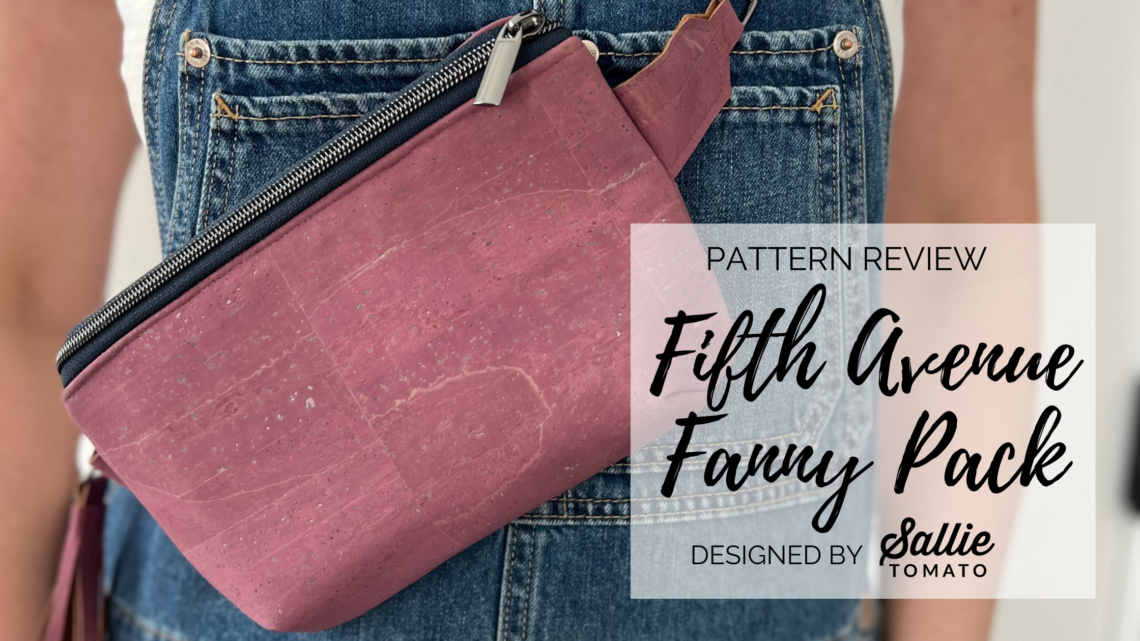 Fifth Avenue Fanny Pack Pattern Review
Fifth Avenue Fanny Pack by Sallie Tomato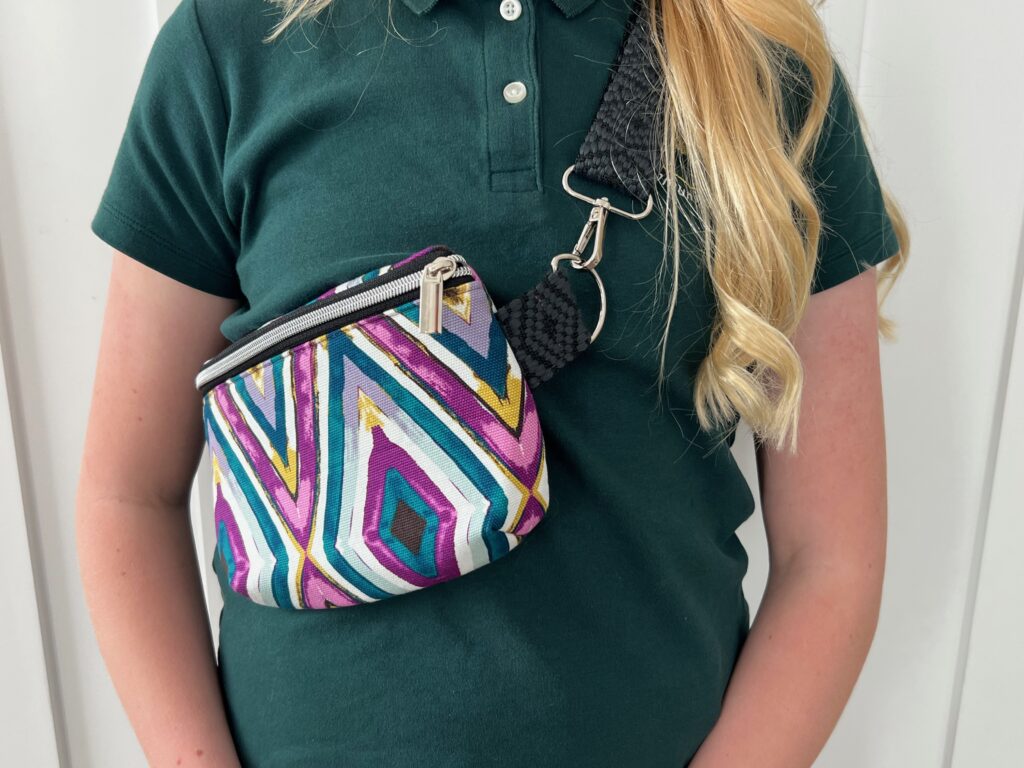 Pattern Review & Strap Variations
The Fifth Avenue Fanny Pack by Sallie Tomato is really more of a "belt bag" than a fanny pack, as it is worn across the shoulder rather than over the "fanny." However, it's versatile with an adjustable, wide strap that allows you to wear it either way. Using Sulky Poly Deco Thread is recommended on the pattern, and we couldn't agree with that choice more!
The Fifth Avenue Fanny Pack is currently a free pattern (with video!) on the Sallie Tomato site. It can be made from almost any type of fabric, which means it is stash raiding time! The Sallie Tomato tutorial features Sherpa fabric (they have kits, too) but it also works with cork fabric, faux leather, faux fur, canvas and cotton (with a bit of interfacing for structure).
The webbing is the most fun of all. Sallie Tomato carries a variety of 1 1/2″-wide webbing suitable for the strap. But loads of other designers and sites are starting to carry it, too. The 1 1/2″-wide size works well for this style of bag, but read on to see a hack for incorporating a narrower strap into the design.
WHAT YOU NEED
The supply list is all available within the pattern:
10 x 20" Main Fabric

9" Lining (42") – Includes optional interior zipper pocket

9 x 20" Fusible Interfacing

1 1/2 yards of 1 1/2"-wide webbing

18"-long zipper

Hardware  –  

(2) Zipper Pulls

(1) 1 1/2" Side Release Buckle (see hack below!)

(1) 1 1/2"-wide Slider Buckle
Keep in mind that if you change the strap width, the hardware width also needs to change to accommodate the strap (more about this shortly!).
The front of the Fifth Avenue Fanny Pack also lends itself well to embellishment, such as machine embroidery. This is a great place for a monogram, favorite design motif or in-the-hoop patch, such as our Sewing is My Jam freestanding patch design. Learn how the patch comes together here.
The pattern also directs you to use a Side Release Buckle for the strap connection.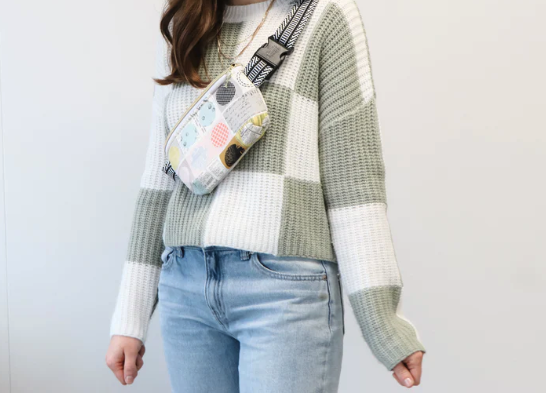 As a substitute, a swivel clip attached to a D-ring was used, in different sizes and hardware finishes, in these featured test versions.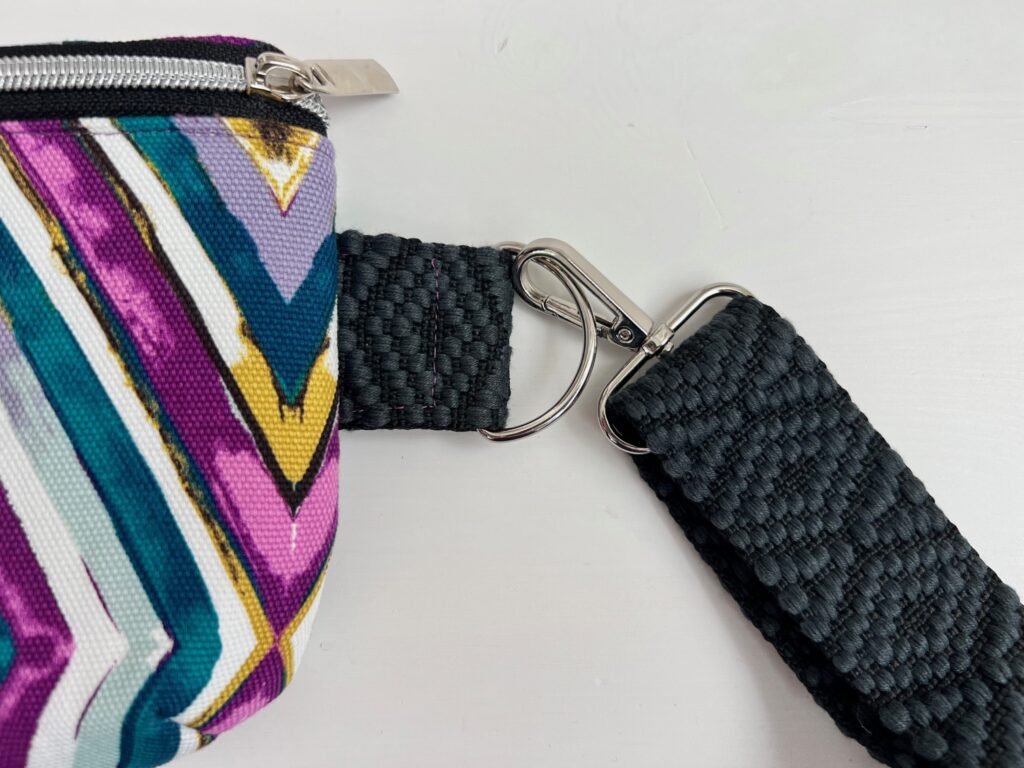 STRAP VARIATION
In addition to changing the hardware for the strap, the strap size is easily customizable.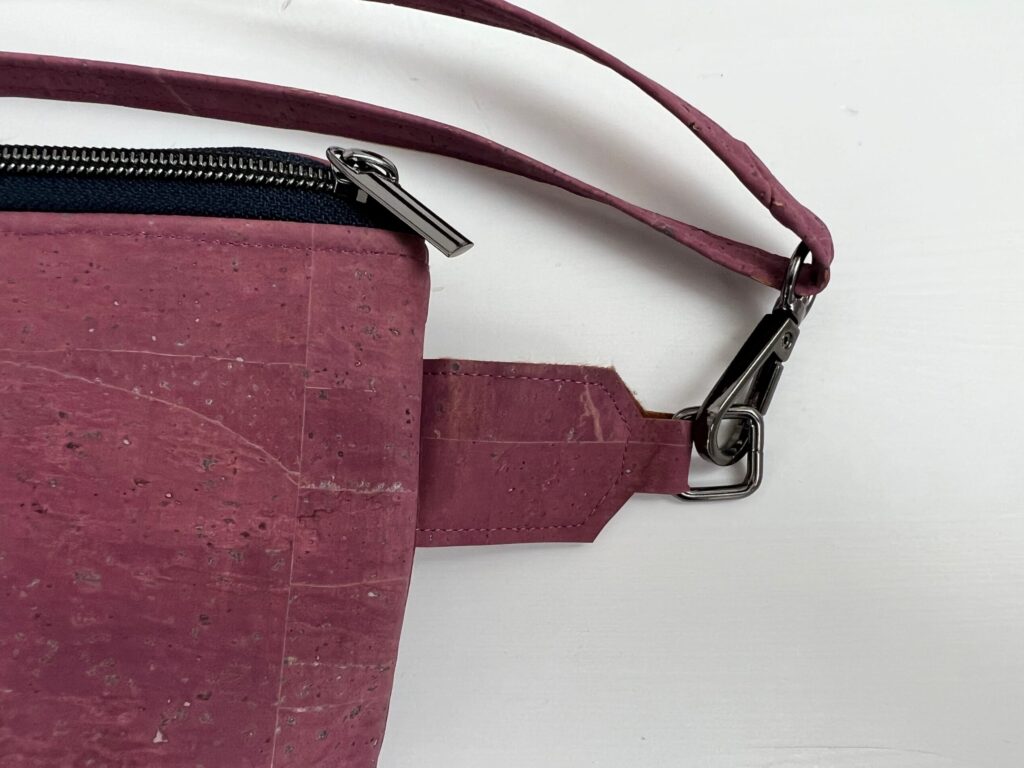 Either create a rectangle tab that's 1 1/2″ wide x 6″ long and taper it in the center to accommodate the hardware width (as shown). Or create a rectangle tab that equals the new hardware width that matches the desired strap width. Wrap the tab around the D-ring or rectangle/square ring, and then insert it into the side seam of the Fanny Pack per the pattern instructions. In the case of this small strap, both side edges were sewn this way, making the strap entirely removable – and still adjustable!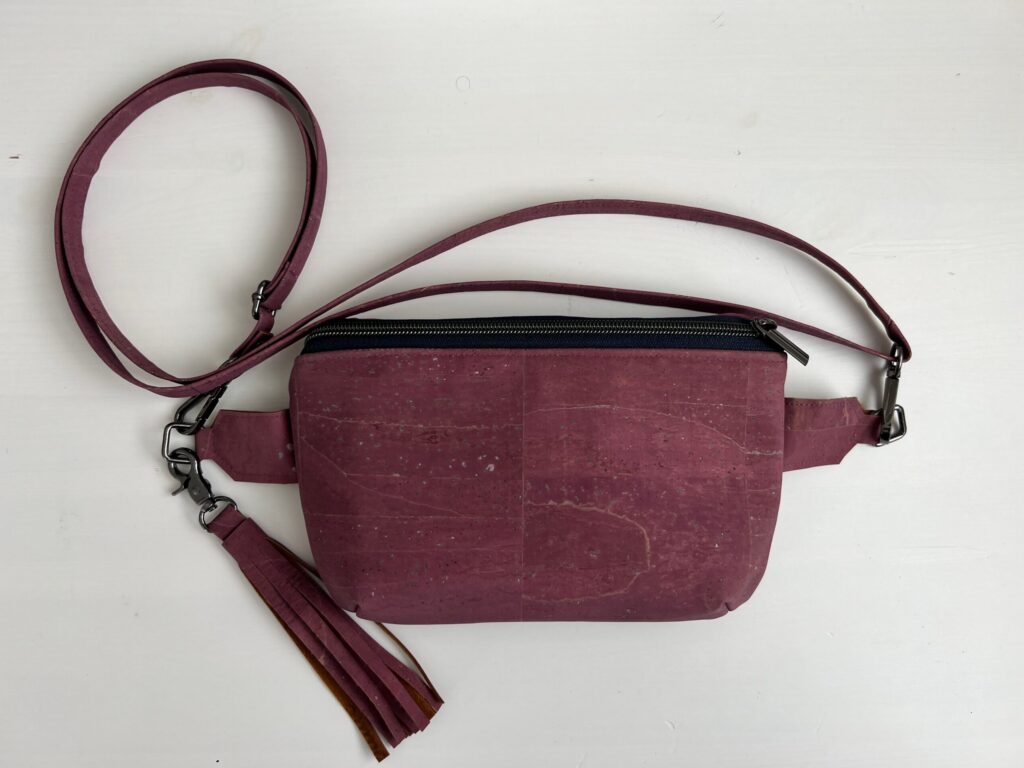 If you happen to have leftover cork or faux leather fabric, make a tassel to add to the fun and whimsy of this bag.
FANNY PACK POCKET
The interior pocket is listed as optional, however I think it's essential! When adding this pocket, you're able to turn the entire project right side out through the pocket lower edge. Then the pocket lower edge is sewn shut so no need for hand sewing and no wonky edges result from that final directive! Plus, you have a great place to store small items that often get lost in a bag like this. Overall, the Fifth Avenue Fanny Pack is very smartly designed and constructed.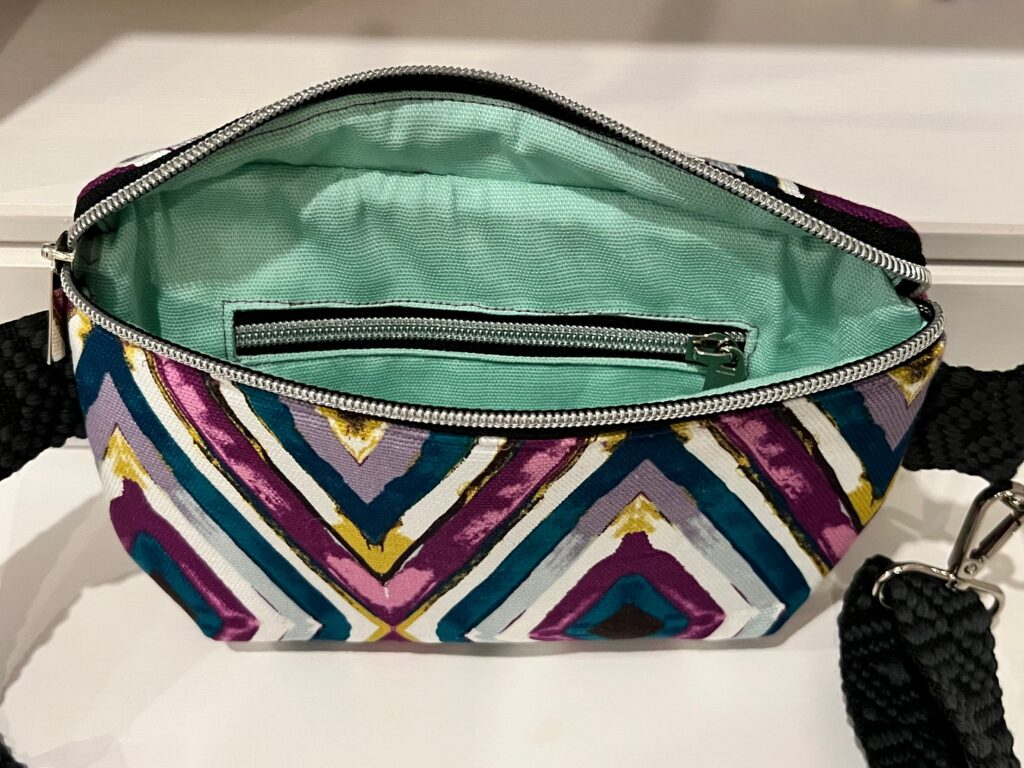 I recommend using a size 80/12 Top Stitch Needle with the 40 wt. Poly Deco Thread when using canvas, faux leather or cork fabric.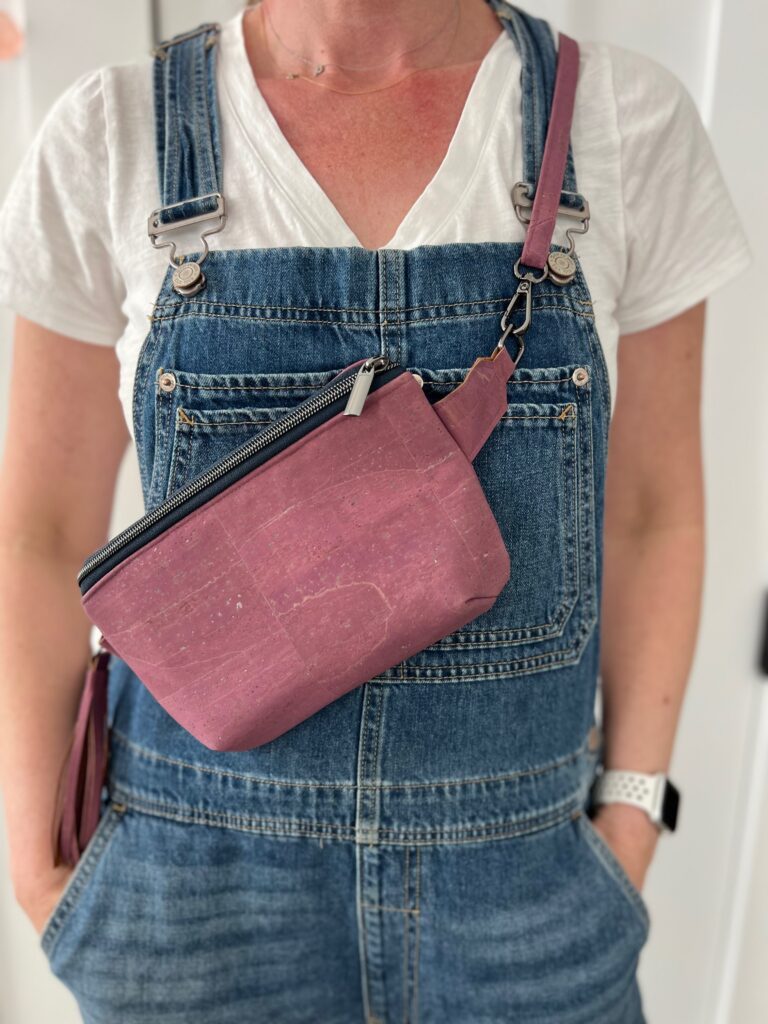 I can't wait to see YOUR variations on this project! Post them to our Facebook Group: Sulky Stitch 'n Post so we can see what you create!