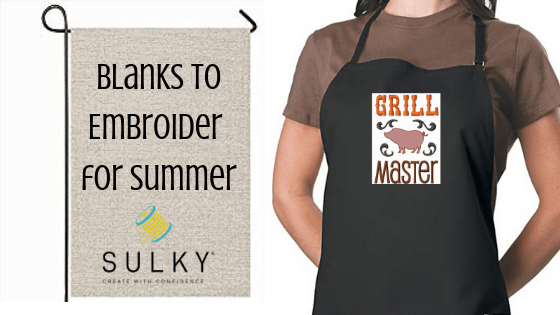 3 Outdoor Embroidery Projects to Make in an Afternoon
Summer is coming and it's time to get the patio furniture out of hiding and gather some fun outdoor embroidery projects to jazz up your deck decor.
Using blanks, like tea towels and bath towels, is one super simple way to embroider personalized projects in a fraction of the time. Weigh the cost of purchasing a blank, or set of blanks, rather than the yardage needed to create the project if the main focus is embroidery. You may save a couple of bucks along with a couple of hours (or more!) and end up with something just as sweet. Here are three ideas for outdoor embroidery projects to get your creative juices flowing.
1. Summer Burlap Coasters
A coaster set made of burlap is a durable solution for outdoor dining. Embroider This! has a great tutorial for embroidering a set of coasters using a hoop-less embroidery method. They have a number of free design options that work well for this blank. Purchase the coaster blanks in jute in a set of twelve and create a set for yourself and the neighbors. Use Sulky Heat-Away stabilizer to make quick work of removing the topper needed to embroider these like a pro. With Sulky Stiffy™ in the hoop, you'll have ample stabilization to support the stitches.
This great video shows you how!
2. Outdoor Garden Flag
A white garden flag is a great canvas for machine embroidery. Add a message using built-in fonts on your machine, coupled with a floral design, ice cream cone or happy sun. Hoop Sulky Sticky +™ with the paper backing facing up. Score the paper within the inner hoop ring and tear away the paper, revealing the sticky surface. Center the flag over the stabilizer and use the baste-in-the-hoop function to further secure the flag in the hoop. Embroider the design, and then remove the flag from the stabilizer. Make sure to use the same Sulky Rayon or Poly Deco™ thread colors in the bobbin as the needle, as the design will be seen from either side. (Glowy thread would also be a neat choice, as this flag will remain outside in the evenings!)
3. Summer Apron for Grilling
This apron blank comes in all sorts of colors and is easily customizable for any recipient. Add some summery motifs, like hot dogs and hamburgers, or a punny saying and gift it to the griller in your life. This one makes a great Father's Day gift, too!
Grab some prewound black or white bobbins (depending on the apron color) for the featured design, as it's a stitch-heavy design and you'll save time by not having to wind several bobbins for the project.
Have fun making these outdoor embroidery projects and enjoy the warmer weather!