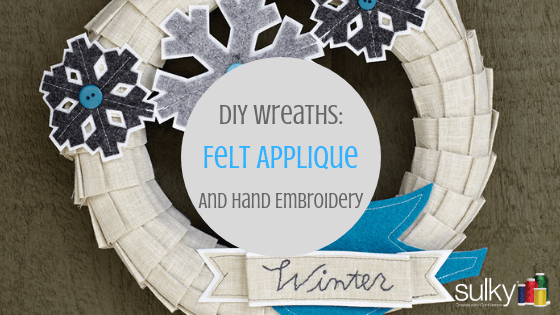 Winter Wreath with Felt Applique and Embroidery
Winter Wreath with Felt Applique & Hand Embroidery
designed by Tasha Roe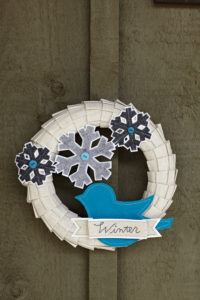 Make a winter wreath using felt and hand embroidery to embrace the snow–even when it lasts into spring.
As part of our wreath series, this winter wreath supplied by Sew News magazine is as cozy as it is cute! Featuring felt appliques and hand embroidered lettering, this winter wreath is simple to make and a fun activity for kids to join. The felt snowflakes and bluebird are made in cheery colors to brighten up your home or entryway in the winter months.
The wreath base is covered in a a pleated strip of fabric for added texture. Personalize it with hand-picked colors, embroidered motifs, additional applique motifs and more. Swap the word "Winter" with "Welcome Spring" or your last name. Grab the templates to get started.
Recommended Products
For the hand embroidery, try Sulky 12-wt cotton Petites thread. Stored on a handy spool, the thread doesn't tangle and is easily contained (unlike traditional floss). The thread weight is perfect for embroidering letters and words with precision and it's super easy to use. Print your embroidery designs onto an 8 1/2″ x 11″ sheet of Sulky Stick 'n Stitch and cut them out. Remove the paper backing and stick the new template right to the fabric right side. Embroider through all layers, following the printed pattern. Then remove with water for a flawless finish (make sure your chosen fabric can withstand washing first!) After embroidery, apply Sulky Tender Touch to the fabric back to conceal the stitching and secure the thread ends so the wreath lasts year after year.
To give the applique snowflakes and bluebird extra stability, sandwich Sulky Fuse 'n Stitch between the layers of each shape. They'll stand tall throughout use and when stored.
Choose craft felt sheets, felt-by-the-yard or luscious wool felt, depending on the desired look (and budget). Or choose fleece or flannel, as long as you add interfacing or stabilizer (or both) so they have structure when placed on the wreath.
Let us know how your winter wreath turned out in the comments below!