Quick Gifts – Make These In Less Than An Hour!

Sometimes you just need a really quick gift. Maybe you forgot about that bridal shower you are supposed to go to this weekend, or maybe you thought Father's Day was next weekend (it's not, by the way, it's Sunday), or maybe you are just really good at procrastinating like me! Whatever the reason, sometimes a quick, yet thoughtful gift is in order.
Before I go any further I do want to clear something up. Just because a gift is quick to make, doesn't mean it isn't meaningful. I mean you could have just stopped by the grocery store on your way to that shower or Father's Day lunch, picked up a gift card and called it a day. People do it all the time, but your friend (or Dad) is worthy of a handmade gift! But let's face it, time is a precious thing and although I may want to have endless time in my sewing studio, I also have a full time job, two children and a husband to take care of as well. Sometimes, all the time I have to devote to a particular gift is an hour.
If you are like me, and always want to show up with a thoughtful, personalized, handmade gift, here are some tips to make it easy so you can get it done in less than an hour. I will also give you some examples of less-than-an-hour gifts I have made recently!
Tips For Making Gifts Quickly
Have "blanks" on hand – If you have been doing machine embroidery for any length of time, then you have heard of blanks. These are various items that are pre-made and ready for you to add machine embroidery. There are lots of websites to get these items (I prefer All About Blanks), but don't limit yourself! Regular stores have "blanks" all the time. My favorite way to get blanks is to head to the clearance section of every store I go into, even the grocery store. Especially when a store is changing out seasons or holidays. You can find kitchen towels, bath towels, placemats, napkins, plain t-shirts, stadium blankets, tote bags, even can koozies! When these things are on clearance, I pick up the ones that appeal to me and anything that is a neutral color. A boring beige set of bath towels on clearance at Target becomes the perfect wedding gift once you add a monogram in the couple's favorite color. (Discovering a person's color choices is practically the only reason I look at the gift registry!). Don't discriminate on where you look for blanks either. I found some wonderful turquoise bath towels in the clearance bin at Dollar General for $4 a piece the other day!
I have a large plastic tote where I put all of my blanks. Then when I need a gift, I go to that tote first and see if anything is the perfect fit for the particular gift that I need.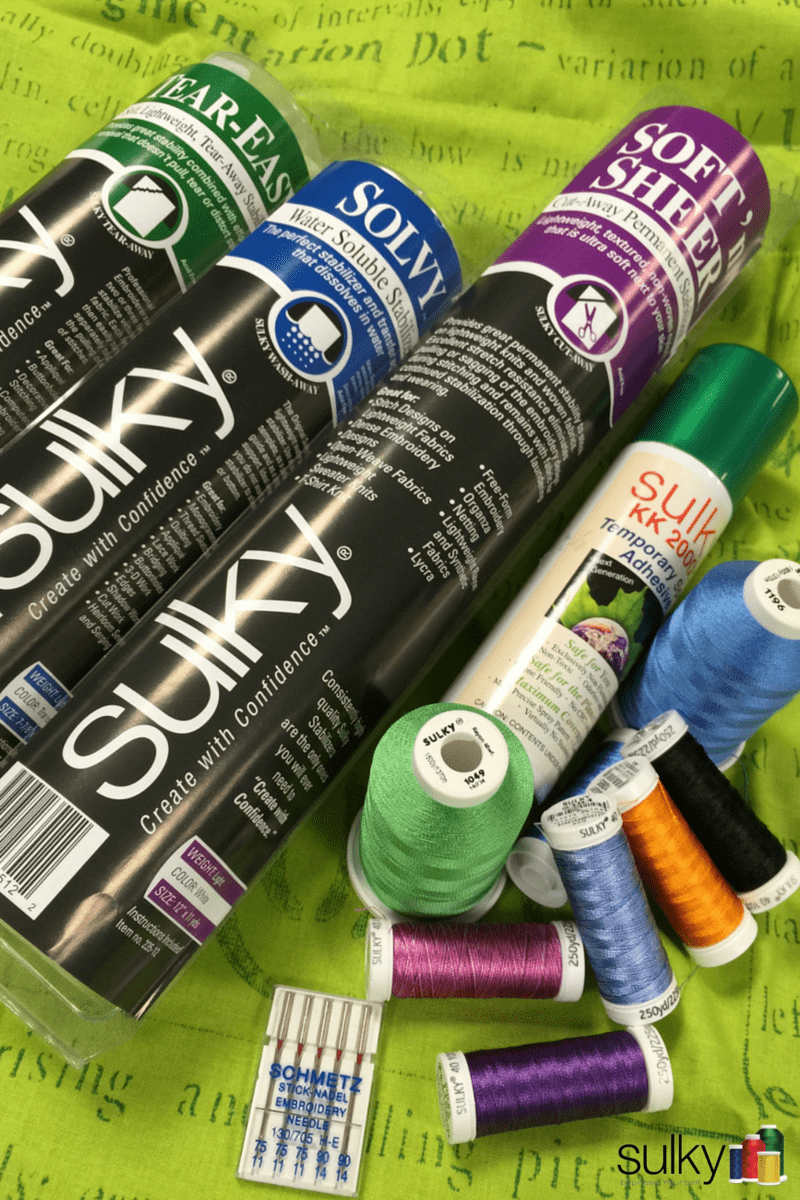 Have the embroidery supplies you need – In a perfect world, we would all have every color of Sulky thread and every Sulky stabilizer already in our sewing studio, but alas it is not a perfect world. So this is what I recommend you have:
If you want more details about why I picked these products, check out this post from The Stabilizer Basics Series.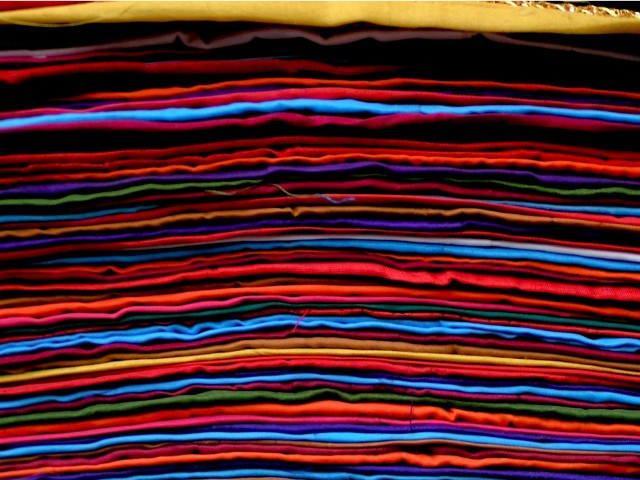 3. Have the Sewing Supplies you need – Sometimes I don't have the perfect pre-made "blank" on hand and I need to make something. In order to be prepared for those occasions I like to always keep a yard and a half of several basic fabrics that I like in both cotton and fleece (Yes, this is permission to add to your stash 🙂 ), basic construction thread and a seam ripper.
With these basic supplies you can make anything in this post (All of which are great quick gifts) and the gifts I will how you below!
Quick Gifts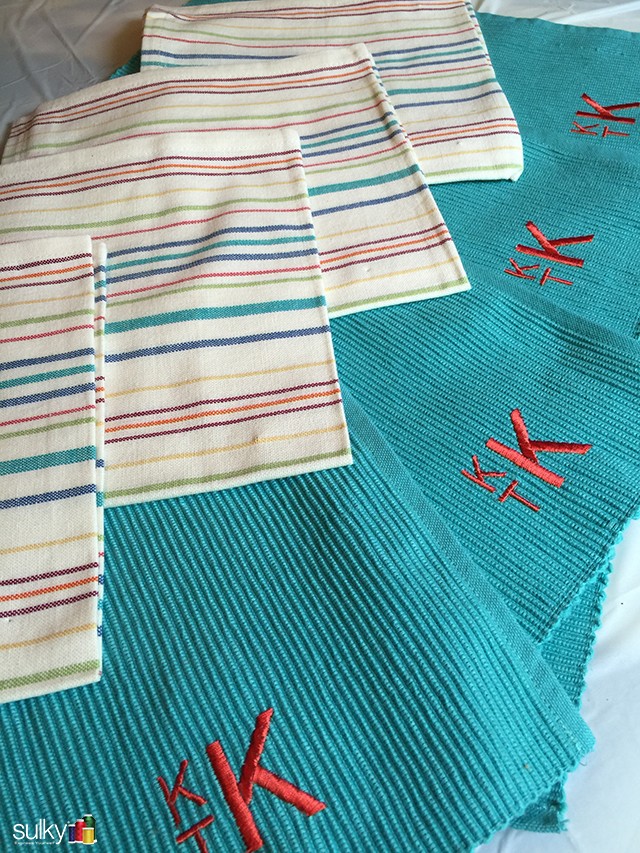 Embroidered Placemats – I made these for my sweet friend Kaela's bridal shower. She is getting married next month and I needed to put my time and effort into her wedding gift, but I knew Kaela would love to see her new monogram on some brightly colored placemats. I have had these placemats and napkins in my blanks tote forever! They were just waiting for the perfect occasion. I love how this modern stacked monogram style looks in this bright orange-red (Sulky 40 Wt. Rayon in Poppy). I monogrammed all 4 placemats and wrapped the gift in about 45 minutes.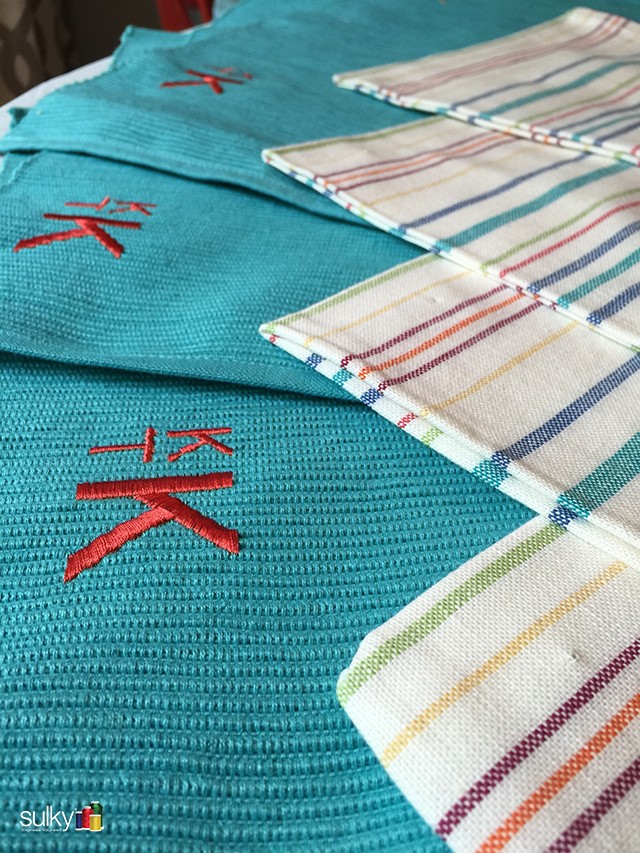 Because the placemats are pretty thick and have ridges, I hooped Sulky Sticky+, peeled off the release sheet, and stuck the placemat down without hooping it. I used KK 2000 Temporary Spray Adhesive to stick some Sulky Solvy on the top. I wanted to be sure the monogram was crisp and didn't distort. This may have been more stabilizer than I needed, but my philosophy is I would rather use more stabilizer and be sure I won't ruin my blank!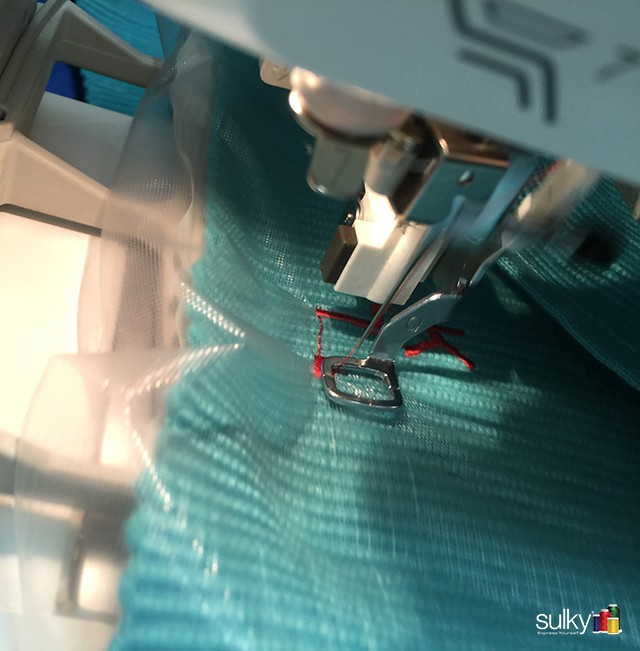 I love how these turned out and so did Kaela! She is a typical southerner. If it sits still long enough in her house, it will end up monogrammed!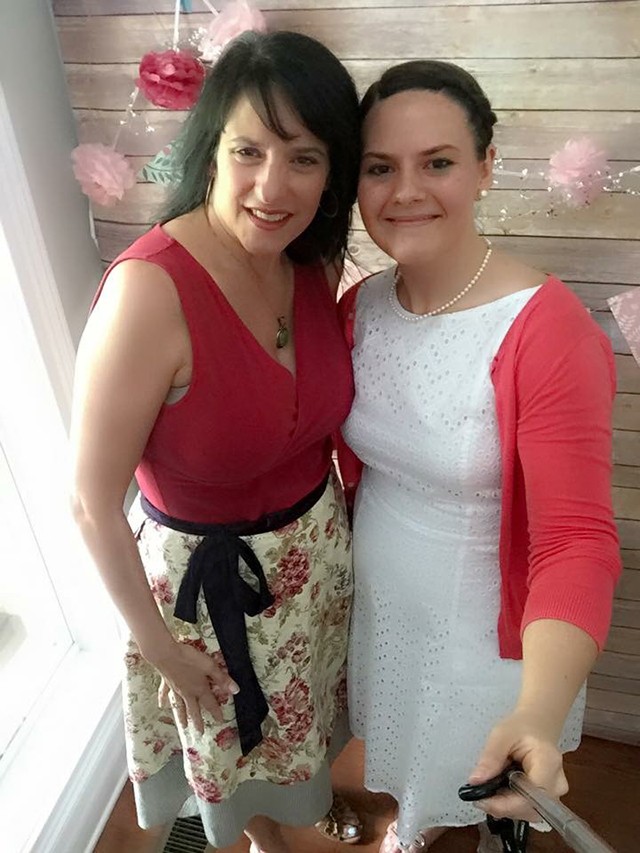 Stadium Blankets – I recently made these two stadium blankets for two boys that just graduated high school. They are headed off to college to live in dorm rooms and although they may not realize it now, an extra blanket will come in really handy.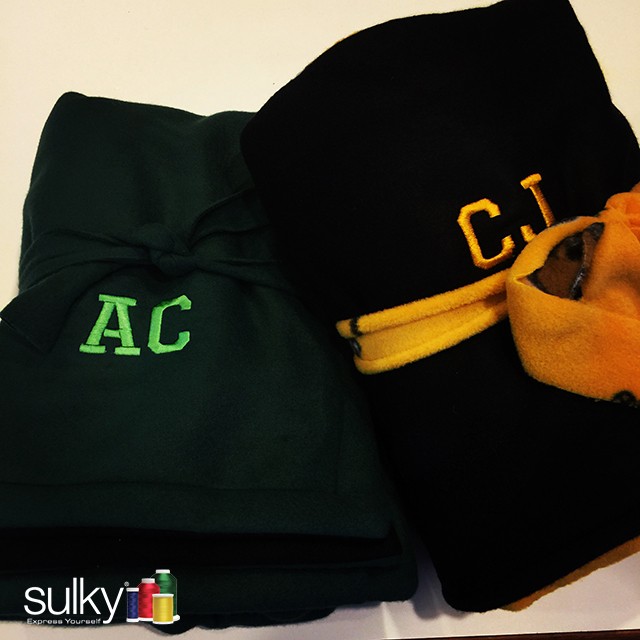 This blanket took a yard and a half of two different coordinating fleeces. I took one fabric and monogrammed it in the center at the bottom edge. I used Sulky Black Soft 'n Sheer on the bottom and Sulky Solvy on the top. I hooped the Solvy, fleece and Soft 'n Sheer. Whenever you have a fabric that has a high loft like fleece, Sulky Solvy as a topper is a must. It helps to keep the embroidery from getting lost in the fabric. But even with the Solvy, I went over these monograms twice. The extra thread ensures good coverage and makes the monogram stand out.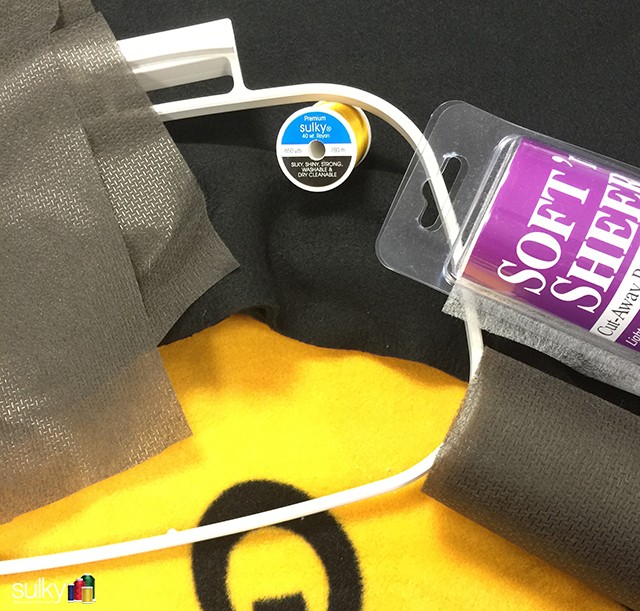 After the embroidery was done, I used the pillowcase method to sew the two pieces of fleece together and then topstitched about two inches in from the edge to give the blanket a nice finished look. I made two stadium blankets, monograms and all, in less than two hours.
MAKE IT EVEN FASTER: Basic fleece throw blankets go on clearance all the time, especially right after Christmas and in early spring. You could make this gift even quicker if you just monogrammed an already made throw!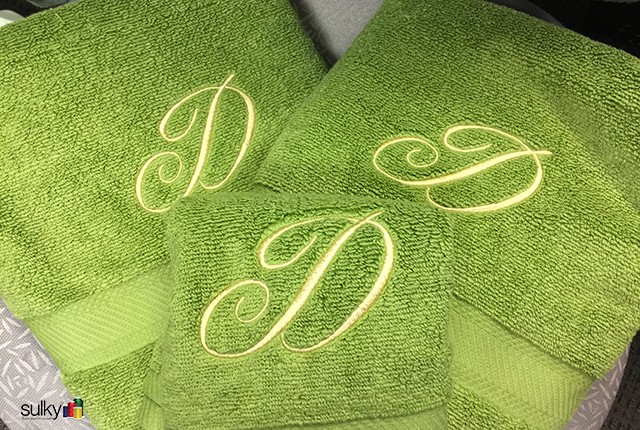 Embroidered Towels –Confession: Monogrammed towels are my go-to gift. I mean who doesn't like monogrammed towels! These particular towels are the towels from the couple's gift registry and I picked my favorite Gold, Sulky 40 Wt. Rayon #1070, for the embroidery. For these I hooped Sulky Sticky+, stuck the towel down and used KK 2000 to stick the Sulky Solvy to the top. (Bonus tip: when you have a towel, spray the Sulky KK 2000 on the Solvy, not the towel. It will stick better). I went over these monograms twice as well.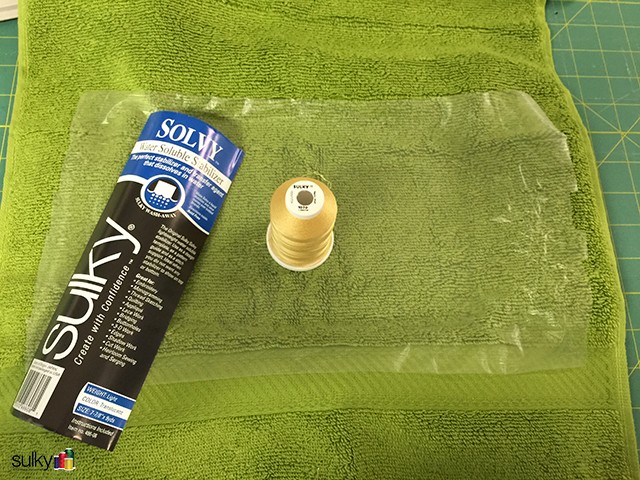 It took me about 45 minutes start to finish.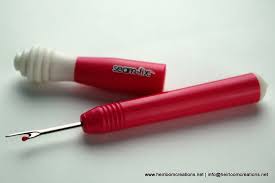 At this point you may be wondering why I mentioned a seam ripper. Anytime I use a pre-made blank as the base of my gift, I remove all the tags once I am finished. It's because of my ego. If I took the time effort and forethought to personalize a gift for someone, I don't want the store I bought the blank at to get the credit for my work! Silly, I know but I'm just being honest. Even if it did only take me 45 minutes to make, I MADE IT ESPECIALLY FOR YOU! That deserves a little credit I think. What do you think? Let me know in the comments.
Happy Sewing!