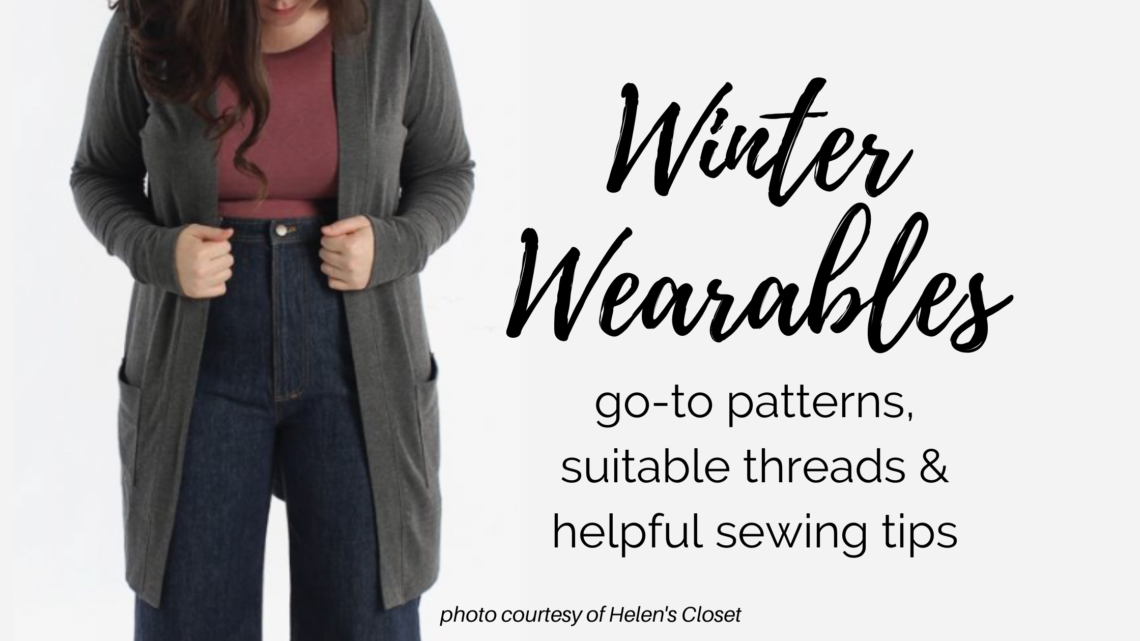 Winter Wearables
garments to sew for winter to keep you warm & cozy
Winter wearables are often loose-fitting garments that are easily layered for temperatures that fluctuate day to day (and even hour to hour in some places). Stitch up some winter wearables in cozy fabrics, such as sweater knit, sweatshirt fleece and double knit, to add to your wardrobe this season.
GO-TO WINTER STYLES
A comfy cardigan is a great addition to your winter wardrobe, as it's easily layered and constructed out of multiple fabric substrates. Choose a knit-friendly pattern, such as the Blackwood Cardigan by Helen's Closet. This winter wearable is a great transitional piece for early spring, too, as it looks great with jeans and a sweater or over the top of a long dress (with or without leggings underneath).
For this pattern, choose light- to mediumweight knit fabrics with at least 40% stretch widthwise and 20% stretch lengthwise. Choose sweater knit or French terry for warmth, if desired, or jersey or bamboo knit for lightweight layering.
This pattern has options for length and pockets, too, so you can make each style multiple times from different fabrics for myriad looks.
Photos above courtesy of Helen's Closet.
Be sure to set your machine for a stretch stitch and use Sulky Poly Deco Thread for strong, yet pretty, construction details.
Another great cardigan style pattern is our DIY Lounge Wrap. This is another versatile pattern that looks great in a lightweight knit or sweater knit. But it is also suitable for woven fabrics!
This Lounge Wrap looks great layered over a turtleneck or long-sleeved dress for winter warmth. But it also looks good over a spring dress or even as a robe. Register for our DIY Lounge Wrap sewing session to learn how it all comes together, with tips for either knit or woven fabric construction.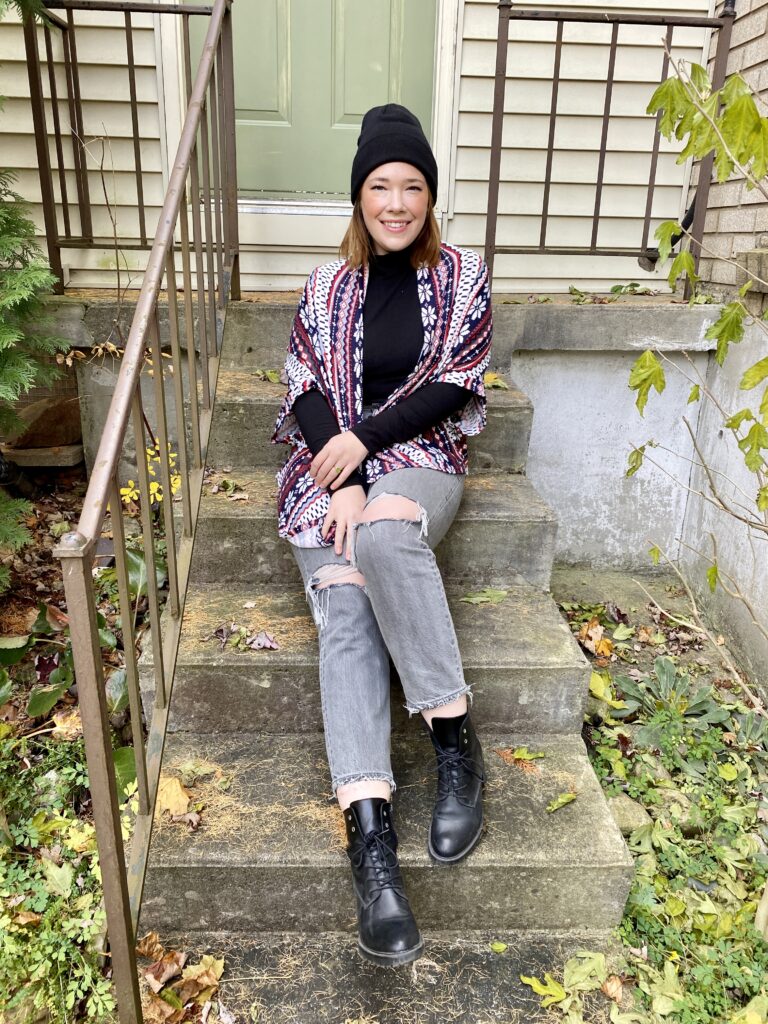 READYMADE REDOS
If you have an existing sweater that's your go-to winter wearable, consider refreshing it for the season with pretty embroideries.
Hooping a sweater is difficult due to the thickness of the yarns and the tendency to distort when tightening. Instead, hoop the stabilizer and use Sulky KK2000™ to secure the sweater to the stabilizer. KK2000 will adhere the sweater knit evenly to the stabilizer and keep the soft sweater yarns from shifting during stitching. Use the baste-in-the-hoop function of your embroidery machine or software to also help keep the sweater firmly secured.
The sweater likely will benefit from a topper, such as Sulky Solvy™, as well. The topper will help the stitches sit proudly atop the sweater surface, rather than sinking into the loops. Place the topper over the fabric once it's secured. Then baste in the hoop. A topper will only be needed with dense sweater fabric, high-pile fabric or textured fabric. But it can't hurt to use it with all sweater knit embroidery to ensure desired results.
The above sweater is embroidered with Sulky Filaine™ Thread. Check out this post for Filaine embroidery tips!
After stitching is complete, gently remove any basting stitches. Then, carefully trim the jump stitches in the embroidery on the front and back of the sweater.
JEANS – WINTER WEARABLE FOR ALL
Denim jeans are great for personalizing for winter. Look to this post to learn a patch method for adding embroidery without having to deconstruct the jeans along the side seams.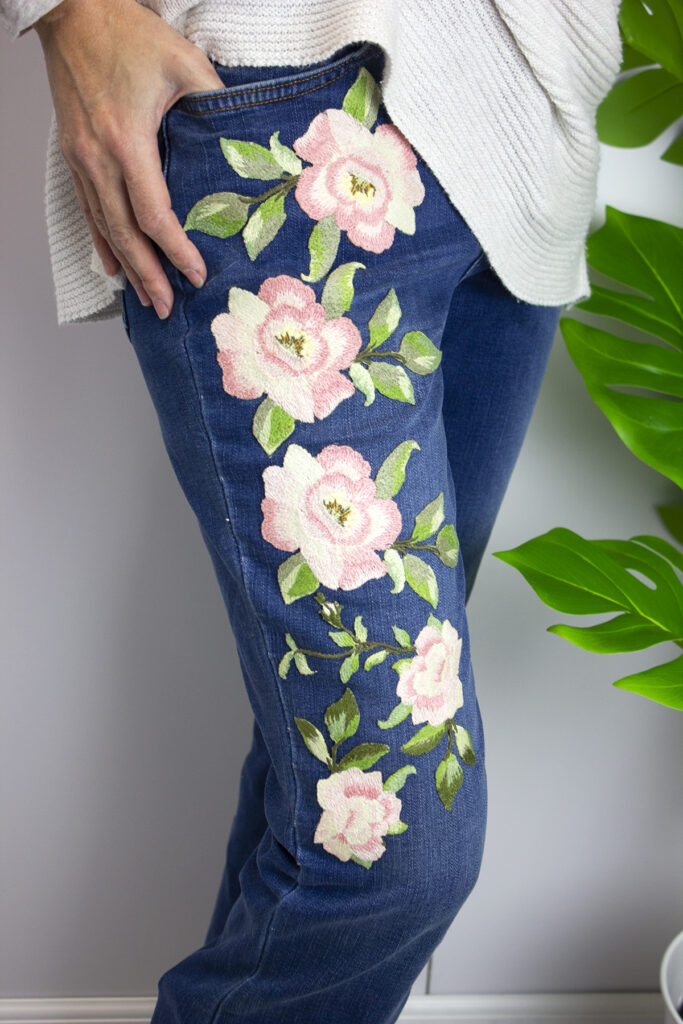 If you don't have an embroidery machine, decorative stitches also look cool on readymade jeans. Here's how to do it!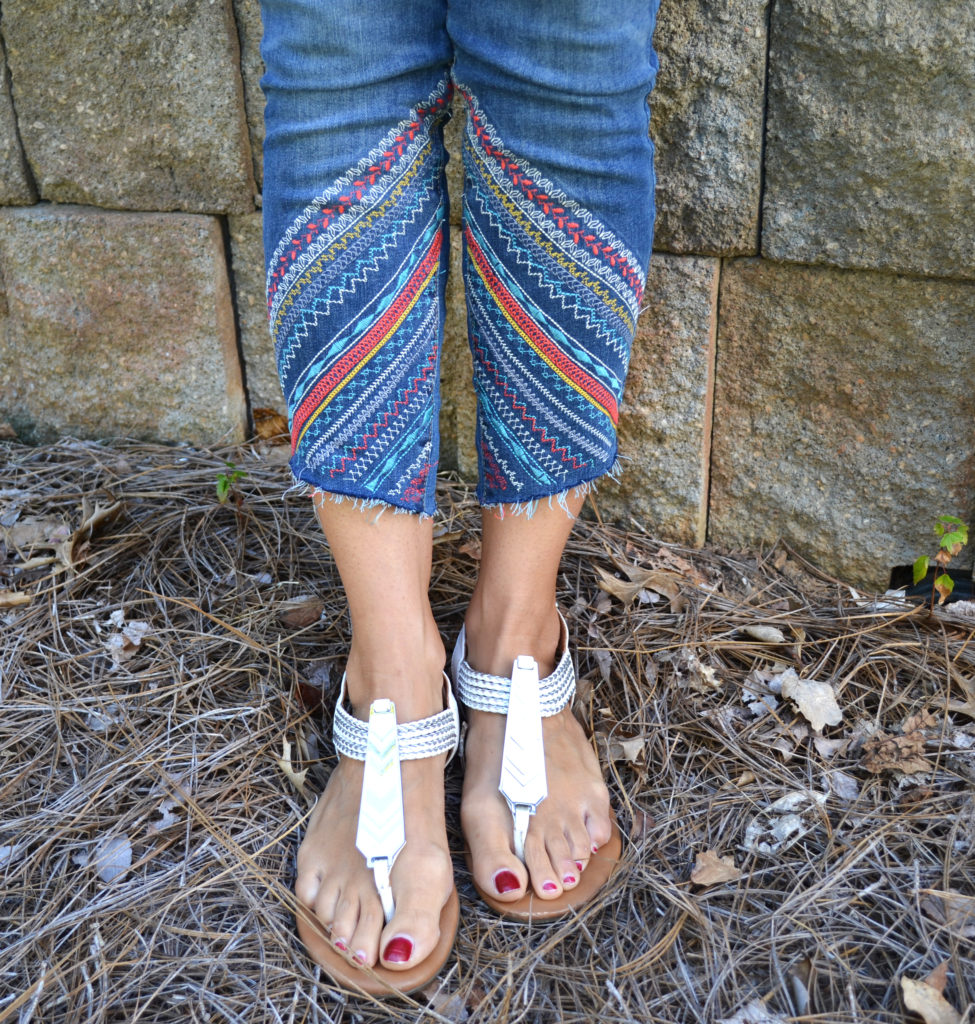 Cut off the hem a bit and fray the edges for a trendy look after winter, to transition to spring.